Sevrain's scoring spree helps Tigers top Zephs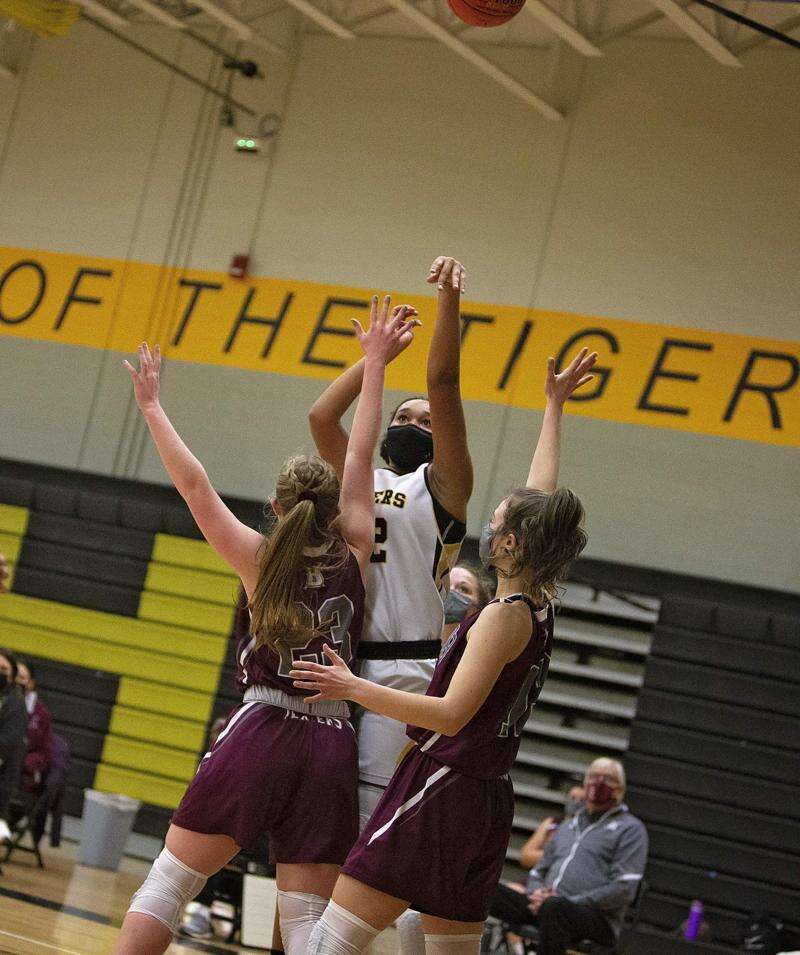 Published February 18. 2021 11:15AM
After their only loss of the season, which came last week against Notre Dame (Green Pond), Northwestern girls basketball head coach Chris Deutsch put the blame for the loss on the Lady Tigers (9-1 Colonial League, 12-1 overall) inability to hit shots from the paint and the fact that they shot just 2-for-12 from the foul line.
Tuesday night his team hit a remarkable 20 of 21 free throws and when asked if that was what he was most proud of in his team's 47-30 win over Whitehall in a nonconference game, Deutsch didn't hold back.
"You're damn right I am," said Deutsch of the achievement by his players. "I never thought that was possible even though we work on it a lot. We kept telling the girls that there was going to come a game this season where foul shooting could be the difference. We were up by seven at the half and eight of our points were from the foul line."
Paige Sevrain continued her scoring spree and finished the game with 23 points, topping her season-high 21 against Palmerton last Saturday. The 44 points in two games have helped an offense that at times has been streaky this season.
Sevrain is averaging 14 points per game this season and has broken a skid that saw her score just 15 points in two straight games earlier in the year.
Sevrain also was guarding Whitehall's Olivia Hines and held her to just three second half points in the game and was also able to work Hines into foul trouble.
One of the keys to Sevrain's success has been being surrounded by players who are able to work the ball inside to her even through double coverage.
"The girls do a good job of getting her the ball," said Deutsch, who noted that his sophomore center hit all seven of her free throws. "We put in a new offensive set that we hadn't run all year, but we've been practicing, and we ran it tonight and I thought our girls did a nice job running it and we were getting her a lot of good touches inside where she's taken advantage of the opportunities."
Northwestern jumped out to a 4-0 lead and led 18-11 at halftime. Kailyn Jones set the tempo for the Lady Tigers by hitting an early three-pointer in the third quarter as Northwestern outplayed Whitehall (3-5 EPC, 4-7 overall) on both sides of the ball.
Late in the game, Northwestern opened an 11-point lead with a 40-29 lead before Isabella Fonzone hit a free throw to make it 40-30. From there, Whitehall looked to use fouls to claw their way back into the game, but the Tigers hit four straight foul shots down the stretch and worked their way to a 47-30 win.
Tess Ledeboer, who missed five games for Northwestern Lehigh, was back in the lineup as she looks to return to form for the postseason.
The Colonial League playoffs begin Monday and with one league game remaining against Palisades (6-3, 8-5), Northwestern Lehigh leads the rankings by one-half game over both Bangor and Palmerton. It's possible that both the Northwestern girls and boys teams will have home games Monday night to open the postseason. The Northwestern girls are currently seeded second in the District 11 Class 4A rankings.