PHS girls have experienced team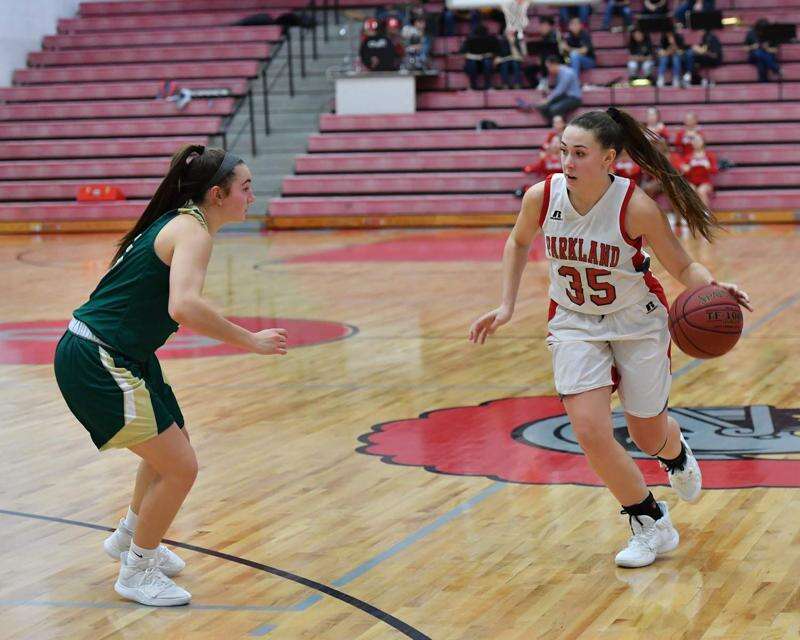 Published January 07. 2021 11:20AM
In the 1976 comedy film "The Bad News Bears," Walter Matthau played the reluctant and ill-equipped coach of a rag-tag baseball team. When he first took the job, coach Morris Buttermaker wasn't into coaching, preferring instead to just sit back and read the newspaper while his players were left to their own devices. Eventually, the Bears became a surprisingly good team and Buttermaker was much more engaged.
Well, the Lady Trojans are already a good team and coach Ed Ohlson could probably bring a newspaper to practice and leave his players to manage their way through practice on their own. In fact, he might not even have to show up. With practices being officially shut down, Ohlson's players recently took it upon themselves to organize their own players-only practice at an outdoor court.
Ohlson was impressed, but not too surprised, recently when he got a text asking if it was OK for the team to hold its own practice.
"Some teams are coach-led and some teams are player-led," said Ohlson. "This team is led by the players. It really is a joy to coach these girls because they're ready to work and the older players really take charge and work with the younger players to get things right."
Parkland wasn't hit too hard by graduations, losing just two players. This season, the Parkland roster has just two players who are not in the junior or senior class. Seniors Lindsay Berger and Sonya Shivok will serve as co-captains of the team and Ohlson is excited about what they can bring to the team.
"Lindsay really came into her own last season and has been a natural leader for us and Sonya has really become a solid player and is aggressive on the court," said Ohlson, who enters his third season as the team's coach. "I believe that she can be an all-league player this season."
After battling several injuries on his team last season, Ohlson already knows that he will be without junior Carisa Fogt for the season. Fogt suffered a knee injury late last season and won't be able to play this season. On the upside, senior Ashley Young has stepped into Fogt's guard position and has been a bright spot during practice. Juniors Mo Olenwine and Zoe Wilkinson are also returning to round out the lineup, with Jesse Schmitt and Paige Spang being the first ones off the bench.
Madie Siggins and Talia Zurinskas join the team as freshmen and Ohlson is expecting them to be able to get some experience playing behind the older players.
"The two freshmen players are both very good and they've been open to learning how things work and have fit in well with the older players," said Ohlson. "We have so many players who have gotten a suitable number of minutes for us that it's a very easy team to coach."
With the uncertainties of the coronavirus and realizing that their practice schedule was subject to being interrupted, Ohlson simplified things and changed how the team practices. One change was simply allowing the team to play rather than spending too much time on drills.
"With our experience and all the uncertainty, our coaching staff really just decided to do some drills early in practice and then get them on the court to play," said Ohlson. "We really simplified things and took the approach that we're going to do what we do really well and not worry about doing too much.
"The result has been that our practices have been really good, and the intensity has been high, and I think they've gotten a lot out of it."
With the interruption to the practice schedule, Ohlson believes that the simplistic approach to their game plan will be a plus and that returning to practice has been made easier by the simpler approach.
"The players really haven't been thrown off by everything going on," said Ohlson. "We've just all decided to make the best of the situation."
The Lady Trojans open the season next Friday, Jan. 15, when Central Catholic visits Orefield. The schedule continues January 19 when Parkland goes to Rockne Hall to face the Vikettes.