Like parents, like siblings: Michael Fegley, son Winslow honored in China for stage show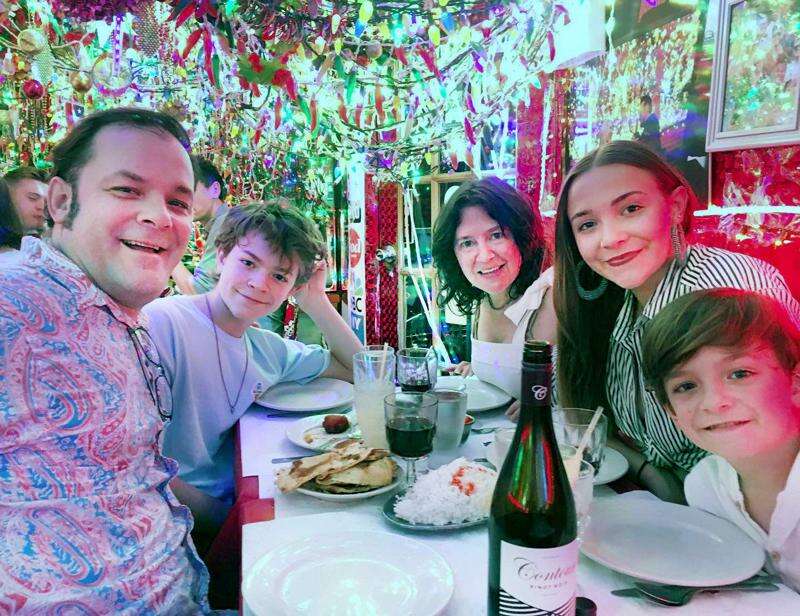 Published November 27. 2020 11:56PM
A play featuring an Allentown actor-father and actor-son recently was honored at an international festival recognizing theater for young audiences held in November in China.
Michael Fegley and his son, Winslow Fegley, 11, star in "A Billion Nights on Earth," which received "The Award of The Best Theatre Program" at the NOW Festival, Shanghai, China.
The two-person play created by director Thaddeus Phillips and installation artist Steven Dufala was chosen out of 168 entries globally.
"The committee loved Winslow and me, and the amazing stagecraft," says Michael Fegley, adding, "What a week."
The first international festival and fair promoting theater for youth in China went all-remote after the coronavirus (COVID-19) pandemic suspended live performances and festivals. Video submissions were sent from theaters around the world.
Phillips has known Fegley for more than 20 years and approached Fegley in 2017 with an idea for a father-son show since he knew that all three of Fegley's children are actors.
The Fegley boys, whose mother is actress Merce Fegley, have starred in internationally-released movies that opened this fall at No. 1 at the box office.
Winslow Fegley stars in the horror film, "Come Play," which opened at No. 1 the weekend of Oct. 30-Nov. 1, has stayed in the Top Five in movie theaters and was No. 4 for the weekend of Nov. 13-15.
His older brother, Oakes Fegley, 16, stars opposite Robert De Niro in the comedy, "The War with Grandpa," which opened at No. 1 for the weekend of Oct. 9-11, has stayed in the Top Five in movie theaters and was No. 3 for the weekend of Nov. 13-15.
Winslow Fegley's feature movie roles include 'Timmy Failure: Mistakes Were Made" (2020) and TV's "Fast Layne" (2019).
Oakes Fegley's feature movie roles include "The Goldfinch" (2019), "The Truth About Lies" (2018), "Wonderstruck" (2017), "Pete's Dragon" (2016). "This Is Where I Leave You" (2014), "Fort Bliss" (2014) and TV's "Boardwalk Empire (2014).
Oakes Fegley twice played Tiny Tim in Civic Theatre of Allentown's production of "A Christmas Carol."
Their sister, August Fegley, 20, is a frequent theater performer who was named "Best Emerging Artist" by Allentown's Arts Ovation Awards.
Michael Fegley has appeared in the feature movies, "Billboard" (2019), "Tracks" (2005), "Margarita Happy Hour" (2001) and "Escape to Life: The Erika and Klaus Mann Story" (2000).
Merce Fegley was in the feature movie "Samuel's Game" (2014).
"A Billion Nights on Earth" was developed at the Buntport Theatre, Denver, Col., in summer 2017.
The play premiered at the 2017 Fringe Festival, Philadelphia, where it was well received and sold out its run.
It was in the Next Wave Festival at the Brooklyn Academy of Music in November 2017, where it again sold out its run.
The stage production's look is inspired by classic children's books and kabuki stagecraft. The set was inspired by the Astrid Lindgren's World Park in Sweden. The roof is a magic box that slides and reveals interior and exterior spaces.
The story is a family fantasy adventure about a little boy and his father who go on a quest through space and time. When the boy's treasured stuffed whale goes missing, he and his father discover a portal to another dimension in the kitchen refrigerator.
Objects on stage appear to come alive. The father and son must rely on their creativity, and each other, to survive wild landscapes that open like giant pop-up books.
The play explores parent–child relationships, and their different perspectives on reality.
Lafayette "Christmas Carol"
Lafayette College's Williams Center for the Arts, Easton, has co-commissioned world premiere performances of a new production of "A Christmas Carol," which will be live-streamed by theater troupe Manual Cinema, 4 and 8 p.m. Dec. 5, 12 and 19; 4 p.m. Dec. 6, and 8 p.m. Dec. 18.
The hour-long adaption of Charles Dickens' classic was created for the 2020 holiday season by Manual Cinema, which does large-scale theatrical shows using shadow puppetry, actors and an on-stage music ensemble.
For the online performance, the troupe will use overhead projectors, live-feed cameras, actors in profile, hundreds of paper puppets, miniatures, silhouettes and an original score. The show will be live-streamed from Chicago.
From the isolation of her studio apartment, holiday skeptic Aunt Trudy reconstructs her late husband's annual "Christmas Carol" puppet show over Zoom while the family celebrates Christmas Eve during the coronavirus lockdown.
When Trudy becomes more absorbed in her own version of the story, the puppets take on a life of their own, and the family's call transforms into a retelling of Dickens' timeless ghost story.
The event is Manual Cinema's third outing with Williams Center, after previously presenting "Ada-Ava" in 2016 and last season's "No Blue Memories: The Life of Gwendolyn Brooks."
Tickets: www.williamscenter.lafayette.edu; 610-330-5009
"Curtain Rises" is a column about the theater, stage shows, the actors in them and the directors and artists who make them happen. To request coverage, email: Paul Willistein, Focus editor, pwillistein@tnonline.com