Zephs hard work leads to district title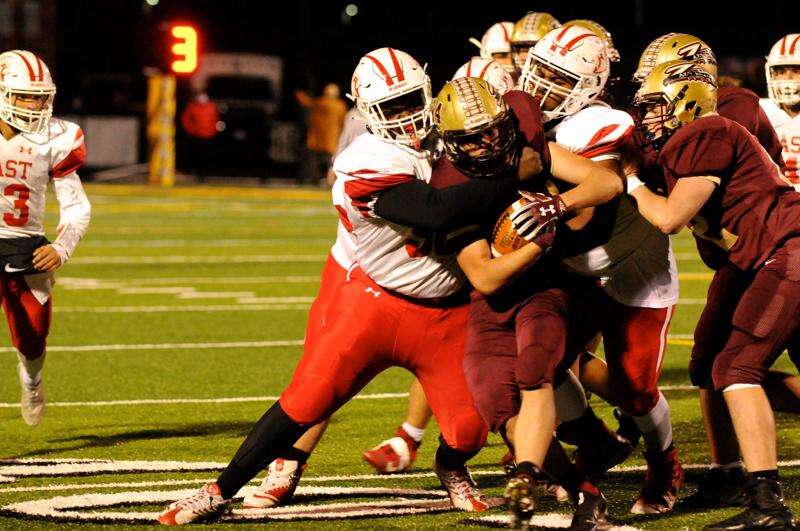 Published November 19. 2020 10:11AM
It would have been a hard script for a playwright to develop, and one that would have been hard to believe.
Yet, Whitehall made it plausible from cover to cover.
The Zephyrs captured their third District 11 title over the last five years and sixth overall with a convincing 52-7 triumph over Pocono Mountain East at Northwestern Lehigh High School Nov. 12.
This was a team that went winless (0-10) last season and 2-8 the previous season as well as dealing with two bouts of COVID-19 this year. The latest allowed them just one day of practice before they beat Southern Lehigh, 42-34, in a semifinal game. They also benefited when top-seeded and undefeated East Stroudsburg South had to bow out of districts due to the coronavirus.
Whitehall (5-3) wasted little time to put its stamp on and WHS cruised to a 46-0 halftime lead.
Senior running back Angelo Daddona, who rushed for 42 yards and scored a pair of touchdowns, was ecstatic to finally get to the top of the mountain.
"After the past two seasons to where we are now being district champs is the best feeling in the world," he stressed. "No one will ever know how hard we worked and how far we have come.
"Winning the game, getting the trophy, ending the night with a gold medal around our necks and the smiles on our faces was the best way to end the season. I'm glad to leave Zephyr football as a district champ."
Junior quarterback Quinn Wentling, who had a banner year throwing and running the football, felt fulfilled as well as optimistic. He threw for 72 yards and rushed for 60 against Pocono Mountain East.
"It felt great, especially going 0-10 last year," he said. "We proved to everyone what we knew we could do.
"We never stopped believing in ourselves and kept working. Now, we can start to focus on next year."
Head coach Sam Senneca wanted his team to set the tone early. He also sees a continuance down the road.
"We definitely expected to win, but we still had to come out here and take care of business and I thought our kids really played well, he said. "They were flying around and they were physical, emotional, excited. It was really fun to see."
"These guys know that and they know what to expect. and They know what we have to do. I'm looking to take another step forward next year."