Veterans honored at memorial's new NMIH home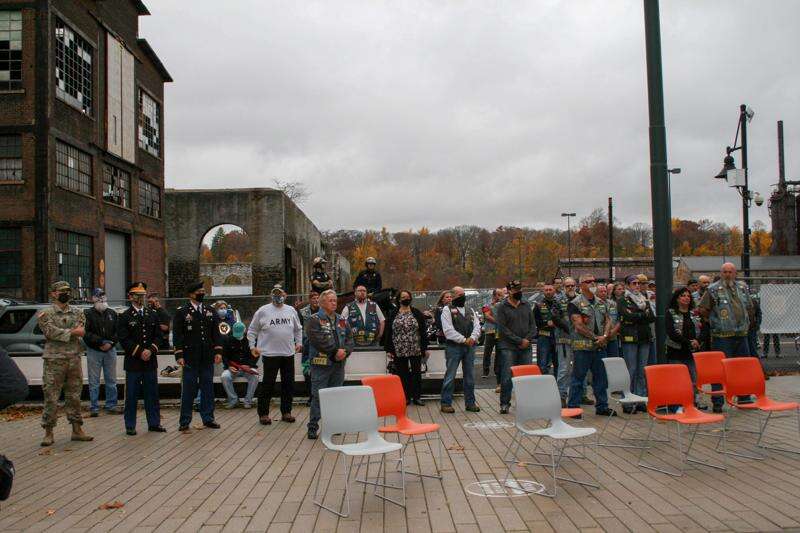 Published November 19. 2020 10:28AM
The annual Veterans Steelworkers Memorial ceremony Nov. 11, well attended despite worsening weather, was for the first time since 1989 held at its new home at the entrance of the National Museum of Industrial History, 602 E. Second St., Bethlehem.
Service members, veterans, politicians and supporters spoke in reverence of generations of men and women who stepped forward to sacrifice for the national benefit.
The Keynote speaker was Master Sgt. Stephan C. Potsko, an Army reservist and Lehigh University ROTC cadre member.
"First and foremost I want to begin today by recognizing all those among us who've been part of this great brotherhood and sisterhood we call the U.S. military. Your service and sacrifice have kept our country free. Times change and the world changes ... it feels like part of our own history is fading around us, so we look to those elements that are persistent; things like this veterans memorial.
"In just about a week it'll be a full 25 years since the furnaces here at the mill went cold for good. The 'Last Cast,' as it is known, signaled the end of an era, but not the end of the memories of those who lived it. Even though some pictures of Bethlehem Steel like Martin Tower are gone, the memory and stories of the Steel remain, preserved and maintained by organizations like the National Museum of Industrial History. In a real and tangible way the stories of our veterans can be preserved by rededicating this memorial and rededicating our efforts to remember and honor those who served."
Potsko continued, "We owe it to ourselves in our posterity to never forget the sacrifices of those who went before us. I was married not far from here, and shortly after exchanging our vows I got mobilized to war. Needless to say my wife was worried about my safety. Several older members of our church comforted her, explaining while they were worried for their husbands in 1944 when they were headed to Europe and the Pacific Rim, they eventually returned safe, and I would be no different."
He described the last century of the nation's wars being intertwined with the workers and production of the Bethlehem Steel, concluding, "We must not allow the memory of these service members to slip out of our nation's consciousness. We must never forget their actions, not just today, but every day, left a path for future generations to follow. Make it an honorable and well-traveled one."