Rough Riders fall to Palisades in semifinals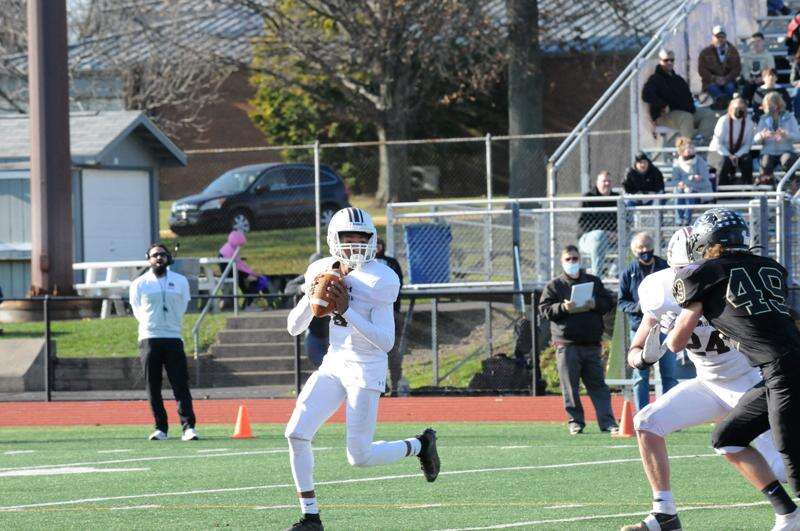 Published November 19. 2020 10:07AM
Within the first two minutes of their game against Palisades, Catasauqua found itself in a 9-0 deficit.
From there, however, the Rough Riders kept themselves in the game with the top-seeded and host Pirates, but they couldn't convert in a 36-0 shutout in a District 11 Class 2A semifinal.
It marked the Roughies' first visit to that stage since 2013 when they defeated Pen Argyl, 41-14, in a semifinal. Ironically, they went on to blast Palisades, 54-28, in the district final.
Unfortunately, this meeting didn't have the same outcome.
The Roughies had a punt blocked that eventually skipped out of the end zone for a safety on their first possession, and Palisades' Kyle McGrath returned a punt 70 yards for a score on their next possession.
They fell behind 22-0 at halftime, and later in the fourth quarter were stymied from the end zone on a fourth down from the Palisades' two-yard line.
Catty had 38 total yards at halftime, and 111 for the game. They also lost two fumbles.
"Those two scores in the beginning hurt us," said Roughies' head coach Travis Brett. "It was special teams, fumbled snaps and mistakes. But they're young. We'll get there."
The Roughies couldn't get their running game established in the opening half, as Palisades rushed their defenders to the line to close any gaps. They had trouble executing all afternoon.
"Our run game is obviously our go-to," added Brett. "We tried to open it up a bit throwing the ball. But the mental mistakes can't happen. We're fumbling snaps and doing stuff we can't be doing to win a football game."
Brett acknowledged the team did lose freshman running back Hunter Reitz with a season-ending shoulder injury and senior wide receiver Austin Brett to an elbow injury that will sideline him for the Northampton game.
Reitz had 25 yards against Palisades and was the team's leading rusher with 403 yards on 99 carries with a pair of touchdowns.
Unless they schedule another game, the Roughies will prepare for the 98th meeting against rival Northampton at Alumni Field on Thanksgiving morning.
"We're a little bit banged up now," stated Brett. "We have three of four kids out, but we'll see what happens.
"We're looking forward to it. It will be a tough game."