PHS tennis enters district tourney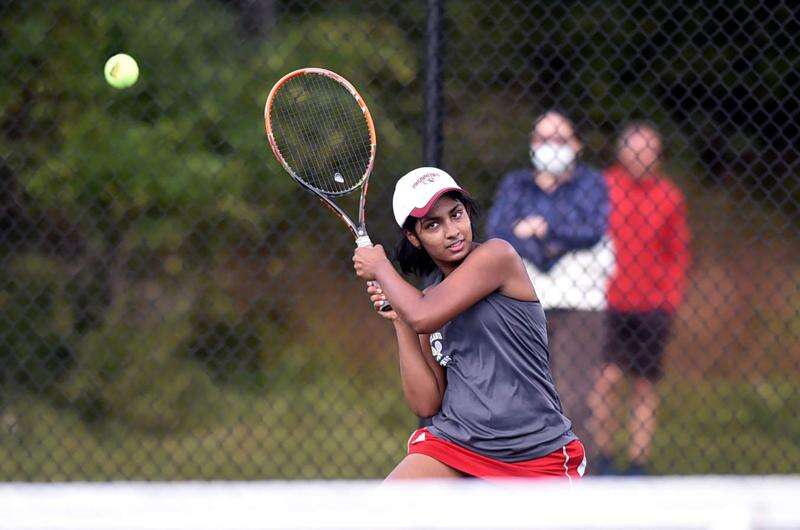 Published October 15. 2020 07:55PM
After an undefeated regular season, the Parkland girls tennis team rolled into the postseason last week and continued this week.
Three Parkland tennis players competed in the District 11 Class 3A singles tournament last week.
Erin Joo earned the No. 4 seed in district singles. She cruised to a 6-0, 6-4 win over Bangor's Madelyn Ott in the first round and took down No. 5 seed Maggie Lefebvre (Nazareth) in the quarterfinal round, 6-0, 6-0.
Joo was eliminated from the tournament in the semifinals by top seed and eventual champ Paraskevi Briegel of Stroudsburg, 6-3, 6-1. Briegel then beat No. 3 seed Evelyn Wang (Southern Lehigh) in the finals, 6-1, 6-4.
Parkland's Leah Zolotareva earned the No. 6 seed in the event and won her first match, beating Isabella Smodis (Freedom) 6-0, 6-4. Zolotareva met Wang in the semifinals and suffered a 6-3, 6-4 loss. That marked the second straight close match Wang had against a Parkland player.
The Trojans' Anshika Gupta also played in districts. The unseeded Gupta met Wang in the first round and battled to a 7-9 (11-9), 6-3 loss.
After going 8-0 in the regular season, Parkland was the No. 2 seed for the District 11 Class 3A team tournament, which began this week.
The Trojans opened the tournament with a 5-0 win over Emmaus Tuesday.
Joo beat the Hornets' Jocelyn Chow at No. 1 singles, 6-2, 6-3. Zolotareva edged Misa Hollinger in the No. 2 singles match, 6-3, 3-6, 7-6 (10-7), while Gupta beat Mia Columbus 6-1, 6-4 at No. 3 singles.
In doubles matches, Parkland's Gigi Leonzi and Sophia Lee beat the Hornets' Krissy Heilenman and Riley Stuckey 6-2, 6-2 at No. 1 doubles. The Trojans' JJ Dee and Kaila Miles won the No. 2 doubles match 7-6 (7-3), 7-5 against Shelby Carter and Teya Gougoustamos.
Parkland advanced to play No. 3 seed Southern Lehigh in the semifinal round of team districts. The Spartans knocked off No. 6 seed Nazareth 4-1 Tuesday.
Parkland enters the next round as the highest seed left in the tournament after No. 8 seed Easton beat top-seeded Stroudsburg 3-2 Tuesday, handing the Mountaineers their first loss of the season.
Easton moves on to the semifinals to take on the winner of Wednesday's No. 5 Liberty-No. 4 Pocono Mountain East match.