WCSD community gathers to remember student-athlete slain in Bethlehem park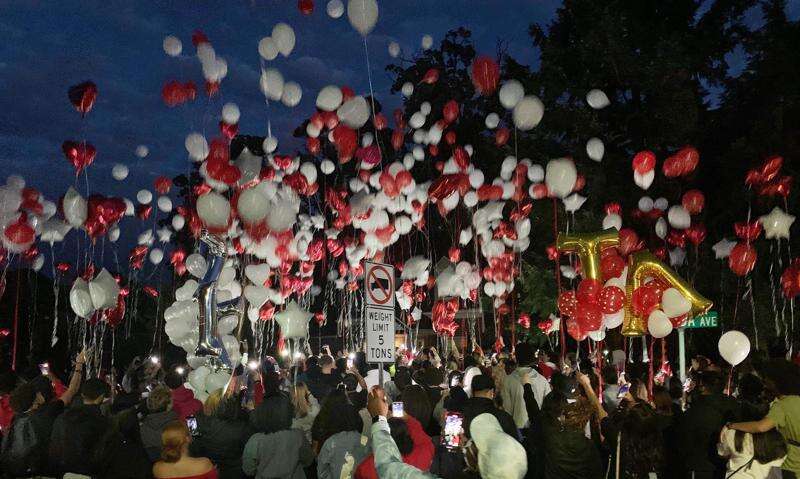 Published October 07. 2020 11:58AM
A gathering of 200-plus overflowed the lawn and moved into the roadway Oct. 1, as members of the Whitehall-Coplay School District community came out to remember the life of Aiden K. Toussaint, a student-athlete who was shot and killed Sept. 29 in a Bethlehem park.
The memorial took place outside the Florida Avenue, Whitehall, home of Toussaint's mother, Claudette Pottinger. It was a heart-wrenching tribute to her 17-year-old son, a Whitehall High School senior and member of the Zephyrs wrestling team. (See related story on page A9.)
Many of the attendees arrived with red and white balloons. Red balloons can represent relationships with loved ones. White balloons can represent grief or loss.
The balloons were released approximately 7:30 p.m. in tribute to Aiden, known by his friends as AT. They rose up slowly, disappearing into the evening sky.
During tear-provoking testimony from family members and friends, most expressed disbelief and heartache at the passing of a teenager who they say went to school and competed in varsity wrestling, while also working to earn money for himself and his family. Friends and family members characterized Aiden as a polite, respectful teen who told his mother every day that he loved her.
Attendees could be heard openly sobbing as the testimony of Aiden's mother and father expressed their feelings and shared stories of their son.
Several members of the WCSD administration attended the tribute and shared their condolences with the family.
WHS Principal Nathan Davidson expressed to the family a profound sadness at the passing of Aiden. He told the parents the school will do all it can to assist them.
The administration released a statement to WCSD parents and guardians about the death of Aiden, who was not named in the letter.
According to the statement, an emergency response team of professionals was available to help with the needs of students, parents and school personnel. Counselors remained in the school for students.
A GoFundMe account has been created in Aiden's memory by his friend Kai Clark.
"Today we were all struck with news that broke our communities' heart, the passing of AT," his friend wrote on the account page. "He was such a kindhearted, humble and loving individual that would do anything in his power to make everyone around him happy over himself.
"We know he's above us looking down on each and every person he cared about and making sure we are okay and he never will stop that ... Aiden will forever be in our hearts and will never be forgotten," Clark continued.
At press time, the GoFundMe account had far surpassed the $5,000 goal, raising $14,027.
Pottinger, through her pain and sorrow, urged attendees, "Hug your loved ones tonight. Tell them you love them because you never know when they will be gone."
Funeral services for Aiden are planned for Oct. 16 and 17 at Bachman, Kulik & Reinsmith Funeral Home, 17th and Hamilton streets, Allentown.
Bethlehem police arrested three suspects believed to be involved in Aiden's death near Saucon Park, Norwood Street and Dearborn Avenue, South Bethlehem.
Gabriel Ramos, 18, of Lehighton, has been charged and arraigned, as have two juveniles.
Ramos is facing charges of criminal homicide, conspiracy, possessing instruments of a crime, unlawful possession of a firearm, robbery and simple assault.
The juveniles are both facing homicide, conspiracy and robbery charges, with one of them also facing an additional felony charge for criminal use of a communications facility.
All three were charged as adults and committed to Northampton County Prison without bail.
According to Lehigh County Coroner Eric D. Minnich, Aiden was pronounced dead the night of Sept. 29 at St. Luke's Hospital, Fountain Hill. Minnich ruled the cause of death as gunshots wounds to the body and ruled the manner of death a homicide.
Bethlehem Police Department, along with the Northampton County District Attorney's office, continues to investigate the shooting and asks that anyone who has information regarding the incident call the tip line at 610-691-6660. Callers with information, which can include audio or video from private video recording systems, may remain anonymous.
Editor's note: Bethlehem Press staff member Nate Jastrzemski contributed to this report.