Freedom girls will always have Unfinished Business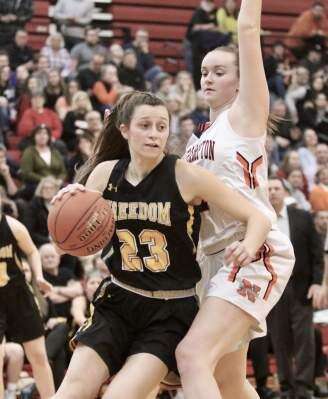 Published May 21. 2020 12:00AM
Now that the 2020 PIAA State girls' basketball playoffs will go down in history as unfinished business, what Freedom coach Dean Reiman hopes for his Lady Pates is to know how special a group they are and how special those team friendships will remain.
That's not to say that it has been an easy time since March 10, the last game the Lady Pates would play and win before the PIAA postponed and then canceled the state tournament because of the coronavirus.
"At first, you're extremely disappointed and selfish about what it's done to your personal circumstance, but then you realize the global aspect is much bigger than that," Reiman said. "About sports, you always remember that last game and that you won't do that again with your friends, and that disappointment lasts a long time."
That last game is a bittersweet memory for Freedom, having won, but not being allowed to continue on through the tournament and possibly win a state championship.
"I knew we were going to be good in the fall," said Reiman. "We started 5:30 a.m. workouts and had 13 or 14 kids showing up every Friday."
But Reiman wasn't so sure where the Lady Pates were going after their double overtime loss to Nazareth in the District 11 final.
"I didn't think they were strong enough to bounce back from that," he admitted. "We should have won that game. They were processing that disappointment heading into state playoffs.
"They became a different team in states and used that loss to say we can still show everyone who we are and win a state championship."
Freedom's last state playoff game, their victory over District 1's Central Bucks West, was proof.
"That was really high-level basketball," said Reiman. "We don't have goals of wins and losses. The girls keep it in context and play to the highest level they can, and they were starting to understand that."
Jennifer Kokolus is the Lady Pates' only senior, so the way the season ended was certainly not what Coach Reiman would have wanted for her, especially.
"She's obviously very disappointed," he said. "Our goal was to end the season with a win. That's how we framed it, and in that regard, she did. I love that kid, and she was really impactful for the program."