LV Marine Corps League honors veterans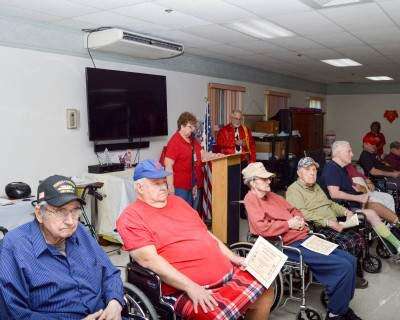 Published February 09. 2020 11:00PM
Members of the Marine Corps League visited veterans at the Mahoning Valley Nursing & Rehabilitation Center in Lehighton on Veterans Day.
Twenty veterans assembled for a program of patriotic songs, poems and conversation between the visiting Marines and veterans at the early afternoon event.
Activities coordinator Nancy Snyder officiated the event, while nursing home staff ensured the attendees were safe and well cared for. Other residents also attended.
Bethlehem Detachment #284 Marine Corps League members Nick Hawkey of Kunkletown and Douglas Graves of Upper Macungie Township handed out Certificates of Honor to each veteran.