Annual holiday sale celebrates its best year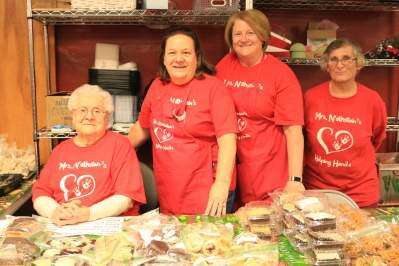 Published November 19. 2019 11:00PM
Nov. 7-9 saw the return of the annual homemade holiday sale that benefits Mrs. Nothstein's Helping Hands Fund. This was the event's ninth year.
For those three days, the basement of North Catasauqua's St. John Fisher Church, 1229 Third St., was filled to the brim with unique holiday gifts, handmade crafts and a seemingly endless flow of baked goods. Shoppers poured in every single day, marking record attendance and sales numbers for the event.
The homemade holiday sale has been a key fundraiser for Helping Hands since its founding in 2010 to honor the life and memory of Deb Nothstein after her sudden passing in March of that year. A longtime Catasauqua Area School District employee, Nothstein was dedicated to helping children and families in need. For the past nine years, Mrs. Nothstein's Helping Hands has been her family's way of maintaining that dedication to charity.
Across those years, the holiday sale has expanded in scope. In early years, Nothstein's parents, John and Rose Marhefka, hosted the sale in their home in North Catasauqua. Now, thanks to the extra space and kitchen provided by St. John Fisher, the sale has more room for gifts, plus the ability to make and sell hot food.
All of this growth gives the Nothstein and Marhefka families more ways to raise funds for local families in need. This year's three-day sale made $27,000. After crafters were paid and expenses were subtracted, they had raised $14,000 for Mrs. Nothstein's Helping Hands, making it the best year yet for the sale.
Bill Nothstein, Deb Nothstein's husband, said totals for each day surpassed previous highs, but day one was the most successful.
According to his daughter, Bethany Nothstein, day one sales alone were $14,000 before costs.
The popularity and success of this event are clear, so it is expected to continue for many more years to come. An event of this scale, however, does not run itself.
"As the event continues to grow, we are in desperate need of more volunteers to continue our work,'' Bill Nothstein said.
Anyone wishing to support Mrs. Nothstein's Helping Hands at future events can find the group on Facebook, or contact Bill Nothstein at nothsteinw@gmail.com
Bill Nothstein extended his thanks to all who helped with the sale.
"We are so grateful to all our crafters for their high-quality and unique crafts, the many who donated baked goods and the volunteers," he said. "Many thanks to St. John Fisher Church for the use of their facilities."