PROJECT LIFESAVER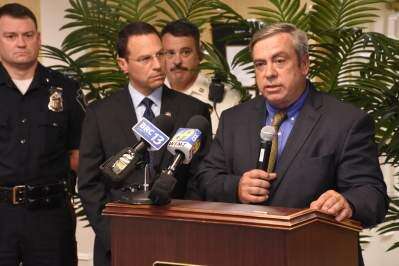 Published July 31. 2018 12:00AM
Pennsylvania Sen. Pat Browne, R-16th, chairman of the Pennsylvania Senate Appropriations Committee, and Pennsylvania Attorney General Josh Shapiro, teamed up at a press conference at Country Meadows of Allentown, 410 Krocks Road, Upper Macungie Township, July 27 to announce a $100,000 grant program for Project Lifesaver of the Lehigh Valley.
Project Lifesaver uses technology and training to aid families and local emergency and law enforcement agencies and memory care facilities, to identify the location of a missing person who may have wandered. Autistic youngsters and Alzheimer's patients are particularly at risk and radio frequency bracelets on those at risk and location detection technology have been increasingly instrumental in lessening the time it takes to locate a missing person.
Project Lifesaver was established in April 1999 as an initiative of the 43rd Search and Rescue Company of the Chesapeake Sheriff's Office. Its founding principle is to use state-of-the-art technology in assisting those who care for victim's of Alzheimer's Disease, dementia, Down Syndrome, and other cognitive conditions which cause wandering.
Gene Saunders, founder and CEO of Project Lifesaver International, told those attending the press conference that the idea for linking animal tracking technology to human behavior was behind the development of the Project Lifesaver program.
The $100,000 grant program was created by the passage of Act 44 of the 2018 fiscal code and is administered through the Pennsylvania Attorney General' office. The initiative provides training and equipment to assist caregivers in the event someone goes missing.
"Protecting our senior citizens and special needs community from abuse, neglect and harm is a top priority of my office," Shapiro said.
The grant program will provide the resources for selected recipients to become Project Lifesaver members or associates and to fund the purchase of, and training for, the use of electronic tracking equipment and radio transmitting bracelets used in the search for missing individuals. Browne said.
Martha Lieberman, Lehigh Valley Project Lifesaver coordinator, said the $100,000 grant would help save lives by lessening the time it takes to locate at-risk missing persons. Browne said it was Lieberman's "tireless efforts" which helped spur the special legislation leading to the Lehigh County grant
Project Lifesaver members and associates are also eligible for the new grant program, and now will be able to purchase additional or updated electronic equipment and additional bracelets, Lieberman said.
A member is an agency trained in the technology who has the equipment to monitor and track the bracelets.
An associate is an agency who has the training and can provide bracelets, but must have an association with a member, since they do not have the equipment themselves, Lieberman explained.
New Project Lifesaver members through the grants are police departments in Coplay, Macungie, Upper Macungie, Upper Saucon and Whitehall, along with Wolfpack Search and Recovery, headquartered in Orefield, Lehigh County.
Memory care facilities which will also be able to become members are: Country Meadows of Allentown, In Spirit Senior Living, Sacred Heart Senior Living and South Mountain Memory Care.
The Lehigh County Sheriff's office will become a new Project Lifesaver associate, while police departments in Allentown, Bethlehem, Emmaus, Salisbury and South Whitehall will be eligible for additional equipment or bracelets.
The equipment and technology consists of personalized radio transmitting devices, antennae and the bracelets.
Attending the press conference were representatives of several local law enforcement agencies, the Lehigh County Sheriff's Department, Lehigh County District Attorney James Martin and administrators of several regional memory care facilities.
Adding to the poignancy of the occasion was the attendance of Gilberto Luis Vega and his wife, Yelitza Batista, who lost their son Jayliel Vega, when the autistic child wandered from his home on New Year's Eve 2016 and was found drowned in a nearby canal in Allentown.
Karl Kent, the son of Audrey Penn, who last August was reported missing from a Salisbury township memory care facility and was found deceased in Lower Macungie Township in September 2017, attended as a memorial to his mother.
Also at the event, Lieberman announced she was moving away from the Lehigh Valley for health reasons and introduced Cheryl Galowitch, of Lower Saucon Township, as the new coordinator of Lehigh Valley Project Lifesaver.