Boys hope to find identity over summer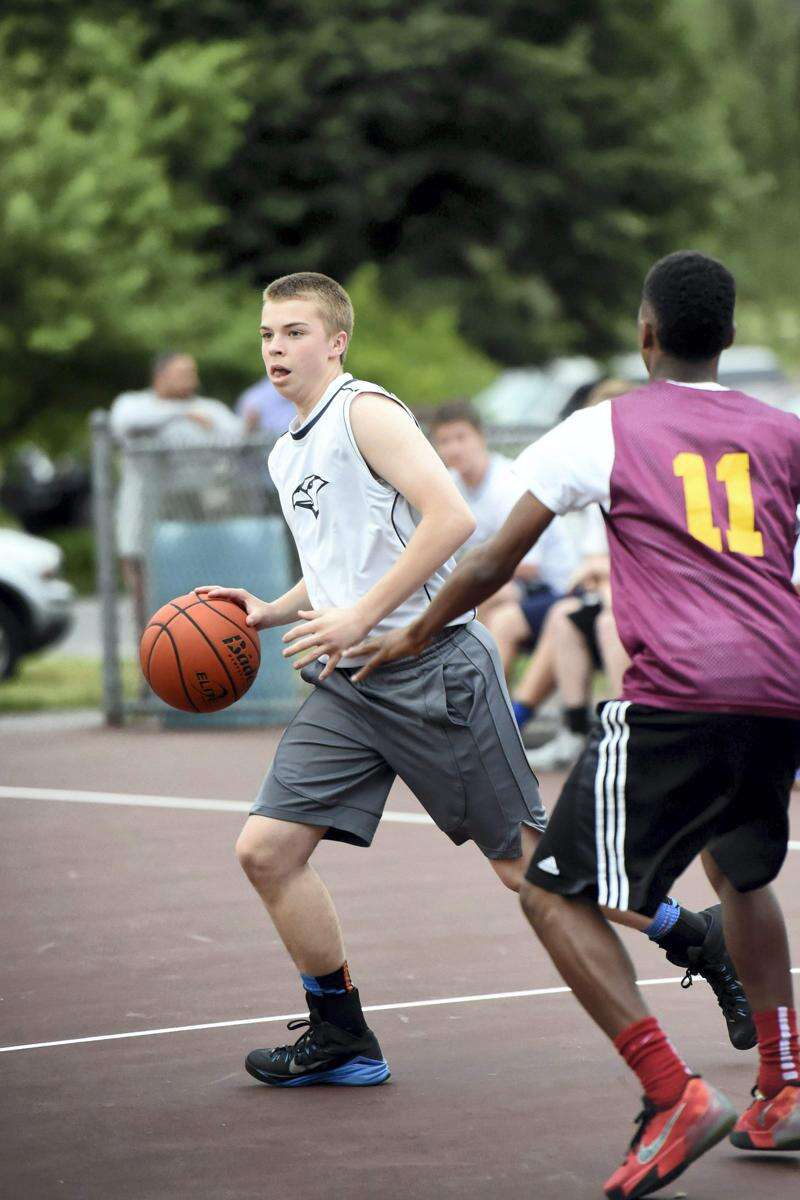 Published June 10. 2015 12:00AM
There is plenty that head coach Jason Weaver and the Salisbury boys' basketball team needs to work on in the offseason.
Three senior starters from last year's squad have graduated, leaving the biggest voids to fill at the point guard position and in the scoring department. Figuring out what defensive schemes work best for this Falcons team is also still up in the air. The upcoming summer months hope to answer those question marks.
The Stellar Construction summer basketball league provides a solid stage for hoops teams looking to hone their skills for the upcoming winter season that still has a ways to go before tipoff. But it's never too early to start building for the future.
Weaver and the Falcons, now five games into summer league play, dropped their latest game of the season last week. Thursday's 52-42 defeat to Lincoln Leadership dropped Salisbury to 3-2 in the early going, but the Falcons understand there is no need to panic whatsoever.
"I think we've been inconsistent," Weaver said. "I think we're trying to find our identity of this team. It's a different team than last year.
"I just told Tevon [Weber] that six months from today is our first real game, so we have time. But we need to keep working on things."
Lincoln Leadership held Salisbury to just 15 points in the first half en route to a 25-15 lead at the break. And while the Falcons got to within six points early in the second half and trailed just 46-40 in the final moments, they were never able to pull ahead.
Unlike recent years, more specifically last season with Brendan Reichenbach and Dasheen Reid at the guard positions, size hasn't necessarily been one of the Falcons' strengths. Reid, the team's leading scorer in the winter, and Reichenbach, a point guard who made sure the offense flowed each night, both were listed under six feet.
But this season will be a different story. Dylan Belletiere returns in the Falcons' guard rotation, while Ryan Slutsky is a big body who can be effective both inside and at the three-point line. And Jaxson Costello (who scored a team-high 14 points against Lincoln Leadership) returns in the post after seeing a spare amount of minutes last year.
"We've got a lot of big bodies, but not as much quickness," Weaver said. "We're trying to find who our point guard is. We're trying to find what kind of defense we can play. I always like to play man-to-man, [and] I'm trying to see if we can still do that. I think we can at times. It's a work in progress."
Replacing Reichenbach, however, may be the toughest task of them all. And Weaver is looking at a number of options.
"Dylan has brought the ball up some times," Weaver said. "Blake Jones has, who was a JV guy [last year] and a good shooter for us. We have Sean Snyder who is going to be a freshman and coming up; we're trying to get him some experience. Obviously the point guard is an important position, and we're trying to figure out who can handle that role."
Salisbury earned two victories against Faith Christian and Notre Dame in its first week of play, then split its next two contests, a loss to Saucon Valley and a victory against Northwestern.
Results from Tuesday's game against Pleasant Valley were not available at time of press. Salisbury faces Kutztown on Thursday at 7 p.m. on Court 3 at Cedar Beach Park.