EHS Field hockey stays unbeaten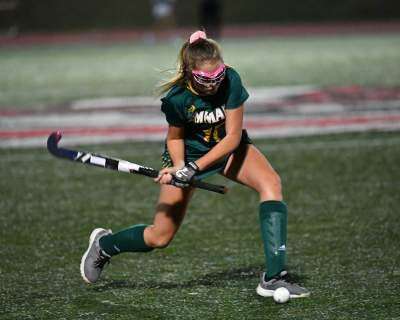 Published October 17. 2019 12:00AM
Emmaus wrapped up the regular season with an impressive 6-0 dismantling of previously unbeaten Parkland (15-1-1).
The Trojans had won their season opener before playing to a 2-2 tie against Pocono Mountain East in their next game. Since that point, they had won 13 straight coming into the game against Emmaus.
Rachel Herbine scored three second-half goals in the win over Parkland, which came into the game with more confidence than at any time they've played Emmaus in recent memory.
"Parkland always has that kind of a swagger, especially when they play against us," said coach Sue Butz-Stavin. "I like the fact that it was a very athletic game and quick and the athleticism showed through.
"They wanted to make a statement because last year we pretty much handled them, but they felt that they could win and every team wants to feel that way."
The win put Emmaus (19-0-0) into the postseason with a perfect record through the regular season and pitted the Hornets against eighth-seeded Nazareth (9-10-0) in the EPC quarterfinals.
Rachel and Annika Herbine each scored a goal in the game's first five-minutes to put the Hornets up 2-0.
The Blue Eagles made a goalie change and it helped, but eventually, Emmaus was again able to break through when Liz Mazzella scored the first of her three goals with 20:55 left in the first half.
While Emmaus controlled the play and barely allowed Nazareth into the Hornets' defensive zone, they weren't able to score again until late in the first half.
In the final four minutes of the half, Emmaus scored three times, on goals from Jenna Villaneuve, Rachel Herbine and Mazzella.
With a 6-0 lead, the Hornets came out firing early in the second half with Mazzella adding her third goal with 27:30 left in the game and Abby Burnett scoring a minute-and-a-half later. After that, Villaneuve and Annika Herbine both got their second goals of the game and Mackenzie Bruns added a goal in the 11-0 win.
"We obviously want to keep building on what we've done all season," said Mazzella. "I think we had a little bit of nervous jitters today in the first game of the playoffs, but we were OK.
"Once the competition gets harder, we get a little more intense. Even though we're playing well, there's always room to do a couple of things better."
The team has looked strong all season and showed nearly impeccable passing and team play in Saturday's win over Nazareth. The team appears to be playing some of their best field hockey now, at just the right time.
"You would hope after 18 games and in the first round of conference play and with all of the practice times, you would hope that we've seen improvement in every game and at this point," said Butz-Stavin. "Every game is going to get tougher, so you kind of have to expect that."
The win puts Emmaus into the semifinals against fifth-seeded Liberty (15-4-0), which upset fourth-seed Pocono Mountain East (14-4-1) Saturday. The winner of that game will play for the EPC championship against the winner of the other semifinal game between Easton (15-3-0) and Parkland (15-1-1).