Liberty sweeps NHS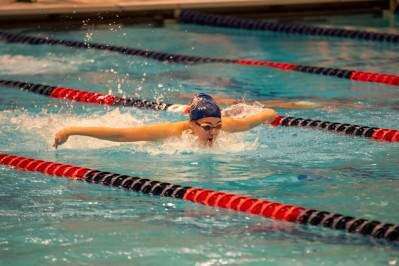 Published February 03. 2020 11:00PM
Liberty's swim team scored two wins over Northampton when the Hurricane girls defeated the K-Kids, 95-73, and the Hurricane boys also defeated the K-Kids, 107-69, last Thursday at Liberty.
Sammy Taylor, Abby Mack, Talia Lehr, and Sarah Park won the 200 medley relay in 1:56.56, and Patrick Gilhool, Addison Collins, Daniel Lader, and Corbin Eisenhardt also won the medley relay in 1:44.10.
Collins took first place in the 200 IM in 2:03.26, and Park and Ben Service won the 50 free in 26.74 and 24.94, respectively.
Lehr won the 100 butterfly in1:04.03, and Gilhool won the same event in 52.80. Gilhool also won the 100 backstroke in 55.26.
Mack took first place in the 100 free in 55.87, and Trevor Lenig also won the 100 free in 53.69.
"It surprised me a little bit, honestly," said Lenig. "I went in there and I was talking to Corbin [Eisenhardt] in lane 2, and he's going for the district time, and so I told him I was going to race him, so I was very happy with my time. I think I missed the district time by .2, so they're probably going to push me to get that, and I'll be happy to swim it. I had a lot of fun."
Maryam Mohammed, Sydney Taylor, Lehr, and Maddy Drager combined to win the 200 free relay in 1:53.37.
Eisenhardt, Lenig, Caleb Stein, and Service took first place in the 200 free relay for the boys in 1:38.71.
"I think the kid next to me dove in right before me and then I just sprinted it," said Lenig. "I told Corbin I'm taking one breath, two breath maximum, and I went out and I did. When I got out, I was ahead."
Sammy Taylor was first in the 100 backstroke in 1:01.96, and Collins won the 100 breaststroke in 1:01.40.
Park, Drager, Sammy Taylor, and Mack swam the fastest 400 free relay in 3:52.28.
Gilhool, Stein, Service, and Collins swam the fastest 400 free relay in 3:32.62.
"We started the year with Emmaus and Parkland and so it got off to a rocky start because they're so good, but I think the guys, over the year, have gotten really good," said Lenig, regarding the Hurricanes' season overall. "We come in to practice and the coaches do a great job and the guys step up to it every day."