BC crowns three state champions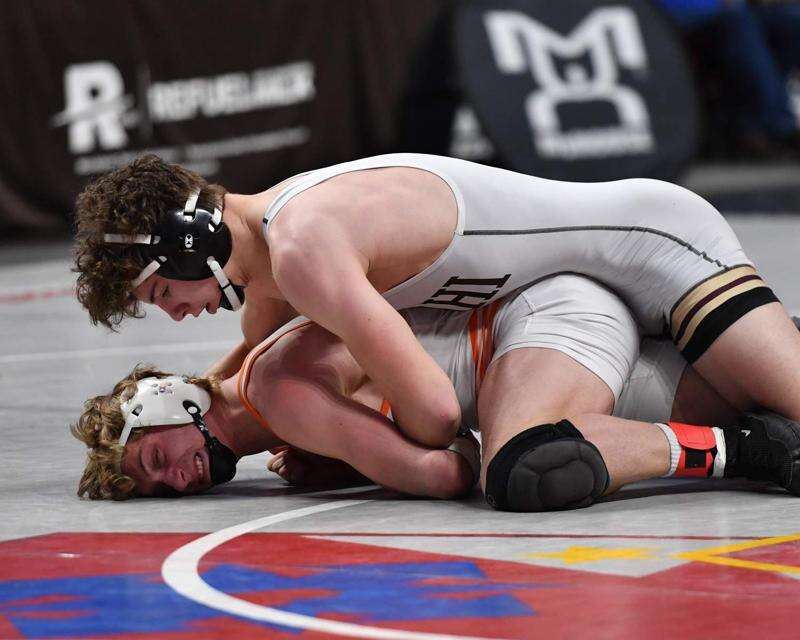 Published March 16. 2023 11:46AM
by Peter Car pcar@tnonline.com
It finally all came together for Kollin Rath on a weekend that went pretty well for Bethlehem Catholic. The Golden Hawks brought that moniker home from Hershey's Giant Center following the PIAA 3A wrestling championships, crowning three champions and brining home the team title to cap off an illustrious season.
Rath may have been the icing on the cake, as he took home the 139-pound title and beat two defending state champions en route to gold. He was also named the tournament's outstanding wrestler after securing a 4-2 decision over State College's Pierson Manville in the finals.
"It's pretty cool to come away with the gold," said Rath. "It's just another step to getting better. The lights weren't as bright this year and I was a little more used to it. We've been out here as a team the past two years and I've had some pretty big wins, so I was more comfortable."
Rath, a sophomore, culminated Becahi's championship night, as freshman Keanu Dillard (107) and sophomore Nate Desmond (114) started things off with state titles of their own.
Dillard had little trouble dispatching Abington Height's Luke Sirianni 7-1 in the finals, while Desmond won his second straight PIAA crown scoring a 14-1 major decision over Northampton's Carson Wagner. Desmond pinned two of his four opponents in the tournament and had his way with Wagner, scoring two takedowns and getting five back points in the process.
"The goal was always the same coming out here to win states," said Desmond. "I think if you stop being the hunter, you've already lost. At the end of the day, you're either going to wrestle well or not. Winning again is pretty cool. It's a big step and I think it shows what kind of wrestler and person I am."
Dillard, the top ranked wrestler in the country at his weight, was the pretournament favorite to win and delivered. The freshman sensation outscored his four opponents 40-11 over the three day event, never coming close to really being threatened.
"It means a lot," Dillard said. "This has been my goal since I was like 5-years-old. It's pretty big to come here as a freshman to win it with all the upper classmen in this bracket."
Bethlehem Catholic medaled seven wrestlers on the night and distanced themselves in the team standings from second place Nazareth by a 139-to-102.5 margin.
Other Hawks to medal included Andrew Harmon (160, third); Cael McIntyre (133, fifth); Luke Thomas (172, fifth) and Jake Dailey (152, sixth).
Liberty and Freedom came home empty-handed from the tournament from the three wrestlers that qualified between the two schools.
Liberty's Ryan Santiago (145) went 2-2, but lost to Nazareth's Jake Doone 6-1 in the third round of consolations to come up just short of qualifying for the medal round.
Freedom's CJ Horvath (121) and Jared Karabinus (172) both lost in the third round of consys as well to end their tournament runs.
Horvath, the District 11 3A and Northeast Regional champion, had aspirations of medaling high on the Giant Center podium, but things started to go south when he lost to Warwick's Marco Tocci 9-7 in the quarters.
Horvath then couldn't recover in his next consolation round bout, falling 2-0 to Brady Joling of Chartiers Valley to get knocked out.
Karabinus got pinned in his preliminary round bout before winning his next two consolation round bouts, but ultimately saw his run end to Nazareth's Dominic Wheatley 6-1.