Emmaus cross country teams showcase depth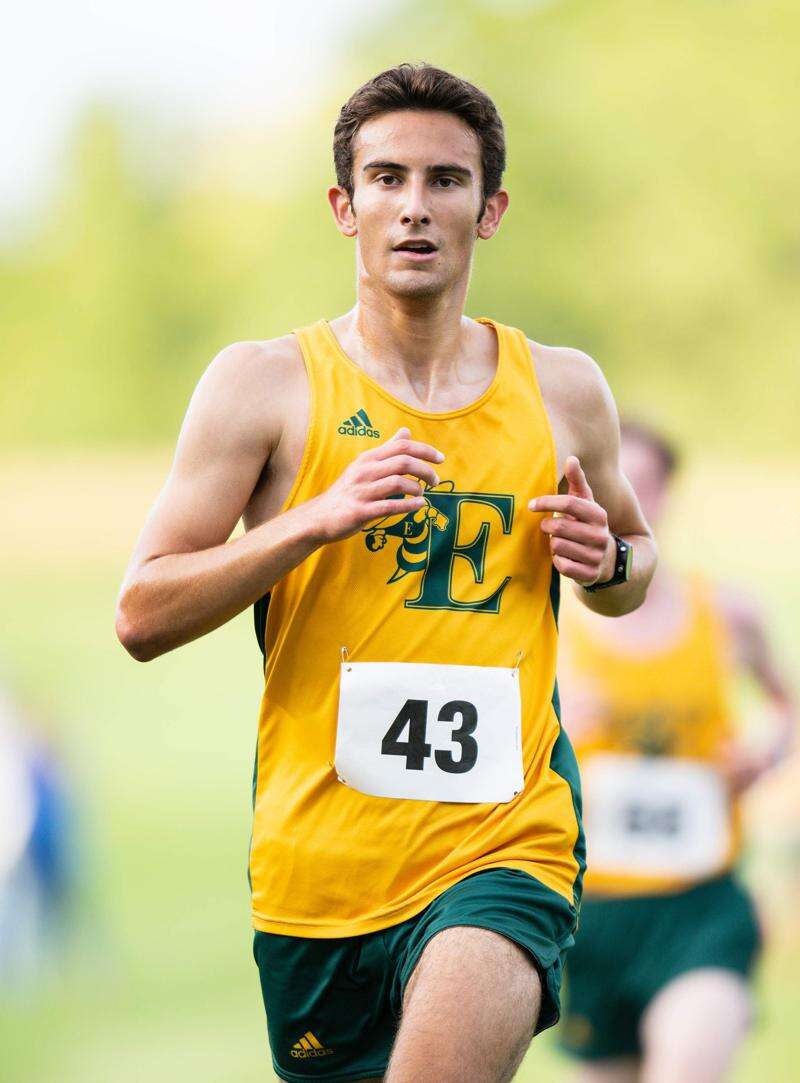 Published October 04. 2022 01:02PM
by STEVE ALTHOUSE Special to the Press
The Emmaus cross country programs continue to - pardon the expression - run toward solid seasons.
Last Tuesday the Green Hornets defeated Pleasant Valley, Pocono Mountain East and Pocono Mountain West. The girls won with 15-50 scores, while the boys won respectively by 15-50, 16-47 and 15-50 scores. In addition, Central Catholic and Whitehall High Schools participated.
"It was a beautiful day celebrating our inaugural event, unveiling our new cross country 5K course at Camp Olympic," Emmaus head coach Kami Reinhard said. "Lower Macungie Parks, our athletic department, our coaching staff and team worked very hard to make it happen. We must give credit to Budd Coates, whose idea created the foundation of the course many years ago."
To say the girls' race was close would be an understatement. Emmaus' Hailey Reinhard emerged victorious in the 5,000-meter run with a 19:15.37 time, just .33 of one second ahead of teammate Madelyn McCartney. The Hornets' Payton Campbell finished third.
Emmaus runners took the second through fifth spots. Conor Fisher ran a 17:11 race for second, while Oscar Felegy finished third at 17:40. Richard Will and Brett Pevec respectively took fourth and fifth.
On Sept. 13 the Hornets battled Easton, Nazareth and Northampton in a meet at Easton. The afternoon ended with a sterling Emmaus girls victory.
"Our girls team performed their very best against Easton and they really rose to the occasion," Kami Reinhard said. "We started off the season against one of the top team in our district and state on their home course, so we had to be 100 percent ready."
No one was more ready than Campbell, who was the overall first place runner.
"Payton attacked the race from the very start," the coach said. "She was incredible."
McCartney and Hailey Reinhard finished second and third, while Addison Johnson ran a good race to claim fourth and Nicole Nosal ran a strategic race moving up throughout. These collective efforts produced Emmaus' victory.
The boys offered some solid performances that afternoon, showcasing Emmaus' depth.
"Right now they are focused on working together and bridging the gap between our one through five runners," Reinhard said. "The beauty of the boys team is there are many athletes working hard who could be in our top seven. Conor Fisher consistently displays his excellence in setting up the pace for the rest of the team, and he was our top finisher and sixth place overall."
Sam Dalton, Will and Felegy all finished within four seconds of one another. Tyler Finck rounded out Emmaus' top five.