football nhys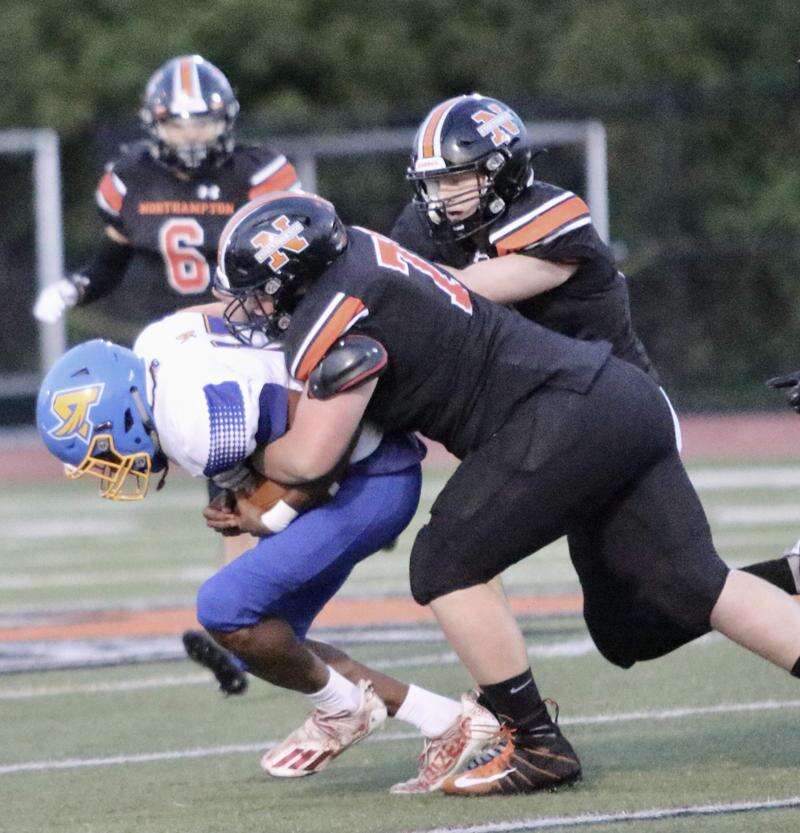 Published September 22. 2022 08:29AM
by Jeff Moeller Special to the Press
For the past four weeks, Northampton's football team has been laser-focused on the task at hand, and never looked forward. Their actions showed their commitment as they steamrolled opponents by a 209-18 advantage.
They have managed not to be caught in any trap games, looking ahead to East Stroudsburg South.
Well, look now further, Konkrete Kids. The time is here.
Friday night, Northampton will make the trek to East Stroudsburg Friday night to battle the Cavaliers (3-1) in a contest that could decide the East Penn Conference (EPC) North title.
To get there, the Kids dismantled Allen, 55-0, last weekend to register their fourth straight win this season and 14th consecutive regular season win.
Since the start of the season, head coach John Toman hasn't changed his tune.
"We are taking it one game at a time," said Toman. "We focus on how we play and how we start the game. We didn't talk at all about East Stroudsburg South this week.
"Defense played lights out all night, and offensively, we accomplished what we wanted to do in our passing game."
Against Allen, Northampton again relied on its running game, as they churned out 264 yards on the ground. Caden Henritzy led all K-Kids rushers with 101 yards with two touchdowns.
Quarterback Antonino Russo had his best game of the season, as he completed nine of 12 passes for 197 yards with three touchdowns.
Toman knows his troops will be ready against ES South.
"We won't have to get up for this one," he said. "The players will be excited all week to play them."
NOTES AND PREDICTION: Cornerback Jaelen Richardson needs four interceptions to break the school's all-time mark of 11. Richardson has eight for his career. He also had two catches for 57 yards with a touchdown against Allen. Michael Coleman leads all Kids' receivers with three receptions for 60 yards with a score..Tristen Pinncok had a team-high five tackles..East Stroudsburg South has been paced by quarterback Blaise Jones and receivers Nekhi Spencer and Shane Bulay. The Cavaliers' lone loss was to Pleasant Valley, 7-6, and they downed Pocono Mountain East, 24-6, last week..The Kids won last year's game, 21-20 in a tight game, and the Kids routed them , 51-21, in 2019. Kids also won a 2017 battle by a 21-14 deficit. The two teams didn't meet often before the last five years..Many of the Kids' starters haven't played a full game because of the lopsided scores.Northampton had a slow start against Stroudsburg, but they quickly bounced back.This is a team on a true mission, and they don't looked to be slowed. This will be a battle likely to the end and similar to last year's contest. Kids' defense has gone unnoticed due to its high-powered offense, and they will be the answer. Who makes the best hoagie in Northampton? Coach Toman owes me one..KIDS, 35-17