Falcons compete in A-town Throwdown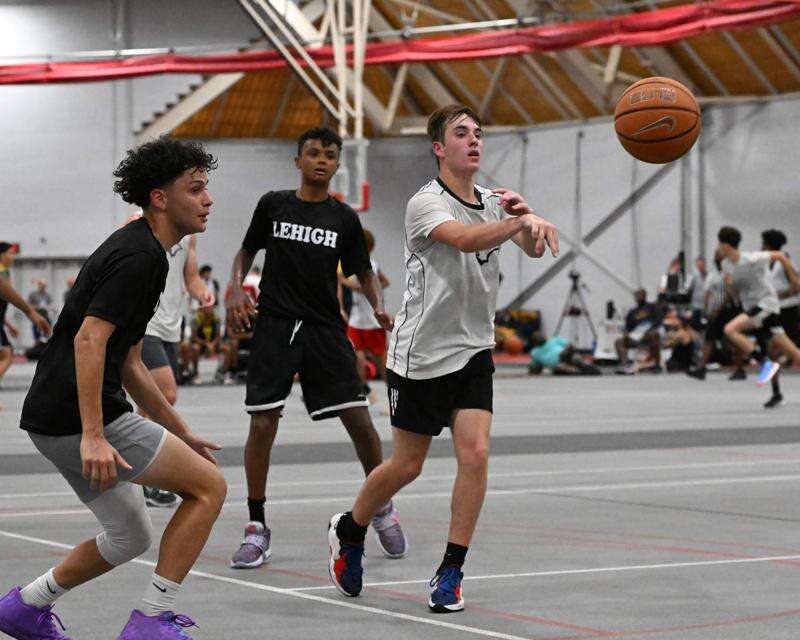 Published August 19. 2022 12:50PM
by CJ HEMERLY Special to the Press
After a long, three-month summer offseason, the Salisbury High School boys basketball team concluded play at the A-town Throwdown event at Cedar Beach Park on the last weekend of July. The Falcons went 1-2 in pool play, winning their lone game on the first night, Thursday, over Lehigh Christian Academy. A young Falcons group also performed well in the Risers Division and head coach Jason Weaver was pleased with what he saw from the program a whole.
"The tournament was a success overall for our entire program I thought," said Weaver. "We won a game at the varsity level. We played better offensively in all three games and the Risers Team (8th-9th) won their pool and went 2-1 overall."
In the 35-29 victory over the Mustangs, the Falcons fell behind and then had to climb back for the win.
"We got down 7-0 early on and then picked up the defensive intensity," Weaver said. "Jake Zellin had a solid all-around game. We played smart down the stretch and held on for the win by seven. It was a good, comeback win that gave us some good momentum to start the weekend."
West Scranton then defeated Salisbury 51-38 on Friday night and Weaver complimented the Invaders on their play.
"The quickness of West Scranton was tough for us to match up with," said Weaver. "They also shot the three-ball very well and were able to get out in front of us and stay in front."
Weaver mentioned that there were a few players that stood out in his eyes and led the team on both sides of the court.
"Jake Zellin played really well and made some smart cuts for big baskets against Lehigh Christian," Weaver said. "Thomas Lovelidge was our leading scorer in the two games he played for us and was aggressive offensively. Andrew Grejda ran the point and played very solid defense. Those three guys were sparks for us all weekend."
With the winter regular season set to begin in a few months, Weaver is pleased with the direction of his program going forward.
"The kids work hard and want to get better," said Weaver. "That's all you can really hope for as a coach. We have a lot of work to do, but they are up for the challenge. I'm happy that they want to do the hard work we, as coaches, ask of them. I'm looking forward to this upcoming season."