LM battles to 3-2 loss in LVL final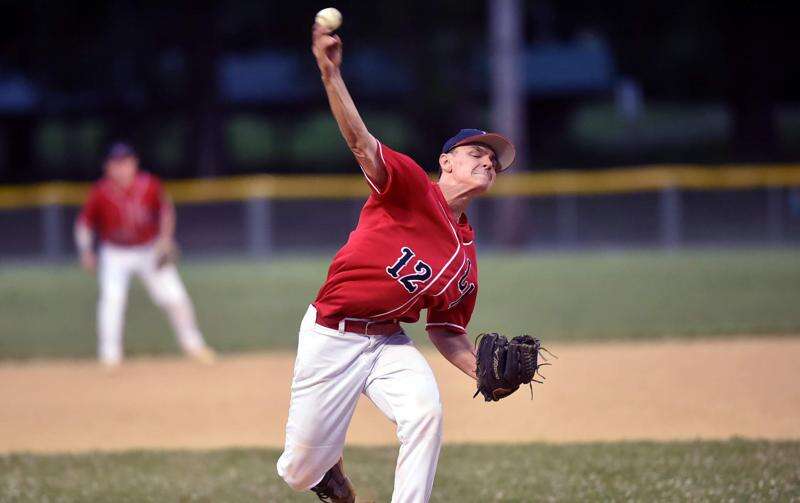 Published July 18. 2022 11:19AM
Dominic Chiego spent the high school season behind the plate for Emmaus. In Legion ball, Chiego proved his value at other spots on the field, especially on the mound. Chiego, a recent Emmaus grad, was called on to start the first of what Lower Macungie hoped would be two games against North Parkland for the Lehigh Valley Legion championship on Monday.
Chiego gave his teammates 5 1/3 innings, allowing just two runs – one earned – but the Mustangs fell to North Parkland (16-5) as the Buffaloes won the Lehigh Valley championship and locked up a spot in the regionals, which begin this weekend in Quakertown.
"We got off to a bit of a late start because we had so many Emmaus kids who were playing in the high school playoffs, so we had a bit of a tough start to the year," said Lower Macungie head coach Jeff Smith. "Especially on the mound, we had to just be patient and fight our way through until we got these kids in here. They have all been great additions and Chiego did a great job for us again tonight."
A first-inning error gave North Parkland a 1-0 lead on an RBI single off the bat of Joe Algard, a Parkland grad who now attending Lehigh University.
Algard, who was also the starting pitcher for North Parkland, retired the first five batters he faced until a crack in the armor led to two runs. Algard walked Taylor Davis and a groundball to short figured to finish the inning, but a throwing error put two men on with two out. Back-to-back singles from TJ Geist and Ryan Latchford plated two runs and gave the Mustangs a 2-1 edge before Algard was able to go back to setting down hitters, retiring the next five in a row.
Lower Macungie (12-6-1) was the victim of a bloop single to center by Allan Burgos with one out in the third and Matt Razzis followed with a double off the wall in left field to tie the game 2-2 where it would stay until the final inning. Algard and Chiego battled back-and-forth before a sixth-inning error and a walk put Buffalo runners on first and second with one out and Chiego exited in favor of Alex Pion, who worked out of the jam.
Algard had retired seven straight hitters until Pion worked a walk and stole second with two outs in the seventh, but again, Algard responded and struck out the next batter to end the threat.
With one last chance before the game went to extra innings, Jake Barto singled to right and Algard blooped a single to right to put runners on first and second with one out. Sean Rivera then singled to right and Barto never slowed rounding the bases, scoring the winning run for North Parkland.
"I told the guys that there are eight other teams who would love to be here and they're not," said Smith. "If you would have asked me a month ago if we would be playing for the championship, I would have said 'no.' It was these guys that turned things around and worked their butts off to get us here and they deserve all of the credit."
By virtue of not having lost through the Lehigh Valley tournament, North Parkland had the upper hand and Lower Macungie needed to win to force a deciding final game against the Buffaloes in the double-elimination tournament.
Both North Parkland and South Parkland (17-3), the regular season champion in the LVL, will advance to regionals.