Students earn Steelworker Archives' writing honors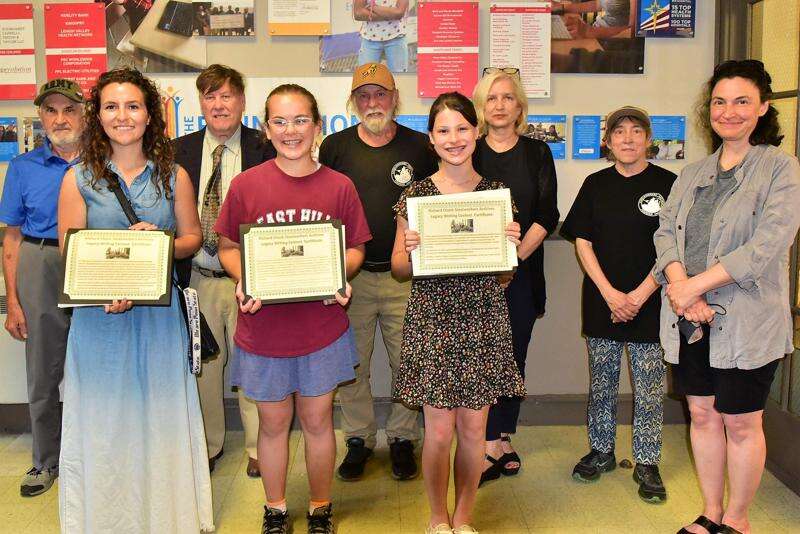 Published June 22. 2022 07:43AM
The Steelworkers' Archives legacy writing contest was begun in the 2012-13 school year. After a two-year break due to the pandemic, the writing contest was renewed this year and is now named after well-known local steelworker Richard Check.
This year 57 middle school students in the Bethlehem Area School District submitted essays which were judged by Archives members. On June 13, the winners or their representatives attended a BASD Board facilities and curriculum committee meeting to be recognized for their writing skills.
First place went to Nitschmann MS sixth grade student Eliana Erland, whose essay drew from her own grandfather's career at Bethlehem Steel, where he worked as a crane operator.
Second place winner Cameron Dunham, an eighth grade student at Northeast MS, was unable to attend and his mother Shari represented him. Dunham's essay retold the story of steelworker William Toth's life.
The third place award went to Broughal MS sixth grade student Amaris Dalpezzo. Unable to attend, Dalpezzo was represented by her teacher, Alyssa Gammel. Her essay related the role that Bethlehem Steel played in the Bethlehem community.
Hannah Brodhead was recognized with an honorable mention. She is a sixth grade student at East Hills MS. Brodhead imagined herself as the daughter of a steelworker in her essay.
Each received a certificate of recognition and the three place winners each received a monetary award.