Unbeaten So. Parkland leads LVL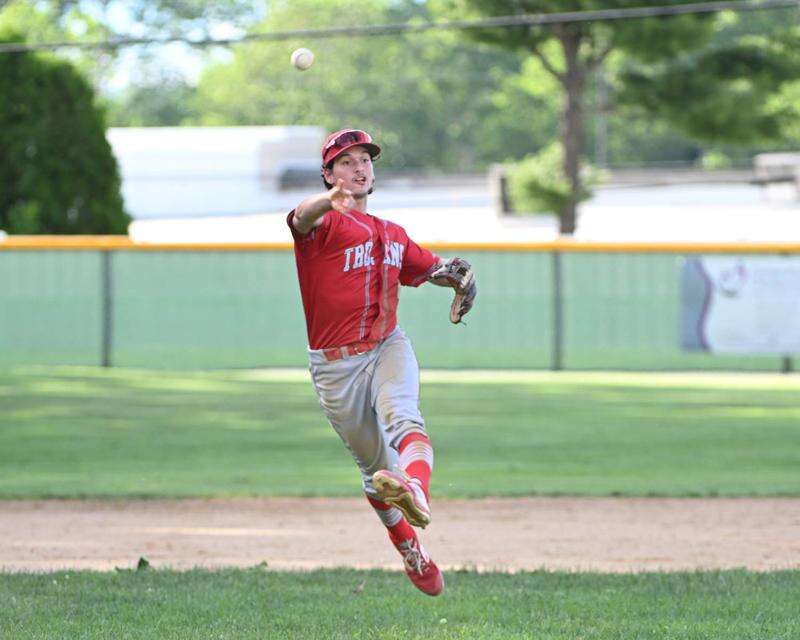 Published June 21. 2022 10:34AM
The South Parkland Lehigh Valley Legion baseball team is off to a hot start to the 2022 season.
The Trojans won their seventh straight game Monday night to improve to 7-0. They're the only unbeaten team left in the league and are more than two games ahead of second-place Northern Valley (4-2) and Whitehall-Coplay (3-2).
South Parkland beat Allentown Monday 14-4. After falling behind 3-2 in the second inning, the Trojans bounced back with a run in the third, four in the fourth and seven more in the bottom of the sixth to end the game by virtue of the mercy rule.
Kurt Meehan went 3-for-3 with four runs scored in the win, while six other South Parkland players had one hit each. Anthony Carpenter knocked in three runs in the win, while Sean Superka and Michael Glick each had two RBIs.
Pitchers Jaiden Wanamaker and John Friday combined to allow five Allentown hits over six innings.
The win marked South Parkland's second straight by the 10-run rule after last Thursday's 11-1 win over a Lower Macungie team that was missing a few players from the Emmaus High School team, which was still competing in the state tournament.
The Trojans jumped on Lower Mac with two runs in the top of the first inning and scored another in the third. It was another big sixth inning that put the game away when eight Trojans crossed the plate to extend the lead to 10 runs.
Xander Provence (2-for-3, 3 runs) and Wanamaker (2-for-3, 4 RBIs, 2 runs) had big days at the plate against Lower Macungie. Superka pitched four innings and allowed three hits and one run while striking out five. Friday pitched two hitless innings while fanning three batters.
A day before beating Lower Mac, South Parkland picked up a 5-2 win over the Carbon Monarchs.
Wanamaker went 2-for-4 with three RBIs and a run scored in the win. Trojan pitchers Carpenter (5 innings, 3 hits, 7 strike outs) and Meehan (2 innings, 1 hit, two strike outs) pitched around three errors and didn't earn a run in the win.
South Parkland beat second-place Northern Valley (4-2) by a 6-0 score last week, plating three runs in the first inning and two more in the third to take an early 5-0 lead.
Anthony Madero and Gavin Mohry both went 2-for-3 in the win, while Meehan and Superka knocked in three runs each. Pitchers Wanamaker (5 IP, 2 H, 6 K) and Evan Brandt (2 IP, 0 H, 2 K) combined for the two-hit shutout.
The Trojans' first meeting of the season with Allentown came on Friday, June 3 when they picked up an 11-3 win.
South Parkland scored nine runs in the first three innings, with four in the first and third and one in the second. The Trojans took advantage of five Allentown errors while making none of their own in the game.
Kurt Meehan (2-for-2, 2 R, RBI) was the only Trojan with multiple hits. Modero went 1-for-1 while driving in three runs and scoring twice. Carpenter pitched all seven innings with an efficient 91 pitches. He allowed three hits and three runs while striking out eight and walking one.
The Trojans' first 10-run rule win came in their second game of the season when they beat defending league champ Salisbury 12-1 in five innings.
Charles Hahn went 2-for-2 with a run scored in the win, while eight other South Parkland players had one hit each. Three Trojan pitchers (Superka, Brandt and Friday) combined to allow just three hits and one earned run against Salisbury.
South Parkland opened the season on May 31 with a 7-0 win over Whitehall-Coplay.
James Miskanic went 3-for-4 with three RBIs and a run scored in the win. Kurt Meehan was 2-for-4 and scored twice.
Wanamaker pitched four hitless innings while striking out five batters and walking two. Carpenter pitched three innings and allowed one hit while striking out five.
The Trojans have three games scheduled this week. They traveled to Emmaus Tuesday, then take on Southern Lehigh at Limeport Thursday before facing North Parkland in Saturday's Lehigh Valley Legion Day at Limeport. The game has a 9 a.m. start and kicks off a slate of five games at the historic ballpark. It will be followed by Southern Lehigh-Salisbury at 11:30 a.m. Northern Valley takes on Carbon Monarchs at 2 p.m. before Whitehall faces Allentown at 4:30 p.m. Emmaus and Lower Macungie will meet in the nightcap at 7 p.m