No. Valley starts LVL season at 4-2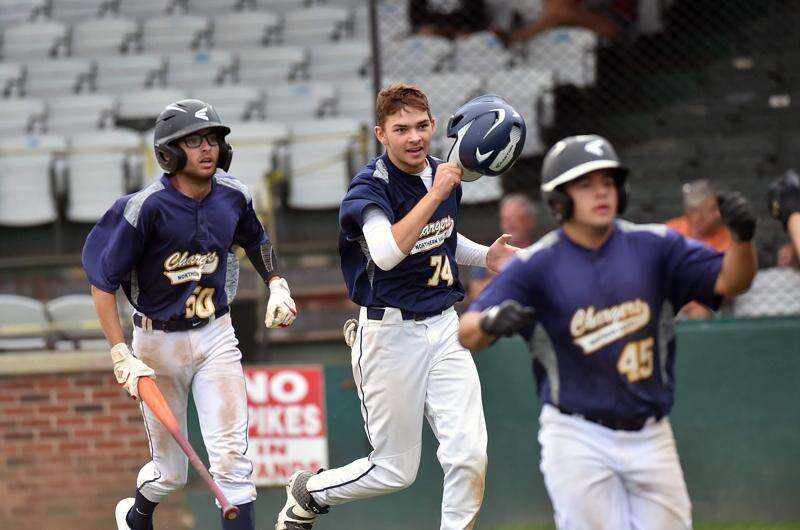 Published June 21. 2022 10:34AM
The Northern Valley Lehigh Valley Legion baseball team is off to a good start to the 2022 season with wins in four of its first six games. The Chargers (4-2) are in second place behind unbeaten South Parkland with less than half the season in the books.
Northern Valley edged a replenished Lower Macungie team Monday, 4-3. The Mustangs (2-2) were missing players from the Emmaus High School team, which reached the second round of the state playoffs. Some off those players were back Monday, while others are competing for the Lehigh Valley Carpenter Cup team in Philadelphia this week.
Trailing 2-1 after four innings, the Chargers posted three runs in the top of the fifth inning to take the lead for good. Five Northern Valley players had one hit each in the win, including Andrew Diehl, Cole Hausman, Wes George, Nick Scott and Tyler Fentermaker, who also knocked in two runs.
Zachary Chamberlain allowed two hits over four innings while striking out eight Lower Mac batters and walking four. Evan Druckenmiller pitched three innings for Northern Valley, allowing two hits while striking out five and walking two batters. Neither pitcher was tagged with an earned runs as they pitched around two errors by the Charger defense.
Northern Valley thumped Southern Lehigh 9-1 on Saturday. Hausman went 2-for-3 with three RBIs and a run scored. Diehl was 2-for-4 with two RBIs and a run.
George pitched six and two-thirds innings and allowed five hits and one earned run while striking out 12 batters and walking just one.
The Chargers suffered both of their losses this season against Parkland teams in back to back games.
They lost to North Parkland last Thursday, falling 15-4 in five innings. Two Buffalo pitchers allowed just three hits.
South Parkland, the only unbeaten team left in the league at 7-0 through Monday, beat Northern Valley 6-0 on June 6. The Chargers managed just two hits against the Trojans.
Northern Valley rolled to an 11-0 win over Allentown in five innings on June 2.
Sam Mauro, Diehl, Zach Russo and Scott had two hits each in the win. Scott and Russo each scored twice and knocked in two runs apiece. Chamberlain pitched four innings and allowed one hit, while Morgan LaBuda pitched one inning and allowed one hit to preserve the shutout.
The Chargers opened the season with an 8-2 win over Emmaus on May 31. George an Russo had two hits each in the win. George also pitched four innings and allowed three hits and no earned runs while striking out nine. Beers pitched three innings and allowed just one hit and no runs.
Northern Valley also has a suspended game against Salisbury that it needs to make up from last Tuesday, June 7. The Chargers lead that game 3-1 in the fourth inning.
With just over two weeks left on the LVL schedule, Northern Valley will be busy this week.
After Monday's game, the Chargers were scheduled to play Tuesday (vs. Southern Lehigh), Wednesday (vs. Lower Mac), Thursday (vs. Whitehall-Coplay) and Saturday in the LVL Day at Limeport when they'll take on the Carbon Monarchs at 2 p.m.
The day features five games at the historic ballpark. South Parkland-North Parkland get things started at 9 a.m., followed by Southern Lehigh-Salisbury at 11:30 a.m. Whitehall faces Allentown at 4:30 p.m. Emmaus and Lower Macungie will meet in the nightcap at 7 p.m.