Season opener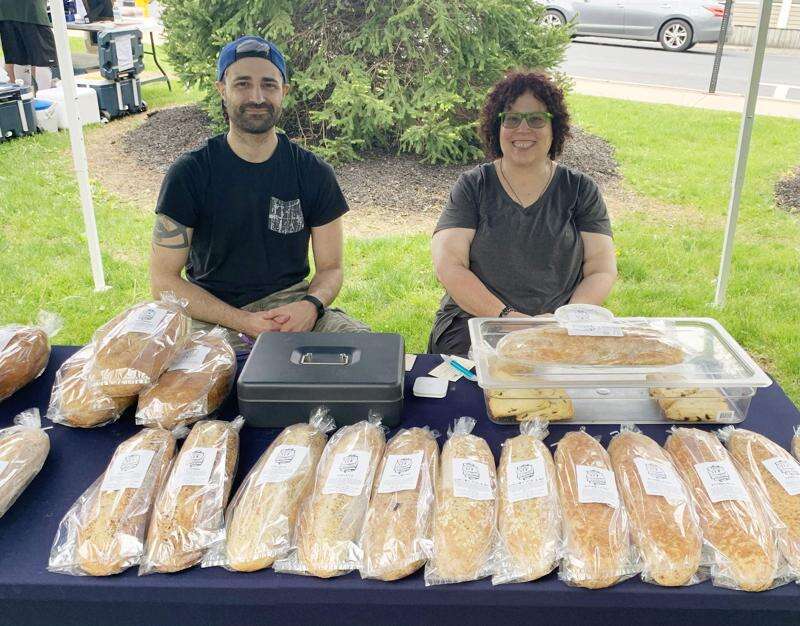 Published May 18. 2022 10:42AM
The Bath Farmers Market kicked off its 15th season on a new day and time and at a new venue. Opening day was celebrated May 14.
Once held 3-6 p.m. Fridays at Keystone Park, the market is now open for business 9 a.m.-noon Saturdays at Monocacy Park on Main Street.
Farmers market team leaders include Carol Bear-Heckman, former Bath council member and active community volunteer; Carla Buckwalter, market manager; board member Tracy Berger; and teen volunteer Adriana Kish. The leaders were delighted with their inaugural 2022 day and the new changes.
In celebration of the 2022 market season and changes, a ribbon-cutting ceremony was held near the start of the market at the park entrance. Attorney Steven D. Brown commandeered the scissor to successfully slice the ribbon.
Brown also had a stand at the market offering various legal services such as wills, power of attorney and estate planning, among other services.
Numerous vendors were on hand, including Denise Mikovitch, operator of Kula Heart Yoga and Wellness, 107 N. Chestnut St., Suite 8. She offers live streamed and in-person yoga classes. Visit kulaheartyogaandwellness.com to book a private session or class.
Sue Yaple, of Wood Crafts, offered beautiful homemade wood products for sale. Yaple hand crafts all of the merchandise she sells. She can be reached at 610-866-5426 or yaplefam@aol.com.
AK Farms of Northampton had a unique stand selling processed farm products and other food items. They also were selling plants. Call 610-248-0396 or email ajjaks01@gmail.com for more information.
Jason Reisteter operated a unique stand selling homemade, natural dog food treats called Bizzle's Bites. Visit the Facebook page - Bizzle's Bites. Call 484-350-1640 for additional information.
Matty Robles and Annette Russo operated Matty's Marvelous Makery stand. The bakery is located at 13 Bushkill St., Tatamy. The business offered "out of this world" baked breads, such as classic sourdough, cherry walnut, poppy seed and other fresh bread choices that surely would go well with a piping hot cup of coffee. Visit the shop or call 484-548-0627.
The farmers market team plans to expand as the season goes on.
A challenge for local markets is an increase of local farmers who offer food co-op programs that preclude the farm operation from participating in the traditional farmers markets.
This is reportedly the challenge for the 2022 Bath Farmers Market team.