Field hockey team drops one-goal decision in states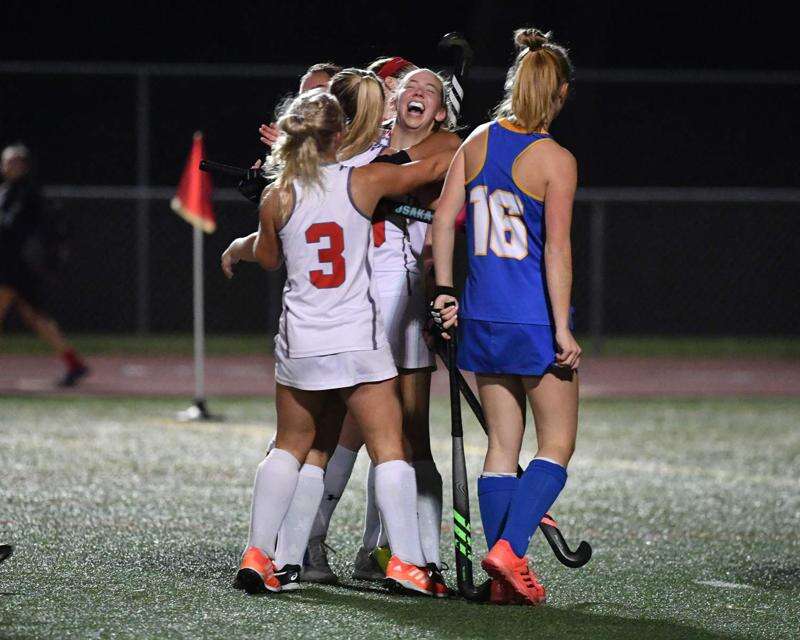 Published November 18. 2021 09:04AM
The Parkland High School field hockey team's season came to an end, falling just short in its first-round state playoff game, 2-1 to District 1's third-place team, Downingtown West, last Tuesday evening at Parkland High School.
It was a tough challenge, as was expected this late in the year by head coach Julie Sikorsky.
"They were very scrappy and very fast," said Sikorsky of the Cougars. "They cut to every ball and if we let a forward receive the ball, they often had a numbers advantage break away."
Even though the season ended before the Trojans (16-8 overall) had hoped, it was still a successful one. Parkland won three games through the Eastern Pennsylvania Conference and District 11 tournaments and reached the district title game.
"This team set goals they wanted to accomplish, and they did," Sikorsky said. "We had a difficult second half of the season after losing to Nazareth, but they never lost hope. We played well in the postseason and had redemption wins against two teams we previously lost tough games to. They always stayed humble with every win and motivated to find success. They are confident in one another and really enjoyed all the success as a team."
Sikorsky looked back on the year and is satisfied with how her team played and came together.
"I feel like the season went as well as we could have hoped," said Sikorsky. "Of course, seeing Emmaus three times in a season is never easy. We would have liked to narrow down the score on them, get a goal on the board, or be the team to finally beat them. However, making states and being so competitive in round one, with every opportunity to win, was something to be proud of
"We were surprised with a final home game for our seniors. There was something special about starting the season there and ending the season there. No one can complain about a silver medal in districts."
Parkland will graduate a large senior class, including 15 players, which had a strong impact on the program and the start of Sikorsky's coaching career.
"I am truly going to miss this class," Sikorsky said. "They were my largest class when I came in last year and we became even closer this year. It's going to be difficult to close this chapter and figure out the new norm for our team. Each of these girls contributed to the team morale and dynamic and they will be difficult to replace."
The Trojans will now have an offseason to get better and try and replace almost three-quarters of their starting lineup. It's a challenge that excites the head coach and her team.
"I am looking forward to getting to know my underclassman," said Sikorsky. "I am looking forward to seeing who will step up in the open positions being that we are graduating seven starters. Also interested to see who steps up as our new leaders being that all it one of my captains are graduating. Our team is eager to begin off season training."