Parkland pummels Becahi, 35-7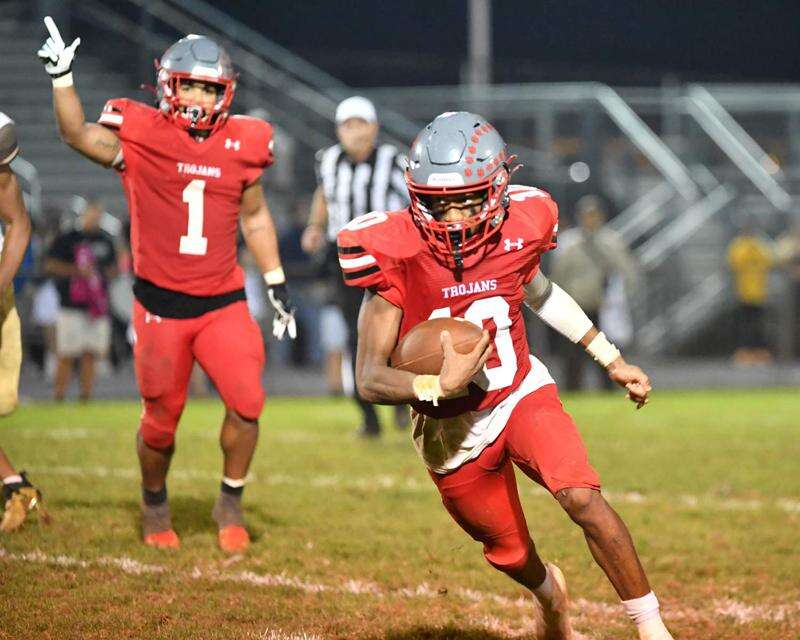 Published October 24. 2021 10:06AM
Just when they thought that they took all the bad breaks they could, another one presented itself. Having to deal with a number of injuries, including one to starting quarterback Ty Tremba, Parkland football head coach Tim Moncman and his Trojans suffered another blow, this time to the backup signal caller.
Luke Spang was injured in the second half of their latest game, but once again, Parkland continued to find ways to win, defeating Bethlehem Catholic 35-7 last Friday night in an Eastern Pennsylvania Conference South Division game at Parkland Area School District Stadium. It was also the homecoming game for Parkland, which improved to 6-1.
"It felt great to win on homecoming night," said assistant coach Mike Facchiano. "We had the biggest and most electric crowd of the season so far, and that certainly helped us. It was exciting to see our run game operate with the offensive line and Dahlir [Adams] doing his thing. Also, you can't overlook Nakhi [Bullock] coming in after [Luke] Spang got hurt, to finish the drive with a touchdown."
Adams, the starting running back, finished with two touchdowns on the night, one in the first and fourth quarters. Spang and Bullock also added a touchdown run each from the quarterback position, while Spang threw a 10-yard touchdown pass to Jack Harrison in the second quarter that gave the Trojans a 14-0 lead.
The Golden Hawks (2-5, 2-5) cut their deficit in half in the second quarter and trailed 14-7 at halftime, but Spang connected with Harrison to increase the Parkland lead back to two scores early in the third quarter. The Trojans' offense finished with 300 total yards, including 237 on the ground.
Defensively for Parkland, Nate Kemmerer had one sack and Noah Road had one tackle for loss and a fumble recovery.
The Trojans will play another Bethlehem school this weekend when they take on Liberty Friday night at Bethlehem Area School District Stadium. The Hurricanes are 1-7, with their only win coming in the season opener against East Stroudsburg South.
"Liberty will be a challenge that not many people realize," Facchiano said. "They have a better team than their record may show. They lost some close games and were in a bunch of them. Coach [Shawn] Daignault has an experienced staff that will have them ready to go. They will use Karim Brice a lot, who is a heck of an athlete and weapon for them."