2-alarm fire displaces 10 people, one dog missing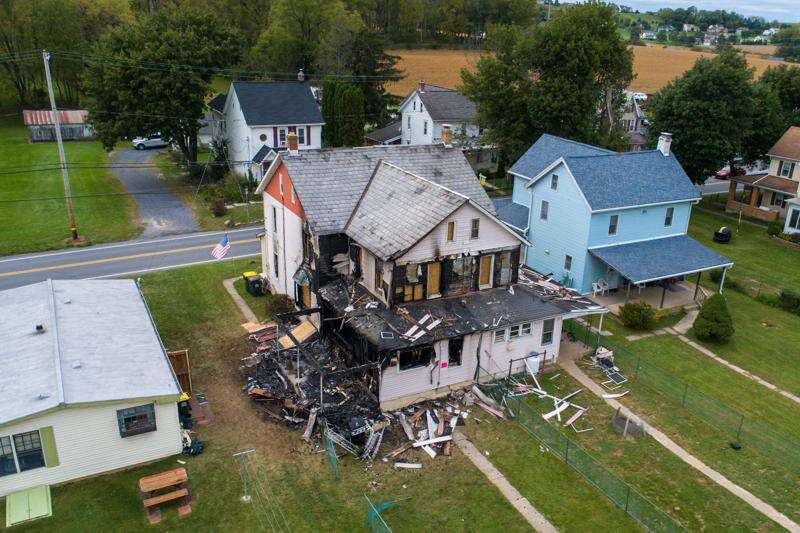 Published October 07. 2021 11:26AM
By Susan Bryant
Two families were left homeless after a two-alarm fire destroyed their twin home around 10:15 p.m. Sept. 28 in the 2600 block of Levans Road, North Whitehall Township.
According to Doris Nichol, the mother Nicole Muth, and her husband, Nicholas, who live at 2616 Levans Road, in half of the dwelling, the fire started in the home of Mike and Wendy Heckman, 2620 Levans Road, in the other half of the dwelling.
"A total of 10 people were displaced," Nichol said. "Mike and Wendy Heckman, and their daughter and her boyfriend; Nicole and Nicholas Muth and their four children Wyatt, Kara, Asher and Grayson."
They were all put up in a hotel by American Red Cross, she said.
According to Nichol, everyone was home at the time of the fire and the four children were sleeping.
No one was hurt, she stated.
Nichol said the Muths two dogs, Butterball and Sadie, ran away.
"Butterball was found but Sadie has not been found," she said. "She has been seen but when they try to get her, she runs away."
Nichol said anyone who spots Sadie should call her at 484-714-7405 or her daughter, Nicole, at 484-707-9272.
In addition to her daughter's and the Heckmans homes, heat from the fire melted siding on the back of a home at 2624 Levans Road.
According to Lehigh County Assessment records, the home is owned by Gary and Cheryl Barto.
"I would like to thank all the police, firefighters, fire police and EMS workers and everyone else who helped out," Nichol said. "I want to especially thank Melissa Lint who let my daughter and son-in-law and my grandchildren stay on her porch across the street during the fire and giving them blankets and socks since they were in their pajamas with no shoes or socks."
North Whitehall Township Fire Marshal Donald Jacobs spoke with The Press Oct. 4 about the fire.
"The fire was accidental," Jacobs said. "It started in the wall between the enclosed patio and kitchen.
"It was an electrical fire from the way the house was built in 1890.
"The circuit of origin had been in operation for decades and not been touched in a recent remodel."
Jacobs said volunteer firefighters from Neffs, Tri-Clover, Laurys Station, Schnecksville, Egypt, Coplay, Woodlawn, Greenawalds and Slatington worked to extinguish the two-alarm fire until around 1 a.m. when it was called under control.
No firefighters were hurt, he stated.
"This could have been terribly worse than what it was, with great personal and human loss," Jacobs said.