Remembering lives lost on 9/11 Good Will Fire Company ceremony commemorates 20th anniversary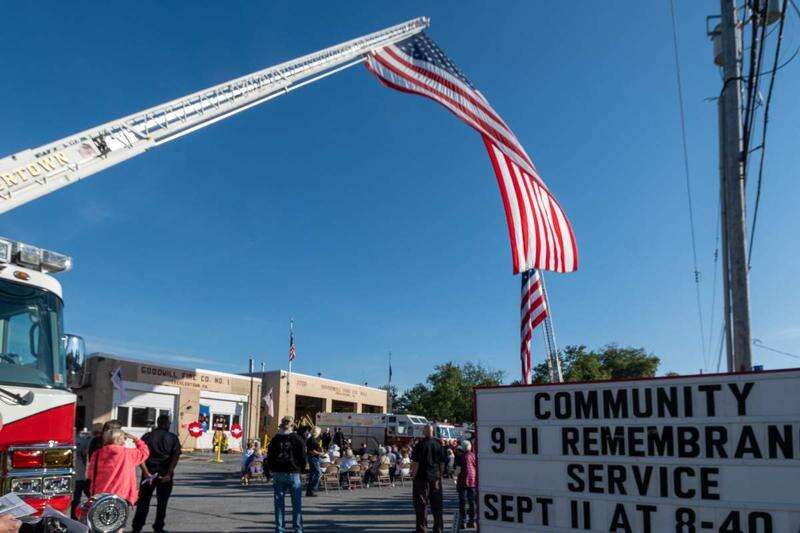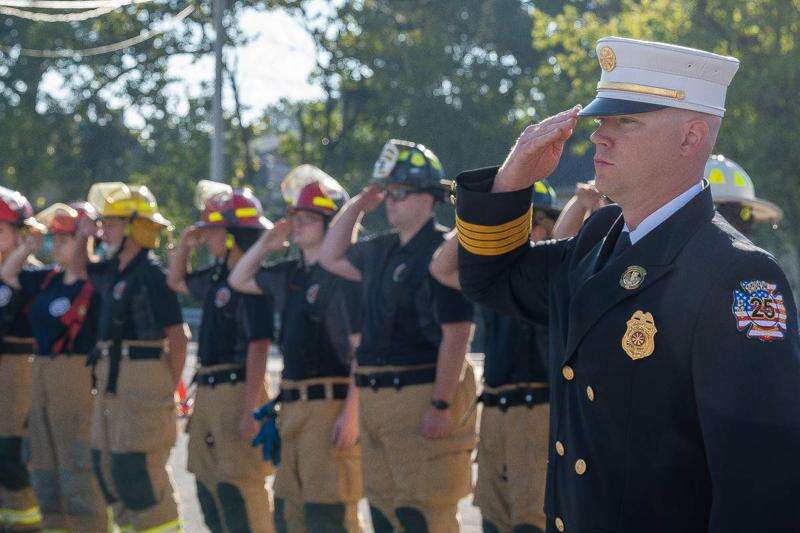 Published September 26. 2021 10:21AM
By LOU WHEELAND
Special to The Press
Members of Good Will Fire Co. No. 1, Trexlertown, commemorated the 20th anniversary of Sept. 11, 2001, when terrorists attacked the Twin Towers at the World Trade Center in Manhattan; the Pentagon in Washington, D.C., and the downing of United Airlines Flight 93 in Shanksville.
Dennis McArdle, fire marshal and vice president of Good Will Fire Co. No. 1, served as master of ceremonies.
Also, on hand were Ellen Millard Kern, chief of staff for state Sen. Pat Browne, R-16th,; state Rep. Ryan Mackenzie, R-134th,; Good Will Fire Chief Gary Mattox; Christopher Greb, operations manager, Macungie Ambulance Corps; Lower Macungie Township Assistant Fire Chief Jonathan Kayes, and members of the Good Will Fire Company.
Two 30-foot by 60-foot American flags were displayed - one from Good Will Fire Company's aerial truck 2531, the other from Lower Macungie Fire Department's 8031.
Pipers James Ruhf, Jim Baldree and Greg Ross led the procession as well as performed "Amazing Grace" at the conclusion of the ceremony.
Police officers on hand to lay a commemorative wreath were Trooper 1st Class Nathan Branosky with State Police Troop M, Bethlehem, and Upper Macungie Township Patrol Office David Malischewski.
Upper Macungie Township Bureau of Fire Director Peter Christ and Alburtis Fire Department Capt. Josh Houck also presented a commemorative wreath.
Good Will Fire Co. No. 1 Auxiliary President Linda Gorr recited a poem of remembrance for the victims of 9/11.