NASD interviews board applicants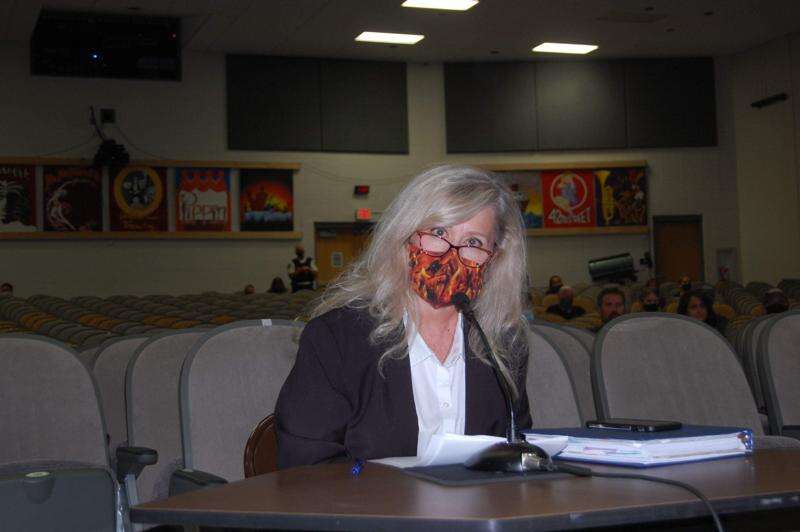 Published September 22. 2021 11:49AM
Two applicants for a vacancy on the Northampton Area School District Board of Education responded to questions at a special meeting Sept. 20. The school board interviews were the only item on the agenda.
Kim Bretzik and Brian McCullough applied to represent Moore Township, Chapman and Bath, following the resignation of Jennifer L. Johnson, who was appointed after Chuck Longacre resigned.
The meeting was held in the Northampton Area High School auditorium. Three officers from the Northampton County sheriff's department, a Northampton Borough police officer and NASD security officers were on duty.
Attendees were required to wear face masks, sign in, have personal items screened at a table in the lobby and walk through a metal detector. A school police officer estimated attendance at 25.
It was requested public comment be limited to the agenda item of appointing a school director.
School Director Robert Mentzell asked each applicant 14 questions. The applicants sat at a desk with a microphone in front of the stage. School directors and officials sat at a dais on the stage.
In her answers, Bretzik noted everything about the school board fascinates her and she believes "the nature of the board is to be collaborative."
McCullough noted he applied for the position to help the community and would work with the administration if he were voted to the board.
"Since Aug. 27, 258 NASD students and staff have been placed in quarantine, 55 have tested positive for COVID-19 and one staff member has died," Mentzell said. "Currently, 98 percent of our parents want their child to attend schools five days a week for in-person instruction. A goal of the current board is to have schools open five days per week for in-person instruction.
"With positive cases continuing to rise, there is a serious risk the district may not be able to continue with in-person instruction due to a high level of teacher-staff absences or high student absentee rate or both," he added.
Mentzell asked the candidates what guidance they would give the district administration to prevent a partial or complete shutdown of in-person instruction.
"I don't think the manner in which children are masked is effective," Bretzik said. "If we had mask inspections, that might be better. I don't think masks are doing what you think they are doing."
"There's no reason to close the schools," McCullough said. "COVID-19 is a disease that makes people sick. Is it worthy of closing the schools? No. I am opposed to closing the schools."
On a different topic, Bretzik admitted there is no obvious choice to the question about renovating old schools or building a new elementary school on district property at Route 329 and Seemsville Road in East Allen Township.
"I know FutureThink (a district consulting firm) recommended the closing of Moore," she said. "It seems that doing some repairs would be an option. I spoke against spending money on [the Seemsville site feasibility]. I don't think it's good to spend that money in the middle of a pandemic."
When asked what his goal would be as a school director, McCullough said, "My goal would be to provide a voice that is contrary to the majority."
He also noted he was most interested in the fiscal aspect of the board.
"I'd like to know where my money goes and why," he said.
Bretzik noted her father was a teacher who taught science and ran clubs, so she has an understanding of the role of teachers.
When asked what he would do to ensure students have access to education that meets diverse needs, McCullough said he believes many of the children with diverse needs have had those needs met.
"If you believe in racial diversity, I don't believe it's the school district's responsibility to teach that," he said.
The school board is not required to appoint Bretzik or McCullough.
"If [school directors] do not appoint, it means the vacancy would continue to the next election, which is in November," Attorney C. Steven Miller, NASD solicitor, said after the meeting.
Bretzik, who has been attending and speaking at school board meetings for several months, was a write-in candidate for the seat in the May primary. Bretzik said she is on the ballot for the seat in the Nov. 2 Pennsylvania general election.
"I would like to thank everyone for coming," NASD Superintendent of Schools Joseph S. Kovalchik said. "I think the applicants answered the questions well. It's very difficult to answer questions in front of the public."
The school board is next scheduled to meet 6:30 p.m. Sept. 27 in the auditorium at NAHS, 1619 Laubach Ave., Northampton. Face masks are required.