Nancy Zellner honored as 2021 Unsung Hero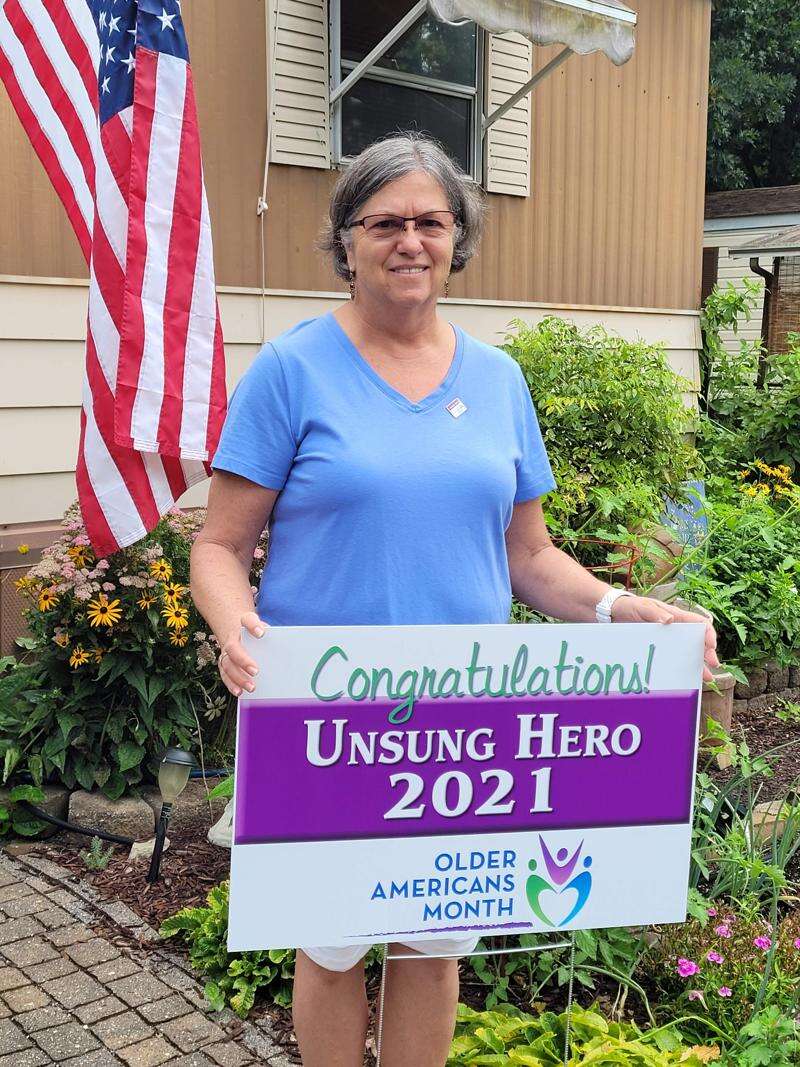 Published July 29. 2021 12:12PM
In honor of Older Americans Month, 22 Lehigh County residents and one group of about 70 people were honored as part of the Lehigh County Aging and Adult Service's 21st annual tribute to Unsung Heroes.
One of those honored was Nancy Zellner, of Lynn Township.
This tribute honors older adults in the Lehigh Valley who have displayed exceptional generosity with their time and talents to enrich the lives of others in the community.
Due to the COVID-19 pandemic, the 2021 celebration looked a little different.
Instead of the annual recognition ceremony, honorees received certificates of recognition, flowers, a pin and yard sign delivered to their homes.
According to her tribute:
"In most small communities where services are delivered through a church or variety of nonprofits, one will generally find a handful of common denominators thriving as volunteers for the welfare of all.
"In Northwestern Lehigh County a constant is Nancy J. Zellner.
"Nancy's roots are in the prominent Mantz Family of New Tripoli.
"The mother of three, grandmother of five and great-grandmother of one special little lady, her 30-year professional career at Northwestern Lehigh School District offered a wide spectrum of roles from the smiling face in the sporting events ticket booth to the superintendent's secretary.
"As a founding member of the school's Alumni Association, Nancy continues her commitment as their treasurer for more than the last decade.
"While being the active mother of a high school and two college students, Nancy's untiring need to accomplish proudly earned an Associate degree in business administration.
"Through her motherhood years, Nancy's roles were the usual Sunday School Nursery teacher and Junior Girl Scout leader at Ebenezer United Church of Christ.
"Retirement in early 2015 immediately opened the volunteer flood gates for Nancy.
"In her sixth year as secretary, Nancy is a model of encouragement as she registers families at the neighborhood's Christ's Church at Lowhill Food Pantry.
"At her own Ebenezer Church, you will find her lending a hand in beautifying the church or in fundraising projects such as homemade candy sales.
"Being well aware of her continued willingness to wade in for the good of the people, three years ago Nancy was sought after to be a member of the volunteer committee planning the Veterans Memorial currently under construction in Lynn Township's Ontelaunee Park, honoring all military veterans in the community.
"In many cases, Nancy has researched church logs, burial records and newspaper archives for missing data before verifying the names of more than 2,500 veterans, to correctly pinpoint their era of their service to their nation to be forever honored by name on their respective panels in this memorial.
"The COVID-19 pandemic fostered another area of Nancy's creativity ­- her love of sewing.
"On her own or in support of local organizational drives, Nancy has already sewed over 2,500 protective masks for nursing homes, the local food pantry's staff and clients and she's still sewing, now focused on smaller masks for elementary school children.
"As time allows, Nancy is also active in the fundraisers of the Weisenberg-Lowhill Township Historical Society.
"Side by side with all these volunteer contributions. Nancy finds one of her most rewarding roles two days each week in giving her time as a caregiver for her 5-year-old great-nephew.
"Nancy is uniquely a multi-talented lady who loves crafts and the beauty of the earth.
"Her small home and yard overflows with anything from lovely painted rocks, her handmade baskets of all sizes and shapes, to herb, flower and produce plants.
"She also loves any opportunity for early morning walks on the trails of Ontelaunee Park or traveling near and far as documented by an unusual collection of souvenir "shot" glasses.
"When approached for yet another mission, however small or demanding, one can delight if Nancy's bubbles out the words 'that works for me.'
"Yes, Nancy, truly an Unsung Hero, will be on board yet another time as a trustworthy volunteer honoring the community where she was born and dedicated her entire life.
"She takes comfort knowing her efforts will contribute to ensuring future generations enjoy the same values and opportunities with which she has been blessed."