Gallery View: It's 'Come and Gone' at Town Hall Rotunda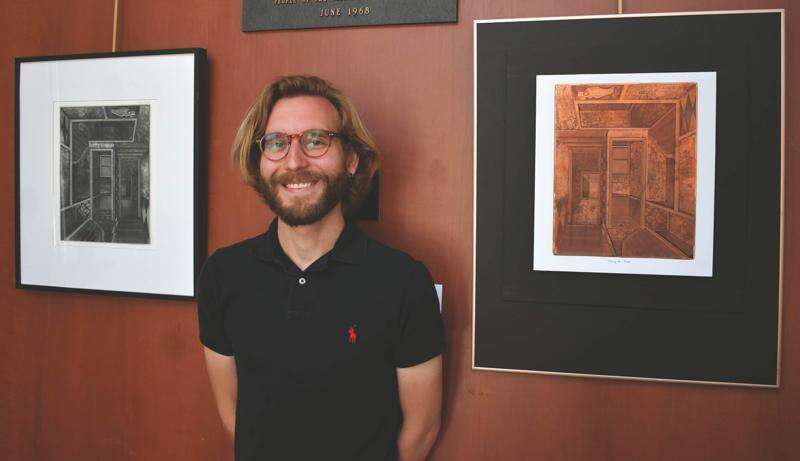 Published July 17. 2021 12:30AM
Although Brandon Williams specializes in intaglio printmaking, his solo exhibition, "Come and Gone," through Aug. 8, Rotunda Gallery, Town Hall, Bethlehem, includes a graphite study on paper for one of Williams' etchings, plus collagraphs and lithographs.
"Moving On" (2017; intaglio, edition size 30, 12 in. x 9.5 in.) is typical of many of the black ink on white print stock in the exhibit. The print has an M.C. Escher-like vibe to it.
Williams, an Easton native who lives in the Nashville, Tenn., area, cites the work of Escher and lesser-known printmakers Peter Milton and David Becker as having an influence on his own art.
A signature element to be found in the piece and throughout the exhibit is a geometric fish-like graphic with a large circular "eye." Some have asked if the object is an "alien."
Says Williams, "That's a structure that's loosely based off of a mechanical watch movement. It sort of emphasizes the time element in all the pieces."
"Moving On" is the final print in a series that ended when Williams was graduating from grad school. "It was time to close that chapter of my life," he says, hence its title.
The copper plate he created for this edition is also on view. Having worked with zinc plates as an undergraduate, Williams prefers etching copper:
"I found that copper holds up a little better in the editioning process. Zinc is slightly softer."
The most recent etching in the exhibition is "From the Ground Up" (2020; multi-plate intaglio, edition size 10, 12 in. x 17.5 in.). The geometric landscape has a black-inked image printed over red and green-colored areas using one additional plate employing the à la poupée technique to create the print. The technique is where different colored inks are applied to the same plate with a piece of fabric to provide spot colors.
Another print in the exhibition was pulled using the four-color (CMYK) process. Each of four plates was inked with cyan, magenta, yellow and black to create additional colors for "Options at Levels" (2019; multi-plate intaglio, edition size 15, 12 in. x 9 in.).
"I still don't know what a plate is going to look like until I actually proof it," says Williams. "It's a thrilling experience to ink the plate and reveal your print."
After receiving a BFA from Kutztown University in 2013, Williams received an MFA from Kansas State University in 2017.
Williams, who taught at Kansas State and Oklahoma State University, is an assistant professor of art in printmaking-studio art at Belmont University, Nashville.
He is a member of the Lehigh Art Alliance and Printmakers Society of the Lehigh Valley.
The exhibition is sponsored by the Bethlehem Fine Arts Commission.
"Come and Gone," through Aug. 8, Rotunda Gallery, Town Hall, 10 E. Church St., Bethlehem. Gallery hours: 8:30 a.m. - 4 p.m. Monday - Friday, Closed weekends.
"Gallery View" is a column about artists, exhibitions and galleries. To request coverage, email: Paul Willistein, Focus editor, pwillistein@tnonline.com