Trojans win D-11 title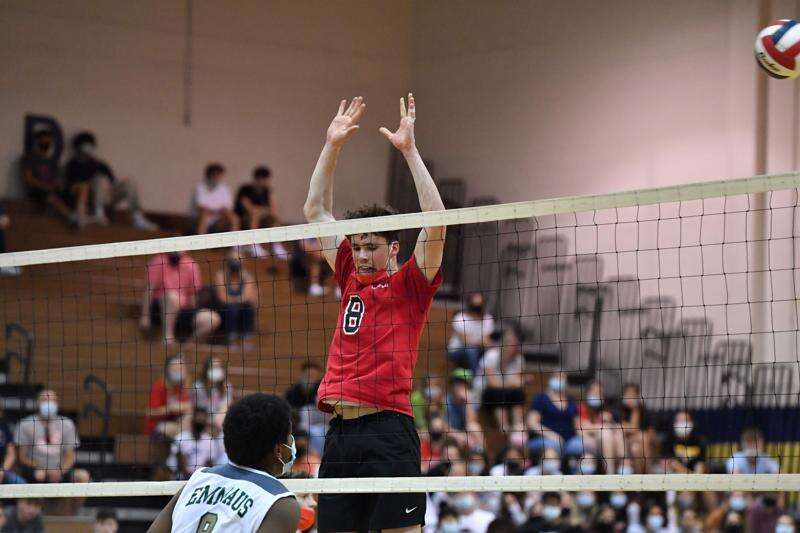 Published June 02. 2021 02:29PM
The Emmaus High School boys volleyball team won a thrilling, five-set match over rival Parkland in the Eastern Pennsylvania Conference championship match on May 15. It was the second straight match this year that the two teams went down to the fifth set to decide the winner.
Part three did not go five, but it was just as competitive.
This time, the Trojans wanted some revenge, and were successful in getting it. Parkland knocked off Emmaus 3-1, by scores of 25-21, 23-25, 25-21 and 25-20 last Thursday evening at Allen High School in the District 11 Class 6A final. Both teams advanced to the PIAA State Tournament. It is Parkland's 10th district championship in program history and the first since 2016.
"We knew it was going to be hard to beat them again in another final," said Emmaus head coach Ken Dunkle. "They had a good game plan and played with a lot of energy this time around."
Parkland head coach Scott Trumbauer described his strategy of how he thought Emmaus could be beaten.
"Taking away the outside was 100 percent the game plan because we know they have two very good outside hitters," Trumbauer said. "That's no secret. That's what got them here. That's why they will be playing in the state tournament."
The Green Hornets used their tall and athletic outside hitters, and their crowd the last time they played in the EPC final. But this time around, the Trojans' taller hitters shined bright. Seniors Jordan Lewis and JT Siggins led the offensive charge, finishing with 11 kills and 10 kills respectively.
"This means everything to us and it just feels great," said Lewis. "I've been playing sports with some of these guys since fourth grade and there's no one else I'd rather be out here with."
Just like with every other match between Parkland and Emmaus this year, it was a back-and-forth affair. The Trojans won the first set, and outside of the final score, mostly maintained at least a five-point advantage throughout and were never troubled. The Green Hornets answered right back, jumping out to a nearly double-digit lead after just 12 points (10-2). The score would be deadlocked three different times, but they were able to hold on in the end to tie the match at 1-1.
But Parkland took control of the match in the third set, never trailing, and then carried that momentum into the fourth to secure district gold.
The Trojans squared off with Central Dauphin in their state opener on Tuesday evening, but fell in straight sets, 23-25, 14-25, 14-25, to conclude their season.