Sayre Mansion Sometimes you can go home again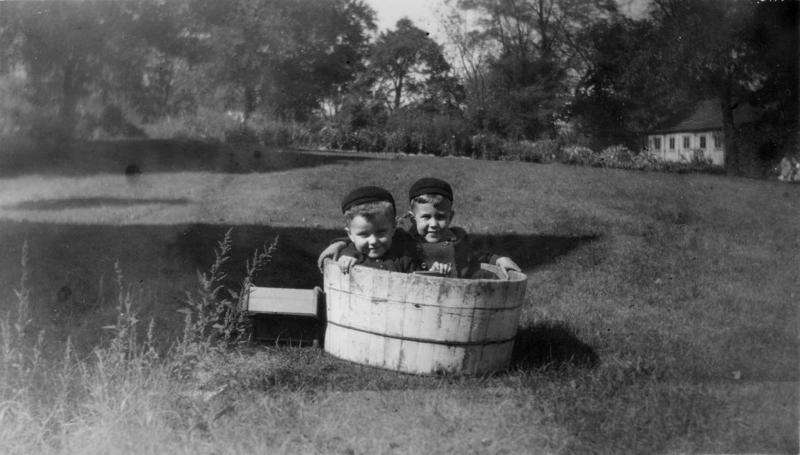 Published March 23. 2021 10:22AM
by Ed Courrier Special to the Bethlehem Press
"Don't you know you can't go home again?" remarked journalist Ella Winter to Thomas Wolfe, who incorporated the conversation into his novel, "You Can't Go Home Again."
Bill Parrish recently did get to "go home again" to where he had spent much of his early childhood. Like the meaning behind that quote, Parrish found much has changed at the Sayre Mansion where he had lived when it was apartments. Born in 1939 in Kingston, Pa., he and his family relocated to Bethlehem in 1941. They moved to Hellertown in 1950.
Built by Robert Heysham Sayre at 250 Wyandotte St. in the 1850s, the Gothic Revival-style mansion is now a popular bed and breakfast. Between housing the Sayre family and becoming apartments, it was a fraternity house after Sayre's widow gifted the mansion to Lehigh University in 1914.
Parrish, a 1956 Hellertown High and 1961 Lehigh University graduate, and his wife Connie often drove past the estate on their way to Lehigh games from their home in Orwigsburg. Bethlehem was also Connie's hometown. She graduated from Liberty HS in 1960.
The couple first met at a Lehigh fraternity party.
"He was lit, so I put a lampshade on him," Connie quipped. Bill referred to her as his "townie." She had attended Kutztown University. Now married for 59 years, they raised three girls and are the grandparents of four.
Parrish finally decided to book a room in January 2021,when he was in town for a doctor appointment. He figured it would have been too late in the day to return home.
He brought his wife back Feb. 8 to show her where his family used to reside. To the delight of the property management company Settlers Hospitality General Manager Sarah Trimmer, Parrish was able to rattle off the names of his former neighbors and recount how the building had been subdivided into eight apartment units.
Trimmer described how the former mansion was restored to its former glory while being repurposed as a B&B in 1992. The walls partitioning the apartments were removed. Much of what had been the Parrish family's three-bedroom apartment, where Bill, his parents, and maternal grandmother lived, is now a kitchen and pantry. The family's living room is currently guest room number 15, with its own bath. The family's bathroom is now a hallway restroom.
Bill's dad, Archibald L. Parrish Jr., was a civil engineer at Bethlehem Steel and would walk to work. Bill walked to Madison Elementary School. His mother, Sara Bray Parrish, was employed as a sales clerk at R. K. Laros Silk Mill at this time. She later taught school in Hellertown.
Parrish reminisced about earning a little money for singing in the boys choir in the Cathedral Church of the Nativity across the street. He also recalled breaking out in an irritating poison ivy rash after sledding in the yard. "January!" he exclaimed, reflecting the disbelief he felt at the time.
Every summer, the apartment residents would enjoy a picnic in the yard, recalled Parrish.
He and his mother were waiting for his father to come home from work when they saw a pedestrian hit by a car in front of the mansion. His panicked mom was beside herself, he said, before she realized the victim wasn't her husband.
Connie Parrish's father also worked at Bethlehem Steel, and she recalled being a Rainbow Girl at the Masonic Temple next door to the Sayre Mansion.
Parrish was employed in business management positions in various industries before retiring. He is currently serving as pastor at Covenant United Methodist Church in Schuylkill Haven.
The restored Lehigh Valley inn offers 19 mansion guestrooms and four carriage house suites. Common rooms are available for gatherings. There is a tent for outdoor affairs on the terrace.
While the pandemic hit the hospitality industry hard, Trimmer said, "We never closed because we're lodging, which is considered essential." She acknowledged that business slowed down considerably with the cancellation of in-person events like Celtic Fest and Lehigh graduations. Weddings, receptions, corporate meetings and other income-generating events evaporated. According to Trimmer, the Paycheck Protection Program (PPP) loans helped immensely.
Although some 2021 events have been canceled, they have found success with their Thursday afternoon English teas, while following COVID safety rules, according to Trimmer.
Information: sayremansion.com or call 610-882-2100