A look back at past champions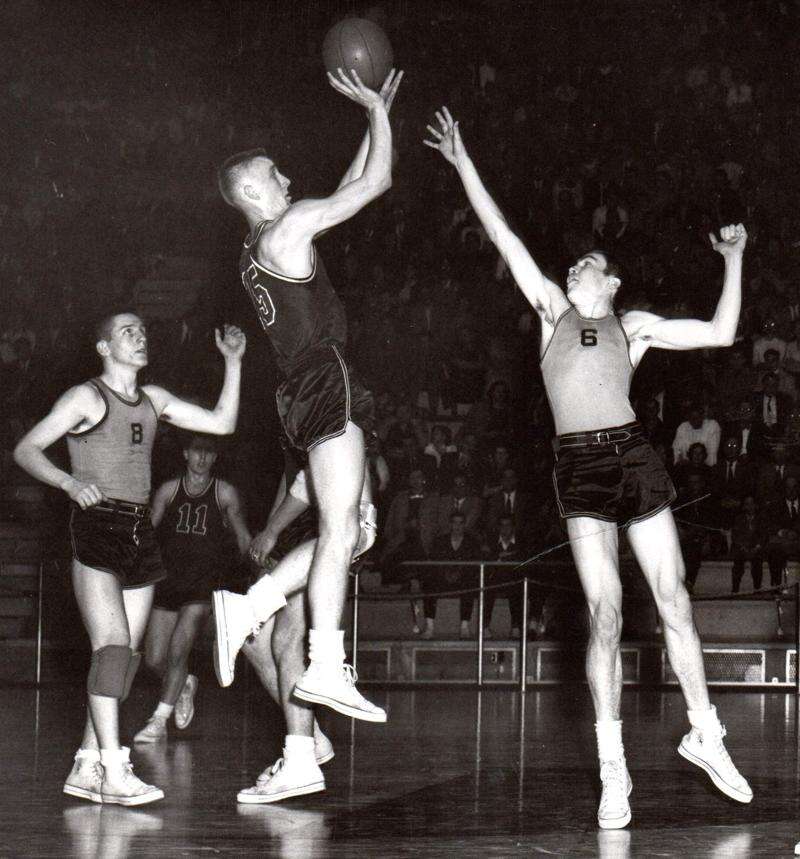 Published January 21. 2021 09:09AM
In the 1986 film Hoosiers, small town Hickory High School defies all odds to win the 1952 Indiana State Basketball Championship. The film is considered a classic, one which transcends basketball or even athletics. As inspirational as it is, the film is also something else - fiction.
There was nothing fictional about basketball at Fountain Hill High School during the 1955-1956 and 1956-1957 seasons. The Hillers were not just entertaining and not just good, they became legendary. They won two state Class B basketball championships and more than six decades later, they are still remembered.
Any review of the Hillers championship era starts in 1955. That year the Hillers were a team on the rise. They finished 25-6, won the first of three consecutive District 11 titles and advanced to the PIAA Class B state final, where they lost to Wampum High School 73-61.
Karol "Moose" Strelecki was a big reason for Fountain Hill's success. As a sophomore, the 6-foot-5 youngster scored 183 points coming off the bench playing center and forward.
"I wasn't the star of the team," said Strelecki. "My teammates were just incredible. Those guys were always developing their games."
The best, as they say, was yet to come. The '55-'56 season is when the Hillers became a truly awesome basketball presence. Coach Charlie Dubbs tutored Strelecki into a scoring machine and the junior dropped 522 points, earning Lehigh-Northampton League All-Star honors and scoring a school record 37 points in a single game.
"In a lot of ways Charlie was an enigma," Strelecki said. "He only structured his system to the point he needed."
He also impacted Strelecki's life forever. As a young man, Strelecki's mother wanted him to go to seminary school and become a minister. His mother's plan wasn't exactly his plan.
"Charlie had a way of talking," Strelecki recalled. "Both could be hard headed. One day he and my mother had it out in the kitchen. After that, she backed off a little. For me, Charlie did an awful lot."
Dubbs believed in implementing just enough structure to set up his players' individuality. His strategy put his players in a position to rely on their talents and instincts. The coach was a stickler though for one thing, Strelecki said. He wanted to get a lead playing man-to-man defense and then go to a suffocating zone defensive that forced opponents to play the Hillers' game, not their own.
Strelecki was a scoring machine, but he wasn't the only marksman on the Fountain Hill squad. Rather he was one of a dynamic duo of scoring thunder.
Dick "Butch" Kosman was a fierce shooter who knew how to tickle the twine. With Strelecki and Kosman leading the way, Dubbs began to build an outstanding team around them. Pat Guman, Ron Wacheter, Joe Klo and Austin Cyphers comprised a winning formula that captured the interests and hearts of Fountain Hill and nearby neighborhoods.
"Dick was really extraordinary," said Strelecki. "He was the star of the team. We could always go to him in a pinch."
After dropping their opening game to Easton, the Hillers decided losing once was enough. They ran off 30 straight victories and earned their first state crown. Strelecki was named to the Second Team AP Little All-State team.
The 1956-57 Hillers proved that winning was a Hiller habit. They went 28-3 and won their second consecutive state title. Strelecki was a big reason why. He scored 524 points and dropped 20 points in eight separate games. In four of those contests, he netted more than 30 points. In a game against Pen Argyl, he scored 43 points. For his efforts, he was a repeat Lehigh-Northampton League All-star. Once again, he earned AP Little All State honors and made First Team UPI Little All State.
"The game back then was so different," Strelecki said. "It was much slower and a more set and organized game. At 6-foot-5 I was considered a giant. My teammates were unselfish and nobody tried to take over the show."
After graduating from Fountain Hill, Strelecki had a successful collegiate career at Rutgers University, where he averaged 11.2 points per game over three seasons for the Scarlet Knights from 1959 through 1961. Meanwhile, Kosman went on to have an outstanding career at Moravian.
Of course, today Fountain Hill High School is history. Thanks to declining enrollment, the school was absorbed by the Bethlehem Area School District after the 1966 basketball season.
Strelecki experienced much success off the hardwood. After graduating from Rutgers with a BS in education he became a teaching career at Southern Lehigh High School, where he taught English from 1961-1971. He also acquired a Masters in education from Temple University and had additional studies at Lehigh University. He taught at Centennial School at Lehigh, in the Pennridge School District and at Lehigh, Penn State and Muhlenberg before retiring. Strelecki also coached for a while, but he realized gradually it wasn't in his blood. That said, more than 65 years later, he is grateful for the sport of basketball.
"If I hadn't had basketball, I don't know where I would have been today," he said.
When asked what stands out from his sterling high school career, Strelecki's response was direct.
"The camaraderie and friendship of my teammates and in the community," he said. "I can't put it any other way."