Ortwein to Millersville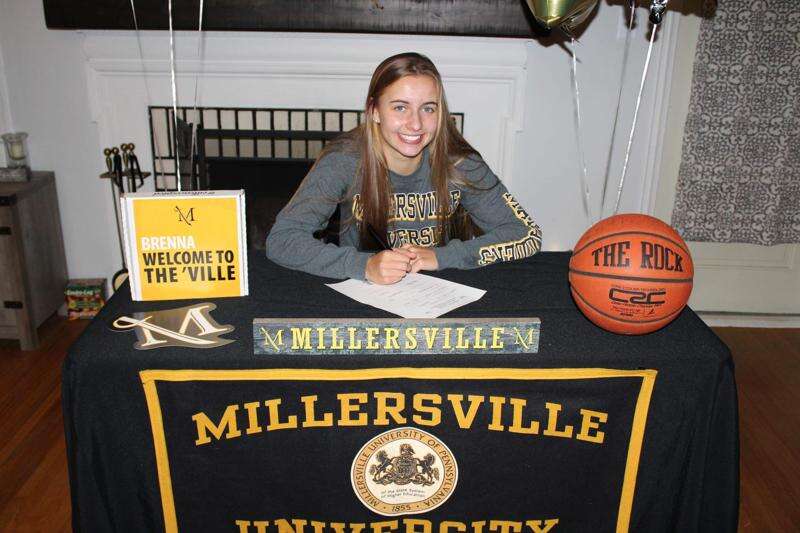 Published November 25. 2020 08:55AM
After Freedom guard Brenna Ortwein's performance in the second round of the PIAA State Class 6A Girls Basketball Playoffs against Central Bucks West last March, the no-fear culture of Millersville University should fit her just fine next year.
Ortwein, a senior, signed a National Letter of Intent on Nov. 13 to play women's basketball for the Marauders and Coach Sharay Hall.
"She's their new coach, and I love talking to her about her philosophies and what the team should look like," Ortwein said.
During last season's victory over CB West, Ortwein commanded the court in the first half, forcing turnovers, drawing fouls, and leading Freedom's offense with 11 points, and with 33 seconds remaining in the game, Ortwein had a steal, scored on a layup, and was fouled, bringing the Pates' bench to its feet.
"[Coach Hall and I] talked a lot about aggressive defense and a lot of running on offense. No fear, lots of pressure, have to be in shape," said Ortwein.
Another part of Ortwein's pull toward Millersville is the fact that both her parents graduated from there.
"I grew up there, watching football and baseball games," she said.
Ortwein's father played on the baseball team at Millersville.
"The campus is beautiful. There's nothing not to like, and it's close to home," said Ortwein.
Ortwein committed to Millersville in October after also considering Shenandoah University.
"I was close with Coach Smeltzer-Kraft, and it was hard to tell her I wasn't going there," Ortwein said.
Ortwein is planning to major in psychology and minor in coaching.
"I'm looking forward to the culture and playing for them," said Ortwein, "and I love psychology so I'll be doing what I love."