Salisbury team to compete in LVBL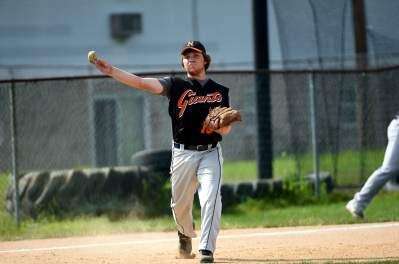 Published July 02. 2020 12:00AM
The Salisbury High School baseball program has seen a lot of successful players and teams over the course of the last decade. Many of them have gone on to play in college and/or continued playing the game at a competitive level in other leagues.
The Blue Mountain League had a number of former Falcons on rosters, but with games on several nights a week, some players were forced to give it up.
But then Salisbury alum Brad Vangeli, along with his former Salisbury teammate Tyler Tocci, came up with the idea of playing in another league that required less hours, the Lehigh Valley Baseball League. The duo then began recruiting old friends and new ones until the Salisbury Falcons were submitted into the league, which begins July 5.
"A couple of years ago, a few of us who played in the Blue Mountain League mentioned how we wanted to get a Salisbury team there," said Vangeli. "But playing during the week, and with everyone having jobs, that wasn't possible. Last year Nic Ampietro and I played in this league on the same team. After the season, we said, 'we can definitely get a team together.'
"With games being played only Sundays, it became a real possibility. Since the fall, Tyler Tocci and I really started getting after it and did everything necessary to get the team together."
It did not take much teeth pulling to convince some of his former teammates who are baseball junkies and remain competitive.
"It was easy to get our first group of guys together," Vangeli said. "I would say we got about 7-9 right away without a problem, then a few other guys we got from mutual friends and we slowly started building a roster. Our latest addition, Gabe Mosser, who went to Parkland then Shippensburg and now pitches in the Padres organization, was actually getting a haircut from Nic and asked if we had a spot on the team since the minor leagues doesn't seem to be having a season.
"It was impossible to say no to a professional pitcher being on the team, so it's really exciting to have him. Overall, with the few practices and the one scrimmage we've had, it's been a blast to have old friends together playing. A handful of us played together in high school, so you get some flashbacks to those years and it's just really fun. Ten of our 15 guys graduated from Salisbury and we even have one current Salisbury player (Quinn Wermkessel) and the head coach (Justin Aungst). While this is going to be a lot of fun for all of us, we're also expecting to be extremely competitive and win the championship and we fully believe we have the guys on the roster to do that."
Along with Vangeli, Tocci, Ampietro, Mosser, Aungst and Wermkessel, the current roster includes Salisbury alumni in Brandon Black, Joey Galantini, Evan Kulig, CJ Tocci, Sam Undercuffler and Nick Vangeli. Dan Findlay from Emmaus, Colin Lynch out of Pius X and Bryan Schoch from Saucon Valley make up the rest of the team.
Salisbury opens the season against the Phillipsburg Brewers at Phillipsburg High School on Sunday at 3:30. The league is scheduled to run until August 30.