A look back at the Kids 1997 baseball team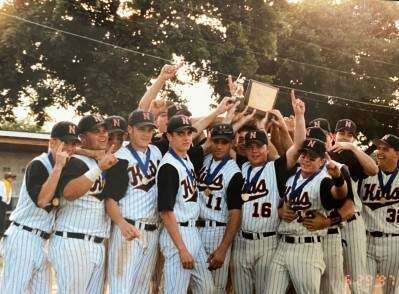 Published July 02. 2020 12:00AM
by Jeff Moeller Special to the Press
Brett Fehnel figure his team was ready to take the next step.
They had lost to Liberty in the district semifinals the year before in 1996.
"We knew we had one more chance," stated Fehnel, who is a director of an accounting firm outside Philadelphia and recalled his team's 1997 season that saw them win conference and district titles. "We lost to Liberty in the district semifinals the year before.
"It was a lot of hard work and resilience. We all grew up together and had been playing together for the past five or six years. We had a good feeling once we won the (Mountain Valley) conference title.
"I was at the top of the lineup, and it was my job to set the table and get on base."
Fehnel, who hit .371 and led the team with 30 runs scored, was part of a Konkrete Kids team that set the record for wins in a season (22) and won a conference and district title for the first time in a season since 1968. The Kids also set records for hits (240) and games played in a season (27).
Along with their district semifinal loss against Liberty in 1996, the Kids suffered district losses in the 1994 and 1995 seasons.
"We only had four kids back that year," said manager Mike Sugra, who compiled an overall 200-113 record in 15 years directing the program. "We had a bunch of guys coming up from the JV. But a lot of them played together for a long time."
Sugra noted a midseason loss against Nazareth as being a trigger for the remainder of the season.
From there, the Kids won 14 of their next 16 games that resulted in conference and district crowns. They finished with a 22-5 record and ended the season with a loss to Cedar Crest in the first round of the state playoffs.
"We had a lot of games to go after the Nazareth game, and we would play them again and beat them," said Sugra. "Nazareth and Pleasant Valley were two of the better teams back then.
"I told them that they 'may have lost the battle, but not the war.'"
Second baseman Mick Sugra, who hit .291 and is the current manager of the Kids, also saw the Liberty loss as motivator.
Northampton began the season with four wins in their first six games, but then the Kids began to separate themselves with a modest four-game winning streak.
"After the '96 loss to Liberty, we were all upset because we thought that was our last chance," noted the younger Sugra. "However, we worked hard in the offseason at Hitter's Edge -- Cory Schneck's dad owned it – and we were a tight knit group of guys.
"After week one, we were ranked number-one in the area, and we never looked back. We went out every day like we couldn't be beaten. And sure enough, we were fortunate enough to have great pitching, great hitting, and team defense to win the league and district title."
Pitcher Jason Swankoski led the team in wins (10-1, 2.04), innings pitched (82) and strikeouts (67). Asy Bartholomew (7-2, 2.91, 59 strikeouts) helped provide an effective one-two punch.
He realized his team was destined.
"It was a great team at the time and its really nice to see that our wins, accomplishments and accolades have held up over the years," said Swankoski. "Other teams might have had more big names but our results spoke for themselves.
"The team was made up of a lot of kids that played together and grew up together through the local programs, so we had a great camaraderie. I think we expected to be good and were good, we didn't expect to lose and when we did it was devastating in a way that it only can be in high school baseball."
Swankoski remembered one particular game down the stretch.
"Personally I remember the Central Catholic game in district semis," added Swankoski, works for a financial company in New York City. "We had a lot of familiarity with them and some of the guys on the team grew up playing with us. Being on TV. it was a huge game.
"We won to get one step closer to a district title and to get my tenth win of the season was huge recognition."
Schneck, the first baseman who hit .385 and led the team in homers (6), equated the situation to an old adage. Catcher Mike Schneider led the team with a .421 average and also led in RBIs (33), and shortstop Jimmy Barrett hit. 386.
"It was like lightening in a bottle," said Schneck, who works in sales in the Lehigh Valley. "During the whole season, we never looked back. We just had a great team. We had talent on the bench and the talent before us was very good."
Schneck noted how the pitching fell right into place.
"Jason (Swankoski) was our ace and our number-one guy," said Schneck, whose father Dave was a former Met and Phillie. "We had a secret weapon in Asy Bartholomew. No one had ever seen him before. He was a lefty who threw hard and had a quirky windup. Both of them were very important to our run."
Schneck also was inspired by the elder Sugra.
"I remember Mr. Sugra's speeches that were great. His high school team was the last one to win districts and he would point to the banner in the gym and tell us about the season and how much it meant to everyone.
"We knew that we were going to win districts and that was our main goal."