Stiles summer basketball league still going strong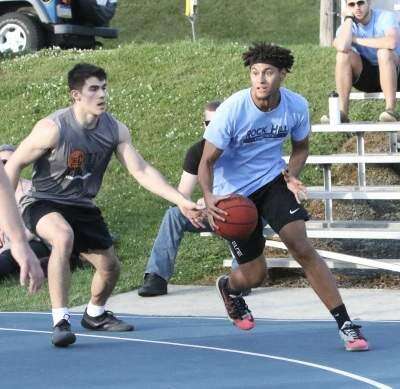 Published July 19. 2019 12:00AM
While most summer basketball leagues have struggled or fallen by the wayside, the Stiles League continues to be a viable option.
The 10-team league, which plays on Mondays and Wednesdays, is winding down it season toward the beginning of its postseason July 24.
"We are doing well," said league director Robbie Roberts, who is in sixth year at the helm. "Since I have been here, we have been as high as 11 (teams) and been as low as eight. We have been at 10 teams the last three years.
"The competition has been steady and it hasn't dwindled. There are a lot of leagues that have ended. But everyone here seems to be very happy."
Roberts, who played in the league for 10 years, remembers that it initially began as a three-on-three league in Cementon approximately 20 years ago.
The concept developed into a full-fledged league and eventually moved to Stiles.
Over the past few seasons, Tony's Top Hat Bar and Grill has been a perennial power featuring Northampton grads Derek and Phil Hall, who also have dominated the nearby Catty League.
Other former standouts who have been regulars are Eddie Ohlson, Andrew Armellino, Adam Kern, and Eddie Lipinski.
The Rock Hill team also has been a staple in the league and has featured a flow of former Northampton stars. There is a strong Parkland contingent headed by Bobby Hahn and has featured current Lafayette Leopard Kyle Stout.
Due to rash of wet weather and storms this summer, Roberts remains optimistic to have a minimum of six teams to qualify for the single-elimination, bracket pool playoff tournament. The winner will advance to Catasauqua's Tournament of Champions in early August.
Unfortunately, the league does not have an indoor facility.
"We want to have as many teams as possible," said Roberts. "We still have to figure it out. It has been really hard with the weather this summer.
"But we'll finish strong and have another strong season behind us."