LMMS 'The Champ' opens Nov. 16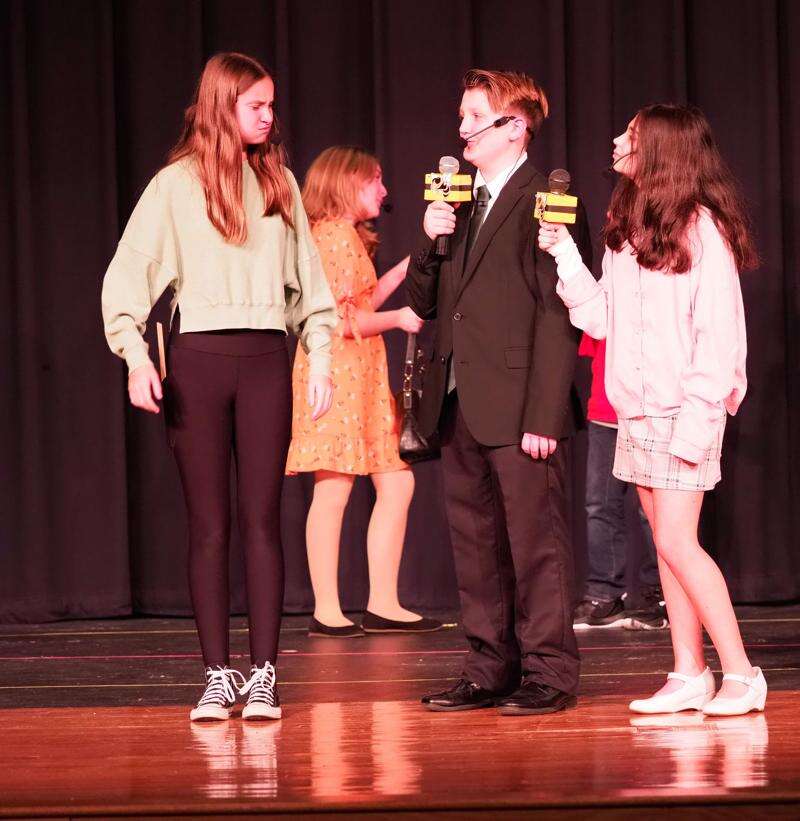 Published November 15. 2023 09:53AM
by
BY CINDY SINGLES
Special to The Press
Lower Macungie Middle School Theatre will present "The Champ" 7:30 p.m. Nov. 16, 17 and 18 in the auditorium, 6299 Lower Macungie Road, Macungie. Tickets are available at the door for general seating with cash or check only. There are discounts for students 14 and younger and senior citizens.
The setting is a small town named Tumbleweed in Iowa where the 56th Semiannual Donut Eating Competition is held. Jaws, the top competitor, has always been victorious in the event. Her adversary, Glazed, comes up with a plan to distract Jaws to win the competition.
As the hilarious antics begin, some competitors find friendships, others are engrossed in having their "eye on the prize." What happens? Who will be awarded the champ?
Gifted teacher Patrick Campbell has directed the LMMS Theatre for 25 years and chose this production because it's very clean and silly, has good characters that are likable and consistent. When asked what has changed over the years, he has been director, Campbell said, "The kids can do just what they love to do, they always love the projects and they want to be here, that has never changed. Technology is different, the dialogue is different and the sense of humor is a little different, but to put the comedy in for an audience you want the kids to get that sense of humor – where are the jokes and work on the timing."
Abby Greene is a first-time stage manager; she participated in theater as a crew member in previous productions.
"Being part of crew was really fun and the thought of managing a play was really cool," Abby said. She tried out and is enjoying this new experience. Her favorite part of theater is the community and how everyone gets close.
Abby said managing is fun because you get to work with your friends. "It's awkward sometimes because you have to tell them what to do – that's hard, so you're working on not feeling bad that you have to do that to get things done," she added. You're also in charge, which Abby admits she likes. Abby hopes the audience thinks the play is funny. Her favorite part is the funny jokes.
"We work really hard to make the show the best we can," Abby said.
Nora Charnegie has been involved in all four productions at LMMS. She previously was part of the run crew.
"I really loved helping out before and it seemed like a really fun experience to try out for stage manager and I knew Abby was doing it – we're friends and I just really wanted to work with her. I think we make a great team," Nora said. The best part of managing according to Nora is helping everyone and seeing it pay off in the end at the show.
"We work really hard for a couple of months, staying after school every day and you get to know everybody – it's like a community," Nora said. She thinks the play is funny and has a lot of good jokes. She hopes the audience enjoys it and sees their hard work. Her favorite scenes include Cheeks who mumbles. She can't talk because she's always eating donuts.
Both Nora and Abby feel theater has given them life skills including leadership, troubleshooting, problem solving, taking charge, independence, being ready for anything, patience and just going with the flow.
Ava Silberman, a crew member stays backstage helping with set changes during the show along with helping cast members. She started in sixth grade in set building, later joining the crew.
"I always liked making things and was looking for a sort of family. With this (theater) they always seemed so welcoming. It's nice to see how everybody loves each other. Most of us are all friends. It's definitely a team effort we all, no matter what if anybody needs help, we do anything to make the show run smoother. 'The Champ' is a really good show that's worth your time to see it, it's well put together. You won't be disappointed. You'll laugh, it will bring up your mood and you'll be fulfilled," Ava said.
The character Glazed is played by Leo McCabe who got involved in theater in seventh grade after a friend suggested he try out for a part. Leo did but didn't think he would get it. He was so nervous and was so surprised when he saw his name on the list, he had to look twice to be sure. He even got the character he wanted so another surprise.
"I was glad to meet so many fun people and I had a lot of fun doing it," Leo said. What has theater done for him? "I think I met a lot more people and made a lot more friends and it's been a great experience overall. I've gotten a lot closer to the friends here," Leo said. He has learned long-term skills like problem solving that will help in the future. He likes this play and the character he plays. "I think it really fits me. We have a lot of similarities; very awkward, a lot of things he says to people I would say. It makes it easier to play the character," Leo said.
Leo describes the play as being a very good story, the characters are very enjoyable, very relatable, the plot is kind of wild but it's still believable and it's funny.
"The people who play the characters are exactly right for the characters. You will forget you're watching the show. It's like you're peeking into a cornfield and a donut eating competition in Iowa. Even if you come to all three shows you'll find it funny each time."
Leo thinks this play will broaden the audience's horizons and there are more important things than donuts. Both Ava and Leo agree that in the end we're all friends so it helps them to connect with the story. There are decisions to make and a meaning to the story.