Kiernan PKs lift Hornets to championship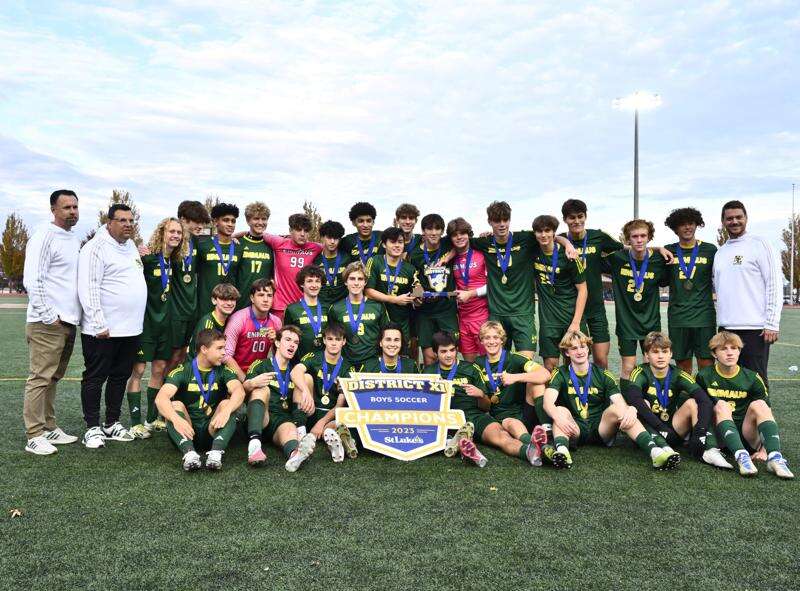 Published November 15. 2023 11:46AM
by CJ HEMERLY Special to the Press
The Emmaus boys soccer team jumped on a couple of mistakes by Freedom in Saturday's 4A soccer finals to win their ninth district championship under head coach John Cari in a 2-1 win.
Ironically, Cari has a long history of meeting up with Freedom in the finals as he played for Emmaus in the 1987 final between the two teams and then coached Emmaus against the Patriots in the 2018 finals. As a player, Cari's team came out on top in a 2-1 game decided on a shootout, but Freedom got the better of Emmaus when the two teams met five years ago, beating Cari's Hornets 1-0 in double overtime.
Two key penalties led to both Emmaus (19-2-1) goals, both scored by Ryan Kiernan on penalty kicks.
The first penalty came when Kiernan was pulled down from behind in the box to give Emmaus a penalty kick. The play mimicked one earlier in the game where a penalty was not called on the play. Kiernan took a long run at the ball, but ultimately did not launch a hard shot, choosing instead to use a softer touch to put the ball to goalie Micah Lawser, who had anticipated a shot to his right. Kiernan put it to his left, tying the game 1-1.
"I felt the guy wrap around me from behind and then I fell, and knew I would get the call," said Kiernan. "Before I kicked, one of my guys looked at me and said, 'you know where he's looking, right?' because I was sure that they watched video of my PKs."
Freedom (17-4-2) looked to get a late first-half goal, but goalie Colin Wilson made a diving save for Emmaus to keep the game tied.
The second penalty in the box came in the second half when Lawser came out of the goal to make a kick save on a shot. Junior Connor Blake made a good play for Freedom by circling in behind Lawser to take over temporarily in goal, but as he slid to block a shot made off the rebound, the ball hit his arm and was ruled a hand ball.
By rule, Blake was given a red card and ejected from the game for committing a penalty when there was not another defender between him and the goal to stop the scoring opportunity. Kiernan again took the kick and fired his shot just past Lawser for a 2-1 lead.
Kiernan is now five-for-six on penalty kicks this season.
"I didn't feel like I kicked it well enough and honestly, it was probably not that great of a PK, but I saw that it bounced over [Lawser] and I was so happy that it went in," said Kiernan, a senior.
With Blake out of the game, Freedom was forced to play the final 26 minutes a man down, which limited its opportunities to tie the game. Emmaus' defense stiffened even more as it protected the lead.
"I thought we did a good job today," said Cari, who picked up the 320th win of his head coaching career. "We just couldn't finish on some of our attempts. We were doing a good job of attacking on the sides. We just couldn't find the final piece, but we were still able to get two on the PKs."
The Hornets are now 19-12 in district finals and this year's team set a school record for most goals in a season with 91 goals.
The loss ended the season for Freedom and sends Emmaus into the PIAA tournament.
District 11 semifinal
Dang goal ends Parkland's season
For the 13th straight season, Emmaus reached the District 11 finals when they beat Parkland 3-2 in overtime. As fate would have it, the winning goal came not from a high-scoring forward, but a defenseman who came into the game with just one goal this season.
Brayden Dang got the overtime goal that ended the season for Parkland and sent the Hornets back to the finals.
The goal came in the 13th minute of overtime when Emmaus was awarded a corner kick. The ball came into a group of players just in front of the net where Dang had worked himself into position and got the second goal of his junior season.
"The cross came in and there were some bobbles [by the goalie] and I see it land right in front of me and I also saw a couple teammates coming for it," said Dang. "I just decided to run through, and I saw a little gap on the left post, and I just slotted it in with my left foot."
Emmaus had some early opportunities, but watched as they went by the wayside. Even with all of the opportunities, it would be Parkland that got on the board first.
Parkland was awarded a direct kick and Sam Masenheimer took the kick, which went off an Emmaus defender and rebounded back to Masenheimer. Seeing teammate Logan Thrash with an opening, Masenheimer quickly reacted and sent a pass to Thrash who beat Emmaus goalie Colin Wilson for the game's first goal.
The Hornets spent the day falling behind and then catching up quickly to tie the game.
Senior Marcus Puentes made a nice move in front of the goal, pushing his shot to the far side of the net to tie the game with under four minutes left in the first half. A second-half comeback was even swifter when just :25 after Parkland went up 2-1, Kiernan launched a rocket off his foot and into the back of the net to tie the game at 2-2.
From there, the momentum went from team to team but again, Emmaus had the better of play.
Puentes just missed an opportunity with 11:45 left in regulation when he put a shot wide. Th Hornets then had a corner kick played to the mouth of the goal where it was headed only to be tipped over the crossbar by goalie Daniel Sipling in the final minute of play.
"I think it was really important that we were able to come back so quickly," said Cari. "We never had the lead in this game until the very end, so I am really proud of the effort that we were able to do that. We haven't had two goals scored in a game against us all season, so for us to fight and to be able to get through it was big."
The two rivals had played in the last two District 11 4A championships but met this season in the semifinal round. The Hornets have now won three of the last four 4A titles, with Parkland busting the streak last season.
Emmaus players were aware of a fatal car accident that happened as school left out for the day and was witnessed by several students. As they prepared to leave for the game, the information they had was sketchy, but they did know that an Emmaus student had been killed but were unaware of his identity. Cari spoke with his players before leaving for the game to consider postponing their game.
"We don't know much about it, but we know what happened and we heard there was a casualty and know there were a lot of kids involved, so the details weren't all there for us," said Cari. "I am sure that when we get home and tomorrow morning, we're going to find out more and more. There is no way it doesn't affect our team because I'm sure they're friends with somebody or makes a connection somewhere and that's the hard part of dealing with it.
"[Emmaus athletic director] Becky George asked me to sort of take the temperature of the team and we wanted to go, so we were focused on that situation. Like I said, I'm sure it will hit home more tonight and tomorrow, but going into tonight, they wanted to play, and we were good to go."
The crash took the life of 16-year-old Edwin Cortes, a junior at Emmaus.