Falcons win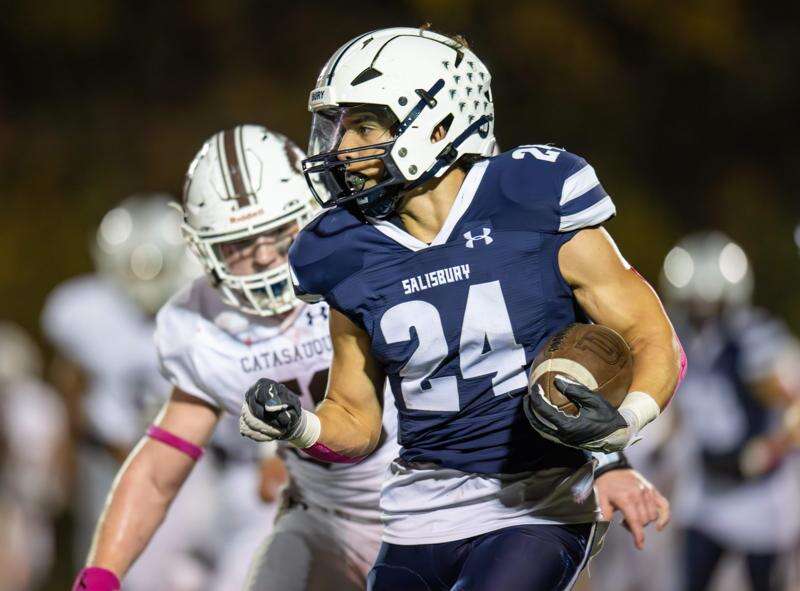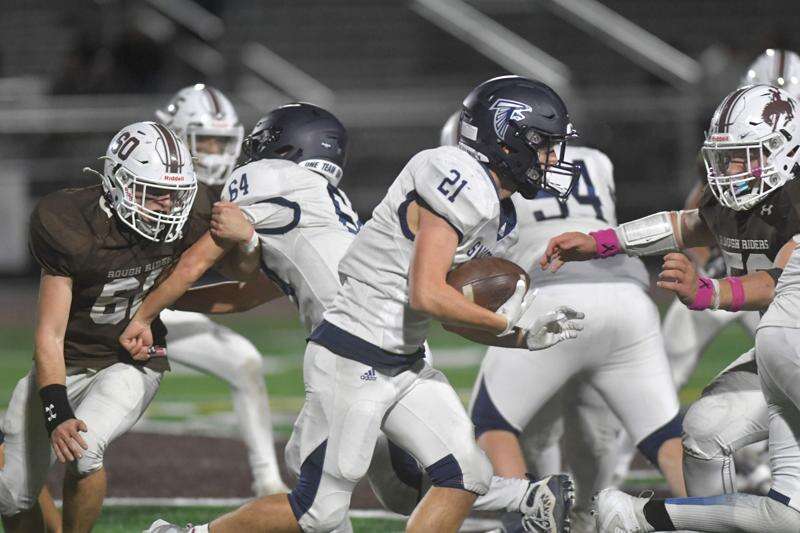 Published November 15. 2023 11:46AM
by Mike Haines mhaines@tnonline.com
Last Thursday Salisbury football players walked off their home field for the last time this season.
And they did it as winners.
The Falcons snapped a 23-game losing streak when they beat Shenandoah Valley 24-17 last Thursday in a week 11 contingency game.
"It's the best feeling in the world," said Salisbury senior fullback/linebacker George Spann, who scored two touchdowns in the win. "There's nothing better than it."
Salisbury controlled the line of scrimmage against the Blue Devils and piled up 241 rushing yards to just 96 for Shenandoah. Junior running back Jason St. Leger amassed 138 yards on 20 carries in the win.
Falcon offensive linemen Sam Krauss, Andrew Nemeh, Eiljah Garriga, Jacob Watson and Griffin Lakics were able to clear the way for the backs to keep the chains moving on four long touchdown drives.
"They worked as a team and they never got down on themselves," Spann said of the line. "If they made a mistake or one of the running backs made a mistake they just kept moving forward."
Salisbury also contained the Blue Devils' biggest offensive threat in wide receiver Nick Ryan, whose caught over 2,200 yard of passes and 26 touchdowns in three seasons.
Salisbury defensive backs Gavin Cerco and Dominic Popovich contained Ryan, who had four catches for 84 yards, but never found the end zone and was unable to break free in the Falcon secondary.
"We understood he was going to have a game," said Spann. "We just had to keep moving forward and keep working."
The Falcons battled back from an early deficit after the Devils used an onside kick to get the ball first and go 48 yards in six plays for a 7-0 lead with 9:06 left in the first quarter.
An interception on Salisbury's second offensive play from scrimmage kept momentum on the Shenandoah side.
The Falcon defense started swinging it back the other way. Then the offense scored on four straight possessions to take over the game.
The Blue Devils went three-and-out on their next possession. Salisbury took over and went 52 yards on 13 plays, converting one third down and one fourth down before St. Leger plunged into the end zone from a yard out.
Shenandoah answered with a two-play drive, including a 40-yard catch by Ryan and a 31-yard touchdown run by Ben Dempster for a 14-6 lead with 7:11 left in the first half.
Undaunted, Salisbury took over and mounted its second long touchdown drive.
The Falcons' 13-play drive took over six minutes off the clock. Quarterback Andrew Lucas connected with Jamanni Cruz on a 17-yard touchdown pass that got the Falcons within 14-12 with 24 seconds left in the first half.
"I feel like over my high school career there's been a lot of adversity," said Spann. "I feel like when we get down everyone wants to put their head down. Last game of the year, we said let's not to do that. Let's keep moving forward. Lets pretend like it's 0-0 and lets win the second half."
The Devils got the ball first in the second half, but their drive stalled when Jacob Bucchin made a tackle for a 5-yard loss on a fourth down to get Salisbury the ball near midfield.
The Falcons took another six minutes off the clock with a nine-play drive that was capped by Spann's 1-yard touchdown run that gave his team its first lead of the game, 18-14 with 2:15 left in the third quarter.
Shenandoah had its next drive stall at the Falcon 9-yard line before a 25-yard field goal closed the gap to 18-17 heading into the fourth quarter.
Salisbury's final scoring drive started at its own 20-yard line and was highlighted by a 37-yard run by St. Leger. Spann finished the drive with another 1-yard touchdown to take a 24-17 lead with 6:55 left in the game.
Shenandoah ran just four more plays in the game as the Falcon defense seemed to get better as the game wore on.
Krauss stuffed Dempster for no gain on first down. After a four-yard gain on second down, Derek Trinidad's sack seven yards in the backfield forced a Devils punt from their own 15-yard line.
Salisbury got the ball with 4:45 left in the game and the offense got a couple of first downs before running out the clock to seal the win.
Falcon head coach Andy Cerco said his team made a commitment at the end of the 2022 season to make some changes.
"They listed on a yellow legal pad the things we needed to address and change in our program," said Cerco. "And they went to work and they did it.
"I don't really care what anybody outside of our locker room says about our program. We have got great kids who are committed and persevere and they earn stuff. They earned this postseason game. These seniors have been through a whole lot of stuff in this program. I couldn't be more proud of a great group of kids because of their perseverance."
Spann said the changes weren't all about Xs and Os, but more about attitude.
"We just focused on becoming more of a family," said Spann. "This year we weren't focused as much on wins, but more on becoming tighter and building that chemistry. Ultimately that led to us getting our first win in over two years."