Boys soccer tops Solehi for D-11 3A crown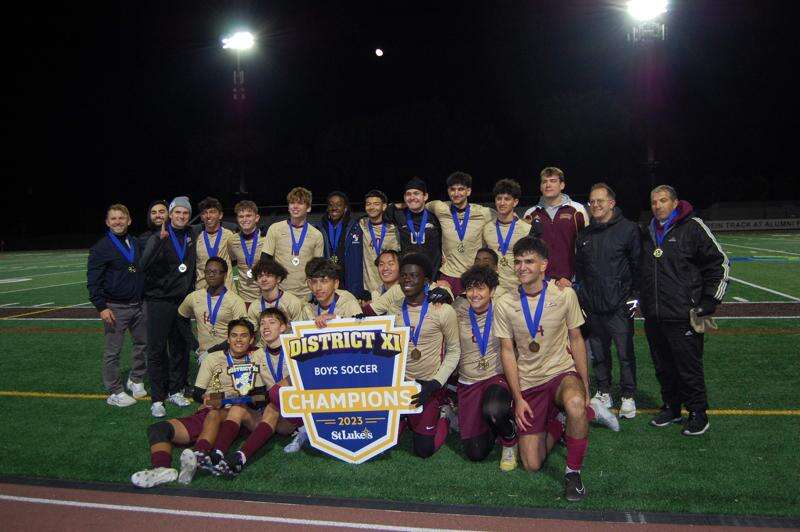 Published November 09. 2023 08:16AM
by Katie McDonald kmcdonald@tnonline.com
The Whitehall Zephyrs will forever go down in history as the first boys soccer team to win a district title after defeating the Southern Lehigh Spartans, 2-0, in the District XI Class 3A final on Nov. 1 at Alumni Field, Catasauqua.
"It's a great feeling," said Whitehall midfielder Eddie Saloum. "This has been the main topic of the season all year. Coming into this game, we wanted it more than them. Our focus and discipline has been great. On to states now."
Saloum, who had been sidelined for weeks with an injury since the first game of the season, scored the Zephyrs' second goal in the 46th minute on an assist by midfielder Ramez Farrag.
"Eddie Saloum really stepped up and impacted the game in a huge way. It's a 2-0 game, and he's got one goal and one assist. You can't ask for much more," said second-year Whitehall head coach Christian Malone. "He worked so hard. I'm so happy for him. We got him some time in the second-to-last game of the regular season, worked him up in practice, and now he's giving us full games."
Whitehall midfielder Juan Estabon delivered the first goal of the game on a breakaway in the 30th minute. Saloum was credited with the assist.
"When Eddie passed it to me, it just came to my feet," Estabon said. "Amazing. This is my first year, so I never imagined this."
Estabon is a sophomore who moved to the United States from Columbia last year.
"We integrated him in the offseason program, and then he's out here as a tenth-grader, scoring the game-starting goal," Coach Malone said.
In the final minute of the first half, Whitehall goalie Cole Richards made an incredible save that could have changed the momentum of the match had the Spartans scored right before halftime.
"I was trying to watch the ball and see where he was moving with the ball, track it as best as I could, and once it got to me, I just did my job," Richards said. "There were definitely a couple of times where they were bearing down on us, and my defense made great plays to clear the ball out and get rid of it. Those boys always do well for me. We made history, and hopefully, we keep on making history."
Valentin Lezcano had a nice shot in the 54th minute off an assist by Reed Felker, who was magnificent on the outside for the Zephyrs, but Sam Magallanes made the save for the Spartans.
The Zephyrs received individual gold medals and the district trophy immediately following the game.
Earlier in the season, Malone reminded his players of last year's district runner-up finish.
"I brought out the silver medal and said, 'We're not here for that again,' because we wanted to get the first title for Whitehall soccer," said Malone. "I played here, so it means a little something extra to me as well."