Zephs hand Hornets third loss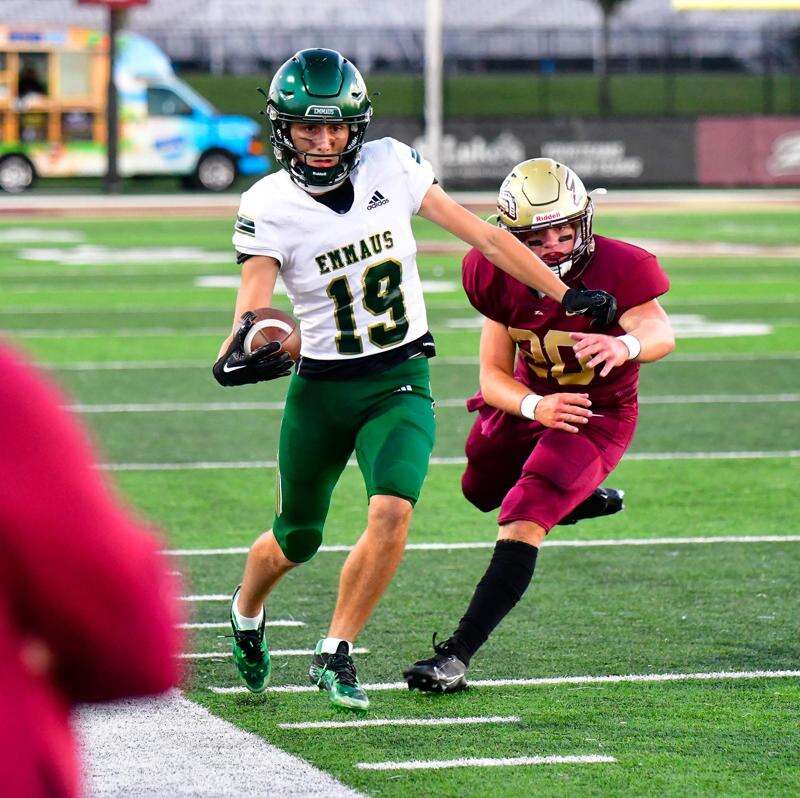 Published September 28. 2023 11:41AM
by Mike Haines mhaines@tnonline.com
The Emmaus football team lost its third straight game when it fell to Whitehall Friday night, 21-16.
Emmaus got on the board first when quarterback Josiah Williams found receiver Ben Jones for a 28-yard touchdown in the first quarter.
The Zephyrs answered with a first-quarter field goal. The Hornets matched it with a 45-yard Will Buck field goal to cap the first-half scoring and take a 10-3 lead into halftime.
Whitehall (3-1) took its first lead in the game with a pair of third-quarter touchdowns. Dalton Wickel scampered into the end zone from two-yards out to cut the lead to 10-9. Receiver Jack Kocher caught a 32-yard touchdown pass from Trey Dogmanits to get their team its first lead of the game at 15-10.
The Hornets answered when Williams plunged in from one-yard out in the fourth quarter, but Dogmanits capped the scoring with a four-yard touchdown in the fourth quarter to make it 21-16.
The senior signal caller led the Whitehall offense with 169 passing yards, competing 13 of 24 passes with no interceptions and one touchdown. Kocher hauled in six of those passes for 95 yards.
The Hornets turned the ball over four times in the game while the Zephs didn't commit any turnovers. Williams went 12-for-19 with 100 yards, one passing touchdown and two interceptions.
Defensively, Emmaus was led by Reilly Bechtel (6 tackles, two for loss), John Wassel (five tackles, one for loss), and Mario Landino (five tackles, one for loss).
The loss marks Emmaus' first three-game losing streak since dropping four straight to Easton, Freedom, Nazareth and Liberty in 2015. The Hornets went 4-6 that season. They missed the district playoffs but won an Eastern Conference title to finish 6-6 overall.
The Hornets have played some of the East Penn Conference's top teams over the last three week in Nazareth (3-1), Central Catholic (4-0) and Whitehall.
While the EPC South Division schedule doesn't let up, the Hornets will cross over into the North Division to take on a winless Dieruff team Thursday as the season hits the halfway point.
In the second half of the schedule, Emmaus host Bethlehem Catholic (8/29) before traveling to Easton (10/6) then returning home for games against Liberty (10/13) and Freedom (10/20). The regular season wraps up at Parkland on Oct. 27.
Through four weeks Emmaus is in 8th place in the District 11/2/4 subregional rankings. The Hornets need to stay in the top eight to earn a district playoff berth.