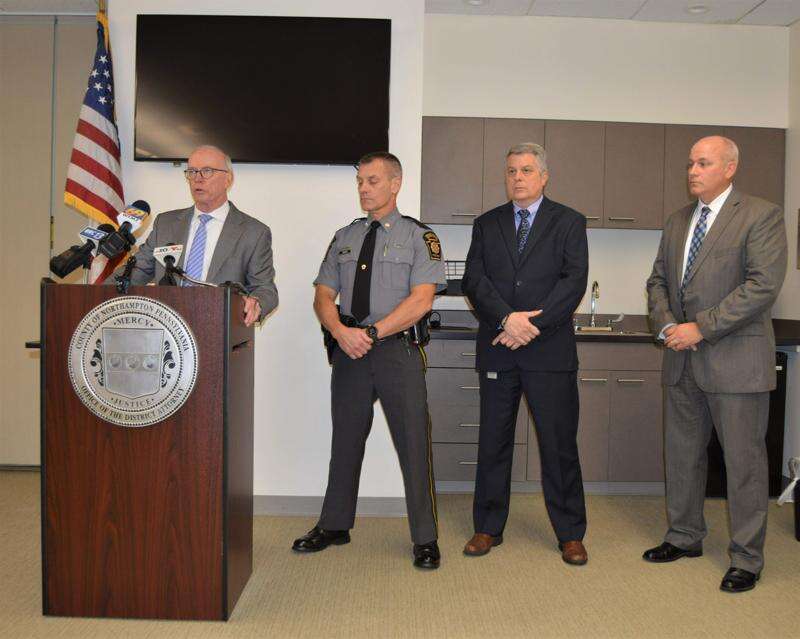 Published September 26. 2023 11:29AM
by
BY KRISTINE PORTER
kporter@tnonline.com
A teenager was arrested at his home in North Whitehall Township Sept. 19 for the killings of a woman and her teenage daughter in North Catasauqua.
Northampton County District Attorney Terry Houck said in a news conference later that day John Derwin Bradley, 17, of Schnecksville, has been charged with two counts of criminal homicide related to the Sept. 14 deaths of Rosalyn Siobal Glass, 39, and her 16-year-old daughter, Rianna Lynn Glass. They were found dead in their home at 1106 Railroad St.
Rianna Glass was a junior at Northampton Area High School.
Bradley was arraigned before Magisterial District Judge Robert Hawke and is being held without bail. In addition to the two counts of criminal homicide, he has also been charged with one count of theft of motor vehicle.
Houck said Bradley allegedly took a Nissan Murano, owned by Rosalyn Glass, the morning of the killings, and crashed it in the area of Spring Valley Road in Upper Saucon Township.
Both Bradley and his passenger, a 14-year-old girl from Orefield identified only as S.K.Q., were thrown from the vehicle. Bradley was transported to St. Luke's Hospital, Bethlehem campus, and the girl was taken to Children's Hospital of Philadelphia. She remains there in serious condition, Houck said.
Houck said Upper Saucon Police Department officers responded to a single-vehicle crash at 5:53 a.m. Sept. 14 in the area of Spring Valley Road. When they arrived, they found two teens, later identified as Bradley and S.K.Q., ejected from a vehicle, which they later determined belonged to Rosalyn Glass.
Officers found a Smith and Wesson HRT fixed-blade, double- edged knife with a red-brown stain and a white long-sleeved T-shirt with a red-brown stain near where Bradley was sitting, Houck said.
At 7:35 a.m. Sept. 14, a request came in to the North Catasauqua Police Department to contact the residents at the Railroad Street address. The officers tried to contact Rosalyn Glass, but there was no response at her door, Houck said.
At 11:33 a.m., the officers were again dispatched to the residence on reports of an unresponsive woman discovered by a family friend inside the residence. The officers found Rosalyn Glass dead at the top of the staircase, Houck said. Her daughter, Rianna, was also found dead in an upstairs bedroom.
As part of the investigation of the murders, Houck said the state police viewed video door footage from the Glasses' neighbors. One video showed a man who looked like Bradley walking in front of the victims' residence about 9:11 p.m. Sept. 13. Another camera captured the man walking toward the rear of the Railroad Street residence.
About 2:33 a.m. Sept. 14, a girl who looked like S.K.Q. was seen in video footage walking in front of the residence, Houck said. Another camera caught her entering the front of the house a minute later.
Around 3:32 a.m., cameras captured the same man and girl walking away from the rear of the Railroad Street address toward Arch Street, where Rosalyn Glass was known to park her silver Nissan Murano, Houck said. An SUV matching the description of Glass' vehicle was seen on video about seven minutes later traveling west on Arch Street.
Houck said a search warrant was executed Sept. 15, and swabs to collect DNA for forensic analysis were taken from Bradley at the hospital.
On Sept. 16, autopsies performed at the Northampton County Forensics Center revealed Rosalyn Glass died from multiple stab wounds. Rianna Glass died from neck compression and stab wounds.
"The stab wounds on both victims were consistent with that of a double-edged weapon," Houck said.
Forensic analysis further revealed the handle of the Smith and Wesson HRT fixed-blade, double- edged knife found at the crash scene contained the DNA of three people – Bradley and both victims.
Houck said two samples of a red and brown stain taken from the first-floor kitchen of the victims' house contained Bradley's DNA profile.
The homicides and the crash are still under investigation. Houck could not give any information as to why Bradley and S.K.Q. were traveling in Upper Saucon, if the crash was deliberate or the relationship between Bradley and S.K.Q.
"She hasn't been able to speak with police at this point," Houck said.
Houck did say Bradley and Rianna Glass had been in a relationship that ended in August. She had begun seeing someone else and recently told Bradley. Houck said police are investigating reports of domestic violence between Bradley and Rianna Glass.
"We are still looking at all the surrounding circumstances," Houck said.
The family has created a GoFundMe account to help pay for the funeral services.
To donate, visit gofundme.com/f/rianna-lynn-glass-rosalyn-siobal-glass.
Press staff Samantha Anderson and Kelly Lutterschmidt contributed to this report.