PHS shuts out Pates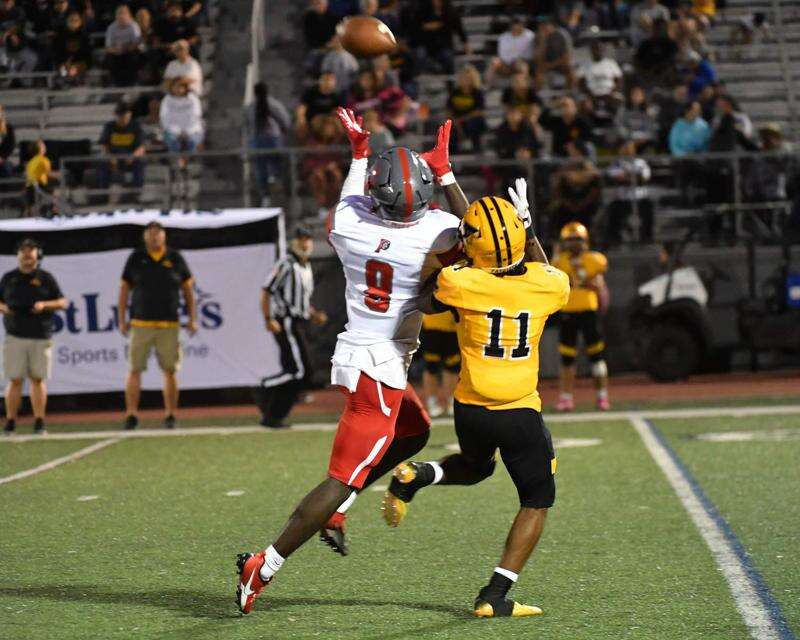 Published September 11. 2023 09:57AM
by CJ HEMERLY Special to the Press
In its first road game of the 2023 regular season, the Parkland High School football team played like a true road warrior, putting up points on the scoreboard in droves and not allowing anything on the defensive side in earning a shutout victory, 35-0, over Freedom last Friday night in Eastern Pennsylvania Conference South Division action at Bethlehem Area School District stadium.
It was the first shutout of the season for the Trojans (2-0 overall, 1-0 EPC South), who defeated Pocono Mountain West 48-7 in the home opener on Friday, August 25. They join four other teams in the conference, all in the South, that are unbeaten, in Central Catholic, Bethlehem Catholic, Nazareth and Liberty.
Parkland will meet three of those teams in the next three weeks of the schedule, so the Trojans are ready to ramp up the competition.
"We are definitely excited, but we know that it is a long season and there is still a lot of work to do," said senior quarterback Luke Spang. "We are taking the season one week at a time."
Spang had his hands in four of his team's five total touchdowns Friday night, all four were passing scores to four different receivers.
Spang hit Jendel Sanchez for an eight-yard touchdown to open the game early in the first quarter and then connected with Leo Dauberman from 14 yards out with just 0:36 left in the opening frame to go on top 14-0.
Just before halftime, Spang and Connor Johns put the Trojans up 28-0 on a 29-yard passing touchdown. The final score of the game came in the middle of the third quarter when Spang threw to Robbie Ruisch, who scored from nine yards out.
"All of the receivers are very good and that is a tribute to the work that we put in during the offseason and the summer," Spang said. "We still throw every day after practice and that shows out on the field."
Spang completed 17-of-23 passes for 212 yards and the four scores. Classmate Trey Tremba had 17 rushes for 111 yards and scored the other Trojans touchdown, with 4:43 remaining in the second quarter. Johns led the receiving corps with five receptions for 72 yards and a touchdown.
Defensively, Parkland allowed just 120 total yards and gave up just six first downs to the Patriots (1-1, 1-1).
"I think that everyone did their job at a very high level every single play," said Spang. "We even had an injury on the [offensive] line, but everyone stepped up and rallied around the backup who came in. Kale Kumernitsky went to left tackle and played like he's done it all his life."
Parkland will remain on the road and will play in the same stadium as it takes on Liberty Friday night at BASD Stadium.