Training with K-9s Leo and Ronny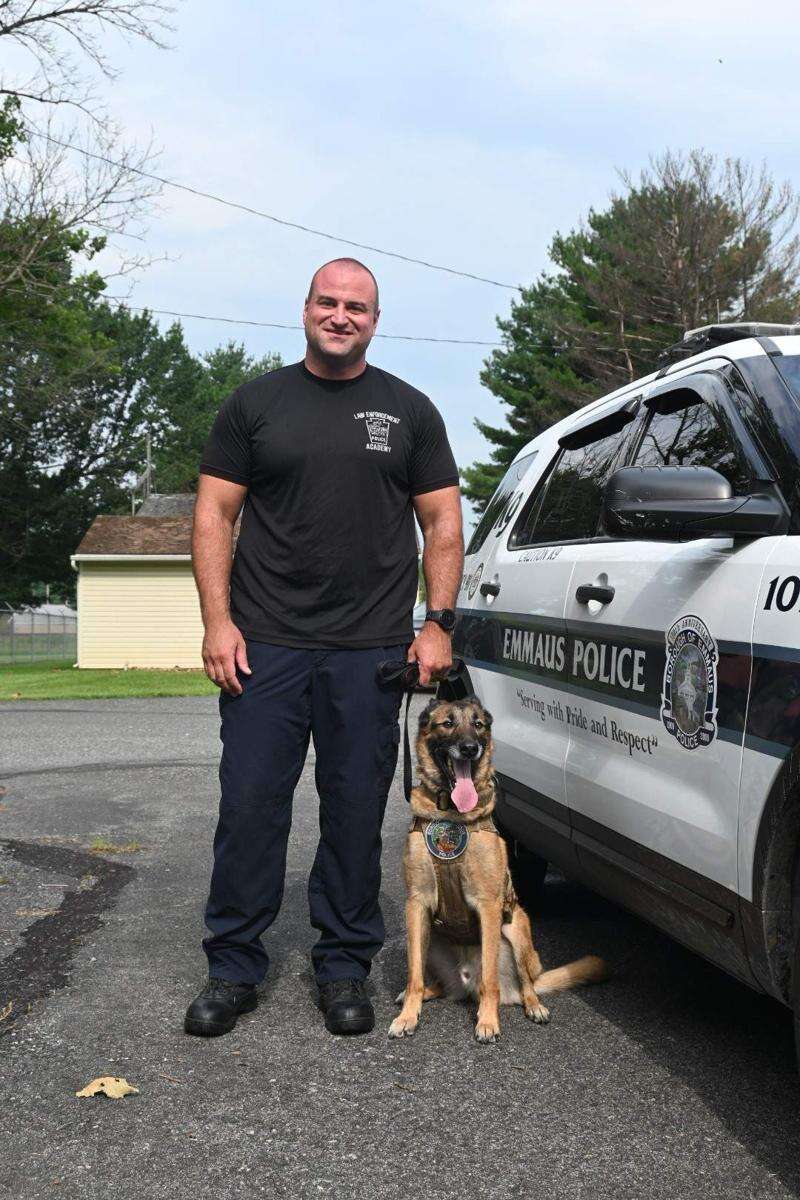 Published August 16. 2023 11:27AM
by MARIEKE ANDRONACHE Special to The Press
If you have committed a crime in the Borough of Emmaus, don't be fooled by those puppy eyes staring you down. Leo has spent the last few weeks training with his handler, Sgt. Adam Polster, to become Emmaus Police Department's next K-9.
Current K-9 Ronny is scheduled to retire at the end of the month, remaining under the care of his handler, Sgt. Vincent Murante.
The Press was recently invited to watch a training session with both K-9s and their handlers at the Emmaus Fire Training Grounds.
Leo is a Belgian Malinois, who was born in Holland, answering to Dutch commands like zit (sit) and hier (come here.)
Murante explained about the breed. "They look a lot like German shepherds but when you see them, they are a little bit smaller, a little leaner. That makes them go faster. They tend to have a higher drive than German shepherds, so they work a little longer, a little harder." Ronny was the first Belgian Malinois K-9 for the Emmaus Police Department. The previous six were German shepherds.
Not every police department has a K-9. "We do, Salisbury, South Whitehall, Whitehall did but their K-9 passed away last year, Upper Macungie, Upper Saucon Valley just got a K-9, Lower Saucon has a K-9, Allentown, Bethlehem." Murante cited as examples of medium to large police departments who have K-9s. They meet on a regular basis for training together.
When the decision was made Ronny would retire and a new K-9 would step into his role, Sgt. Adam Polster explained to The Press he was one of three officers who applied to be the department's new K-9 handler. He and his family were able to spend about a month with Leo, getting to know each other, before training began.
It was back in 1990 when Emmaus police started their K-9 unit.
"Our K-9 program is a valuable resource to the Emmaus Police Department, surrounding police departments and the community," Chief Jason Apgar told The Press. "Not only is the K-9 a great asset in performing law enforcement functions, but it is excellent for community relations. It is our experience that everyone is always eager to meet or see the K-9.
"The Emmaus Lions Club also believes in the importance of the K-9 program and has supported it since its inception 30 years ago. They have donated the funds to purchase each K-9 and cover the initial costs of training and certification.
"The program has also been successful for so long because of dedicated officers who become certified handlers and then care for and train with their K-9 around the clock. We are thankful for all of K-9 Ronny's years of service and wish him well in retirement with Sgt. Vince Murante. We look forward to the future of our new team of Sgt. Adam Polster and K-9 Leo as they begin service together after their training and certification is completed this month."
And in case you were wondering, yes, Leo, as in Leo the Lion, is named in recognition of thanks to the Lions Club of Emmaus for their support through the years.
If you would like to provide a donation to help the K-9 program, whether it be K-9 Leo or retired K-9 Ronny, call the station to speak with either Murante or Polster at 610-967-3113.