Theater Review: 'Henry IV, Part 2' succeeds at Pennsylvania Shakespeare Festival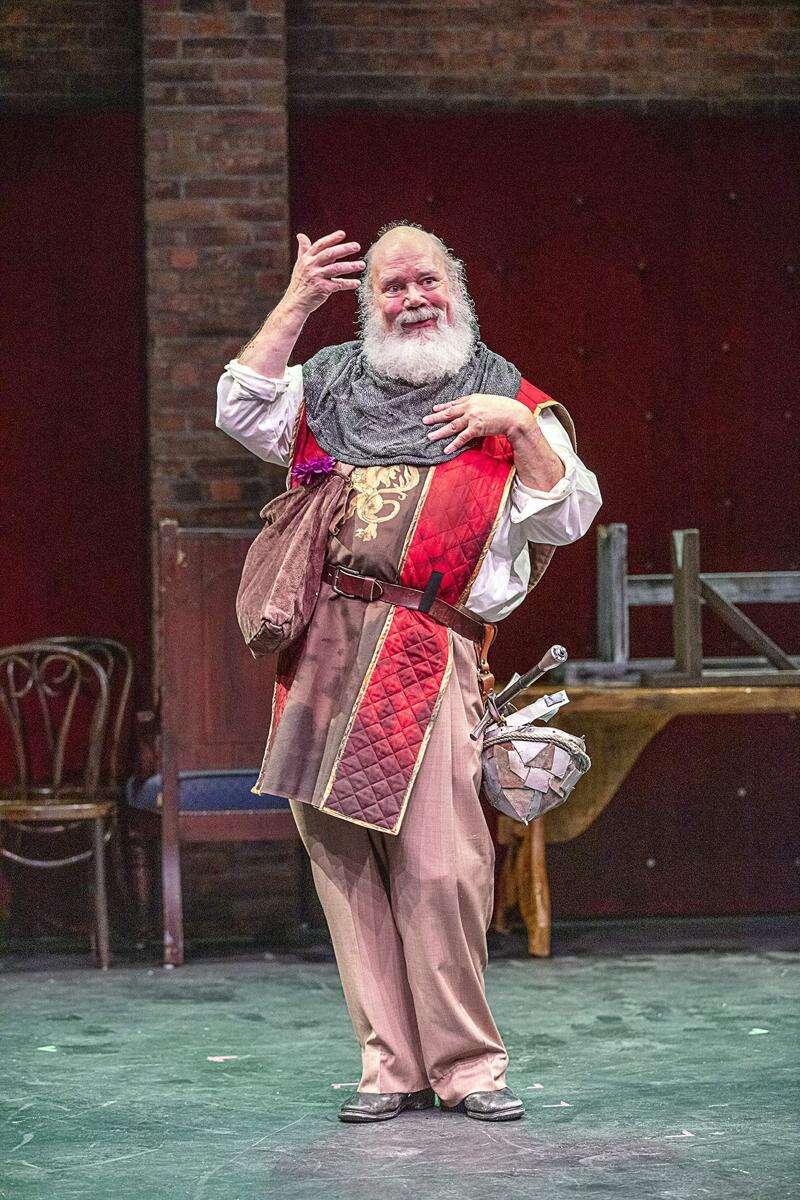 Published June 06. 2023 03:55AM
by
BY PAUL WILLISTEIN
pwillistein@tnonline.com
Now that "Succession," the HBO series (June 3, 2018 - May 28, 2023) has concluded, there's no need for a spoiler alert.
Neither is there need for a spoiler alert for "Henry IV, Part 2," which takes place some 500 years ago in the late 14th and early 15th centuries.
The Pennsylvania Shakespeare Festival (PSF) production of "Henry IV, Part 2" opened its 32nd season May 31, Schubert Theatre, Labuda Center for the Performing Arts, DeSales University, Center Valley, where the play continues through June 11. The opening night June 2 performance was seen for this review.
We know the outcome in "Henry IV, Part 2," just as we know the outcome for the television show. The enjoyment is in the telling, and in the hearing and seeing of the telling. With the PSF production, who knew history could be so much fun? In Shakespeare, the fools are not suffered lightly, even if they include, and often if especially they include, prince and kings.
Succession is much in the zeitgeist, and not only on television, but on the world stage. Think 2022 elections in South Korea, Hungary, France, Philippines, Australia, Colombia, Angola, Brazil and Israel, and in 2023, Turkey, Nigeria and Thailand and in 2024, the United States.
And there was that ceremonial succession in England, the May 6, 2023, Westminster Abbey coronation of King Charles III and his wife, Camilla, as king and queen of the United Kingdom and Commonwealth realms, following the Sept. 8, 2022, death of Queen Elizabeth II. There was attendant palace intrigue (Can you say Prince Harry and Meghan Markle?).
Further afield, one might surmise the War in Ukraine is the last grasp of Russia President Vladimir Putin, 70. And there's the machinations of People's Republic of China President Xi Jinping, who will be 70 on June 15.
Henry IV (circa 1367-1413; King of England, 1399-1413) lived to the then ripe old age of 45. As he succumbs to illness, succession is much on his mind, and the minds of others, in "Henry IV, Part 2."
"Uneasy lies the head that wears a crown," says Henry IV (Jim Ireland in a very emotional rendering) in "Henry IV, Part 2," Act 3, Scene 1.
Ireland does an interesting thing with the role. He plays the king's frailties as strengths, including a death scene to end all death scenes. Ireland brings an uncommon sensitivity to the proceedings.
Swirling around him are a number of pretenders to the throne, none more so than Prince Hal (Eli Lynn), wrested from his roustabout days and tavern nights with Falstaff (John Ahlin) to march forth. One of the truly heart-rending scenes in the PSF production is when Prince Hal, as newly-crowned King Henry V passes by the visibly chagrined Falstaff. Ahlin and Lynn play the scene seriously and superbly.
Prior to the ascension to the throne, Lynn plays Prince Hal as a gad-about, loose-limbed, youth with an energy that is riveting.
Ahlin, returning to the role of Falstaff at PSF, commands the stage like a king without a court. He courts all, though, with booming voice and bounding presence.
This is a cast of PSF all-stars, including Christopher Patrick Mullen in three roles (Hastings, Francis, Silence), one more incisive than the next, especially Silence, which is pure gold.
The proceedings are kicked up a notch with the arrival of Kimberly Gilbert (Mistress Quickly), who is an absolute dynamo from the moment she steps onto the stage.
There was a wardrobe snafu opening night whereby Mistress Quickly's shawl got caught on a button of Falstaff's jacket and wouldn't let go. Quickly quickly doffed the garment. Falstaff stuffed it in his pocket, just as natural as can be. It's a great example of pro-acting at its most improvisational.
Standouts in supporting roles in the excellent cast that juggles multiple roles with aplomb include Eric Hissom (Lord Chief Justice, Mouldy), Gina Lamparella (Lady Northumberland, Mowbray), Gabe Moses (Poins, Coleville), Anthony Lawton (Northumberland, Shallow), Ty Lane (Prince John, Fang) and Patrick M. Byrnes (Gower, Beadle).
Two actors from the PSF Young Company who make their marks with indelible stage presences in multiple roles are Johnny Drumgoole (Pistol, Bullcalf, Musician) and Taylor Congdon (Doll Tearsheet, Feeble), the latter who is hilariously distinctive in each role.
Ian Merrill Peakes (Westmoreland), Sabrina Lynne Sawyer (Lady Percy), Patrick Toon (Bardolph), Jeffrey Dunston (Archbishop of York) and CaSandra Kay Danubio (Page) round out the memorable performances.
"Henry IV, Part 2," Shakespeare's sequel to "Henry IV, Part 1," presented in 2019 and 2005 at PSF, is the third part of a tetralogy, including "King Richard II," presented in 2018 at PSF, and is followed by "Henry V," presented in 2002 at PSF.
There's not a lot of pomp, this being "extreme Shakespeare" in PSF's "Henry IV, Part 2," which opens the 2023 season, but there is a lot of circumstance. And there's a lot of romp.
There's no director of the play, as was wont in the staging of Shakespeare's plays in his time (1564 - 1616). The actors chose their costumes and props from the PSF trove. There is a fight director (Eli Lynn).
The actors take to the stage with relish and glee, as if they own it. And they do. The PSF "Henry IV, Part 2" cast presents an inside the actors' studio performance remarkable for its breadth and depth. This is stagecraft. This is the actors' stage. The PSF cast makes all the stage their world. The audience is carried along, back through the centuries to a tale of succession that's all-too contemporary.
For Shakespeare and PSF completists, and to see some great actors at the top of their form, "Henry VI, Part 2," is a must-see. Yes, the play's the thing, but with PSF's production, the actors are king.
"Henry IV, Part 2," 7:30 p.m. May 31, June 1, 2, 7, 8, 9; 2 p.m. June 3, 11; 2, 7:30 p.m. June 4, 10; 6:30 p.m. June 6, Pennsylvania Shakespeare Festival, Schubert Theatre, Labuda Center for the Performing Arts, DeSales University, Center Valley. Tickets: 610-282-9455; http://pashakespeare.org