At The Movies: 'Fast' times, Diesel, why?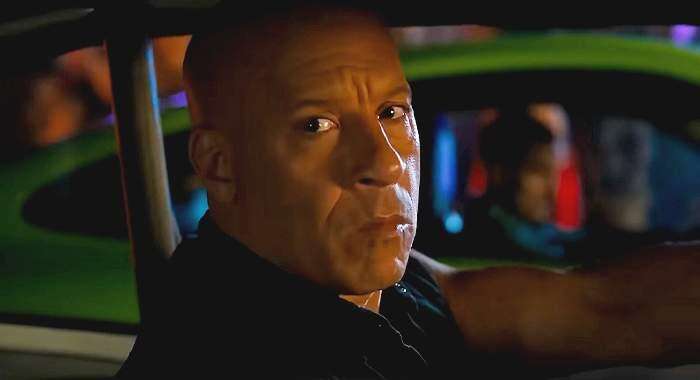 Published June 02. 2023 04:58AM
by
BY PAUL WILLISTEIN
pwillistein@tnonline.com
"Fast X" is a thrill ride of car chases, vehicle chases, aircraft chases, mixed martial arts style fighting and more car chases.
The movie should please fans of the "Fast and Furious" movie franchise, of which "Fast X" is the 10th installment.
"Fast X" is a cliff-hanger. The movie concludes abruptly mid-scene in two different scenes. "Fast X" was filmed as the first of two parts. The second part is to be released in 2025.
"Fast X" returns to the characters of the Toretto family and their extended family, friends and enemies.
Starring in "Fast X" is Vin Diesel as Dominic "Dom" Toretto.
Diesel is appropriately named for the role and the car-obsessed "Fast and Furious" franchise. We got his vin number.
Diesel's voice rumbles and reverberates like the sound of the supercharged 1970 Dodge Charger R/T muscle car he drives muscularly.
Diesel's physique is as buff as the 2023 Dodge Charger SRT Hellcat Redeye Widebody, the other car that he slam-bangs around in.
These cars do everything but fly, and with the help of two helicopters and a military transport plane, the vintage Charger muscle car, with Diesel in the driver's seat, even does that. The punishment that the Chargers take in the movie is beyond belief. It's not unlike a child playing smash-ups with Hot Wheels toy cars.
That's part of the appeal of "Fast X." It's a fantasy film. The movie and the franchise could be interpreted symbolically as the last gasps of the fossil-fuel industry. The movies, its lead characters, and by implication we, the movie-goer, are racing on the road to ruin.
In fairness, "Fast X" is the first in the franchise with scenes of electric cars, including a 2024 Dodge Charger Daytona SRT Banshee Concept and DeLorean Alpha5.
"Fast X" is a motorhead's cinematic dream, with visuals of a Lamborghini Gallardo, Alfa Romeo 159, Nissan Silvia, Porsche 911 997 GT3 RS and Datsun 240Z.
"Fast X" races around the globe, from Los Angeles to Italy, Portugal, Brazil and London.
"Fast X," as with other "Fast and Furious" films, is about honor and family. "Without honor, you don't have family. Without family, you have nothing," Dom philosophizes.
Pop psychology aside, "Fast X" is very much about excellent casting and performances.
Diesel as Dominic Toretto is a minimalist performer, doing very little with his face, but saying a lot through his intense eyes, pensive expression, pursed lips and consternation fades not unlike the driving technique he teaches his son, Brian "Little B" Marcos (Leo Abelo Perry, who is excellent).
Diesel portrays a man of commitment, of forthright courage and of faith. "You gotta have faith," he says as displays an embellished cross pendant.
As Dom's adversary, Jason Momoa is amazing as Dante Reyes, who is out to revenge the death of his father, who was killed in the "Furious 7" movie. Momoa plays with the role like a cat with a mouse, with over-the-top acting, in costumes to boot and driving cars that match the outfits, including two tricked-out cars, a light purple 1966 Chevrolet Impala and a grape-colored 1966 Ford Fairlane.
Michelle Rodriguez, as Letty Ortiz, Dom's wife, is convincing as a warrior mom. She gives as good as she gets in a martial-arts fight scene with Cipher (Charlize Theron, excellent as ever). The two bond convincingly when they unexpectedly meet Gal Gadot (uncredited) as Gisele Yashar in the final scene.
The superb casting extends to Dom's crew with Christopher "Ludacris" Bridges (as Tej Parker), Tyrese Gibson (Roman Pearce), Nathalie Emmanuel (Ramsey) and Sung Kang (Han Lue), back as backup computer techs and strategists.
The testosterone count is boosted not only by Diesel and Momoa but by John Cena as Dom's brother Jakob, who has some humorous scenes with his nephew, Little B, especially in a Chevrolet El Camino "Mad Max"-style rocket car; Alan Ritchson as Ames, the Agency head, and Jason Statham as Deckard Shaw.
Brie Larson is wonderful as Tess, a rogue government agent. Rita Moreno is memorable as Abuella Toretto, matriarch of the family. Daniela Melchior is Isabel Neves, a street racer. Jordana Brewster is Dom's sister, Mia Toretto. Scott Eastwood is Little Nobody, a government law-enforcement agent. Pete Davidson is a tech-shop owner.
Helen Mirren has a cameo as Queenie Shaw, Deckard's mother.
Dwayne "The Rock" Johnson has an uncredited mid-credits cameo as Luke Hobbs in what may be a clue to the new direction of "Fast X, Part 2," or a 12th sequel said to be in development or a possible "Hobbs & Shaw 2."
The screenwriters of "Fast X" provide enough plot points and enough confusion to hold the movie-goers' interest and keep them guessing.
Director Louis Leterrier (director: "Now You See Me," 2013; "Clash of the Titans," 2010; "The Incredible Hulk," 2008; "Transporter 2," 2005; "Unleashed," 2005; "The Transporter," 2002), working from a screenplay by Dan Mazeau (screenplay, "Wrath of the Titans," 2012) and Justin Lin (director, screenplay, "F9: The Fast Saga," 2021; director: "Fast & Furious 6," 2013; "Fast Five," 2011; "Fast & Furious," 2009; "The Fast and the Furious: Tokyo Drift," 2006), based on characters by Gary Scott Thompson. Leterrier keeps the action incredibly fast-paced in keeping with the franchise, but provides key scenes between characters, including Dom and Letty, and Dom and his son, to show the love and allow for lots of hugs.
The characters of "Fast X" are not comic-book super heroes, but they have the strength of super heroes. And they have super-fast cars.
"Fast X" is audacious film-making with incredible car-chase action, stunts and non-stop thrills. If movie theater seats had seat belts, you would have to fasten your seat belt for "Fast X."
"Fast X,"
MPAA rated PG-13 (Parents Strongly Cautioned. Some material may be inappropriate for children under 13. Parents are urged to be cautious. Some material may be inappropriate for pre-teenagers.) for intense sequences of violence and action, language and some suggestive material; Genre: Action, Adventure, Crime; Run Time: 2 hours, 21 minutes. Distributed by Universal Pictures.
Credit Readers Anonymous:
Brian O'Conner (Paul Walker, 1973 - 2013) appears in a flashback in "Fast X." Walker's daughter, Meadow Walker, has a cameo as a flight attendant in a scene with Jakob (John Cena). The production companies listed in the credits include China Film Co., Ltd.
At The Movies:
"Fast X" was seen in the Dolby at AMC, AMC Center Valley 16. The movie has lots of scenes that would benefit from the premium price of Imax or 3D, but seeing the movie in the standard digital format would be fine, too.
Theatrical Movie Domestic Box Office,
May 26-28: "The Little Mermaid" swam to No. 1 with $95.5 million in 4,320 theaters, shutting down the "Fast X" one-week run at No.1, dropping to No. 2 with $23 million in 4,088 theaters, $107.9 million, two weeks.
3. "Guardians of the Galaxy Volume 3" dropped one place, $20.8 million in 3,940 theaters, $300.2 million, four weeks. 4. "The Super Mario Bros. Movie" dropped one place, $6.4 million in 3,148 theaters, $559 million, eight weeks. 5. "The Machine," opening, $5 million in 2,409 theaters. 6. "About My Father," opening, $4.3 million in 2,464 theaters. 7. "Kandahar," opening, $2.3 million in 2,105 theaters. 8. "You Hurt My Feelings," opening, $1.3 million in 912 theaters. 9. "Evil Dead Rise" dropped four places, $1 million in 921 theaters, $66.2 million, six weeks. 10. "Book Club: The Next Chapter" dropped six places, $869,635 in 1,339 theaters, $16 million, three weeks.
Movie box office information from Box Office Mojo as of May 28 is subject to change.
Unreel,
June 2
"Spider-Man: Across the Spider-Verse,"
PG: Joaquim Dos Santos, Kemp Powers and Justin K. Thompson direct the voice talents of Shameik Moore, Hailee Steinfeld and Oscar Isaac in the Animation, Action, Adventure. Miles Morales hops across the Multiverse, where he encounters the Spider-People.
Movie opening date information from Internet Movie Database as of May 26 is subject to change.
Three Popcorn Boxes out of Five Popcorn Boxes