Flanigan first in pole vault at district meet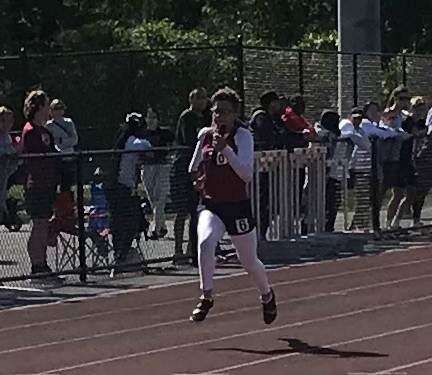 Published May 26. 2023 07:55AM
by Katie McDonald kmcdonald@tnonline.com
Liberty senior Annika Flanigan repeated as District XI Class 3A pole vault champion at the district track and field championships meet on May 16 at Whitehall High School.
Flanigan cleared 11-06.00 to win the gold medal.
"Warm-up was really nice, and then [the wind] got bad right as I started jumping," Flanigan said. "When it got down to the last two was when the wind really picked up."
Flanigan has her sights set on clearing 13 feet at the state meet this coming weekend.
"I've been feeling a lot more confident in my jumps this year. I fixed my run a lot. Getting backward on the pole so I'm not falling off the top and hitting the bar on the way down has been a help, and fixing my plant motion has been a huge help," said Flanigan. "I want to go for top three this year."
Also on May 16, Liberty's Sydnei Jones Proctor won the bronze medal in shot put with a throw of 33-02.75, and Spencer Sabo, Emrick Leshko, David Myer, and Jack Huie were bronze medalists in the 4x8 relay with a time of 8:09.16.
Freedom's Brooks Britt won bronze in triple jump with a distance of 45-03.00.
In Class 2A, Bethlehem Catholic's Aidan Rompilla won bronze in long jump with a distance of 22-00.25.
On May 17, the second day of the district meet, Milani Lockhart took third place in 100 hurdles with a time of 15.67, and Sara Gonzalez, Megan Goodman, Payton Davis, and Flanigan were third in the 4x1 relay with a time of 50.87, all for the Hurricanes.
Liberty's Brooke Rawls won the fourth place medal in long jump with a distance of 16-11.50, and Freedom's Erin Krauss also won a fourth place medal in javelin with a throw of 115-00.
"I focused on form, really, and technique, and let God do everything else," said Krauss. "I practiced the footwork a lot this week, getting my steps straight. I'm very happy because I PR'ed on my second throw with a 110, and then I PR'ed again with a 115...I like being able to throw far like that."
In Class 2A Bethlehem Catholic's Mekhi Britt was the bronze medalist in the 800 meter run with a time of 2:01.15.
The PIAA Track and Field Championships are scheduled for May 26 and 27 at Shippensburg University where Liberty's Flanigan will compete in pole vault, Freedom's Britt will compete in triple jump, and Becahi's Rompilla will compete in long jump.