Mayfair Festival of the Arts back for fifth good time at Cedar Crest College, Allentown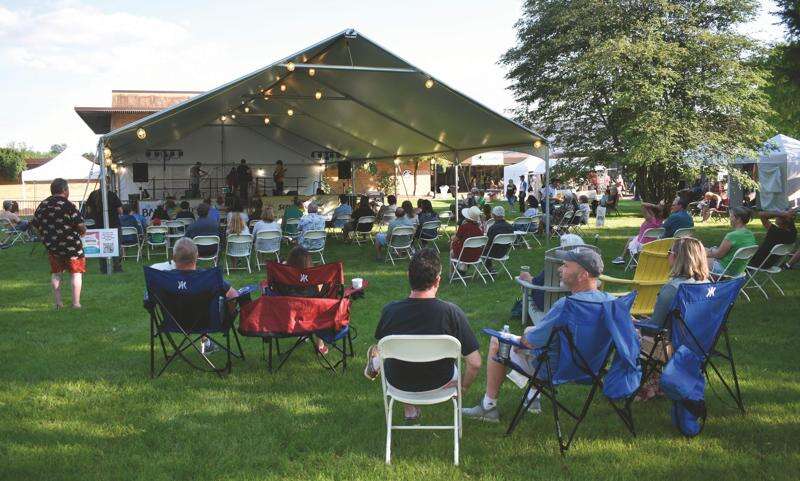 Published May 22. 2023 07:25PM
by
BY KATHY LAUER-WILLIAMS
Special to The Press
Mayfair Festival of the Arts, the free three-day Memorial Day weekend event that marks the unofficial kickoff to the summer season in the Lehigh Valley, is a 35-plus-year tradition now in its fifth year at Cedar Crest College.
The popular family festival features two stages of music and performances, food, craft vendors, artists' market, children's activities and creative workshops May 26 - 28.
"Mayfair is one of first big festivals of the season, so it's like the grand opening of the summer," says Connor Baker, Cedar Crest College Events Coordinator, Conference Services.
Mayfair, founded in 1986, was held at Cedar Beach Park, Allentown, but the location was prone to flooding.
In 2013, Mayfair was moved to the Agri-Plex, Allentown Fairgrounds.
Mayfair was canceled in 2016.
In 2018, Cedar Crest College assumed the presentation of Mayfair as a way to support the community and introduce people to the college's west Allentown campus. The campus is a nationally-registered arboretum with more than 150 varieties of trees.
Mayfair took a year off in 2020 because of the coronavirus pandemic (COVID-19) shutdown, but returned in 2021.
The year 2023 marks the festival's fifth time at the college campus and Baker says organizers couldn't be more pleased. Proceeds from Mayfair provide student scholarships at Cedar Crest College.
"Mayfair has been very successful for us," Baker says. "We want people to continue to have a great experience as they visit Cedar Crest's campus."
Baker says that for 2023, Mayfair brings back much that is familiar, from favorite area bands to popular foods, but also promises some things that are new.
There are two concert stages: the Main Sage and the Bandstand Stage. The Bandstand Stage will again be tented, a change implemented last year to allow for larger acts, such as the Billy Bauer Band, in addition to the stage's signature solo performers and smaller acts.
Baker says audiences will see all the acts they know and love such as Go Go Gadjet, which is headlining the Main Stage, 7 p.m. May 26; The Large Flowerheads, which opens the Main Stage, noon May 27, and Stacy Gabel, who is performing at the Bandstand Stage, 7 p.m. May 27. Country rock band Reservoir Hill, added last year, returns to the Main Stage, 2:30 p.m. May 27.
Baker says the returning groups are joined by new and exciting performers, including Philadelphia indie rock and alt-pop band Moonroof, which performs on the Main Stage, 5:15 p.m. May 27. The band, which debuted in 2018, has more than 5 million streams on Spotify and has opened for indie groups The Lumineers, Death Cab for Cutie and Grouplove.
Also new is The Buzz, a high-energy new wave rock band, opening the Main Stage, noon May 28. The group specializes in 1980s dance music from The Pretenders, INXS, Pat Benatar, U2 and AC/DC.
Baker says he is looking forward to another new performer who has a connection to the college.
Award-winning singer-songwriter Renee Audrey is a Cedar Crest College graduate who performs on the Bandstand Stage, 6:30 p.m. May 26. Audrey writes original songs which raise awareness about mental health and social topics.
Another act new to Mayfair is Banat Al Sahra, a belly-dancing troupe from the Lehigh Valley, which will open the Bandstand Stage, noon May 27.
"What's exciting is there are so many unique things this year," Baker says.
Mayfair will again host its Artist Market with more than three dozen artists indoors in Lees Hall and outdoors, including several artists who will demonstrate their work.
The artists represent a variety of handmade items, including jewelry, home décor, fine art, photography, fabric art, wood carving, pottery and mixed media.
"One of the artists I'm really excited about is Chena Love One Permanent Jewelry," Baker says. "She creates jewelry to fit on the spot." The jewelry includes bracelets, anklets and necklaces that are sized to the individual.
Other highlights from the artist market include plants from The Wicked Botanist, handcrafted items from Uniquely Loco, fine photography by Amy's Angle Nature Photography, quilted table runners and wall hangings by Artistic Quilts, scented candles by LilyBean Cottage Scents, abstract artwork by Punkmetal Abstract, toys and wearable art by SumSum Crochets, scented candles by Smells by Stacey, dragon mugs by Mary Coover Porcelain and dichroic art glass jewelry by Classy Glass.
Popular local food stands returning include Take a Taco, Puerto Rican Culture Association, Caribbean Island Cuisine, JR's London Broil, Merry Poppins Kettle Corn, Bananarama and E-Z Concessions.
"We have a good variety of food and a lot of unique vendors," Baker says.
New is Humpty's Dumplings, which serves traditional dim sum dumpling with unusual filling such as cheesesteak and buffalo chicken, and Greek Street, which specializes in gyros, grape leaves and baklava.
Baker says other highlights are "everyone's favorite," The Udder Bar, with homemade ice cream and sundaes, and Pocono Potato Chip Company, which makes loaded homemade chips.
There will be a selection of beer, as well as wine from Franklin Hill Vineyards and Cardinal Hollow Winery for purchase by those over 21.
Attendees purchase tickets to buy food and drinks.
For children, there's Franki's Fun Zone with crafts and activities, and LV Rocks, with a rock-climbing wall for those looking for a physical challenge.
Workshops by Oneness Art Studio are Harmon Hall throughout Mayfair.
Learn the art of fluid painting at the "Paint Pouring" workshop, 5-7 p.m. May 26; create "Wall Art with Glass," 4-6 p.m. May 27, and try acrylic painting at "Love Blooms," 2-4 p.m. May 28. No artistic skills or painting experience is required. Workshops charge a fee and require advance registration.
"For anyone who's been to Mayfair before, you will find all the things you love, as well as lots of new things to discover," Baker says.
Mayfair, 4 - 10 p.m. May 26; noon - 10 p.m. May 27, 28, Cedar Crest College, Allentown. There is free parking on the Cedar Crest College campus. Information and to register for workshops: https://www.cedarcrest.edu/mayfair/